Summer Housing
DePauw is a Residential Campus where students live and learn together
On behalf of the Summer at DePauw staff team that will help host you on campus this summer, we want to welcome you to the DePauw University's summer housing website.

I am currently a rising Junior at DePauw and I worked on campus last summer with the different programs and camps we hosted. I really enjoyed being a resource and providing the best stay possible for all the new faces on campus. I had a phenomenal experience last summer and I am looking forward to another great summer at DePauw with you all.

While summer on campus is quieter in some cases, it can also feel just as active as the rest of the year. Living on campus provides a wonderful opportunity to stay close with your group so that you can all participate in activities outside of your more formal experiences. Every residence hall has common areas that groups can gather in to hang out. You can also check out the Local Attractions page that I created to find out more about opportunities for fun that surround our campus.

People always wonder what they should bring for their stay on our campus. Items to bring vary depending on the type of program you are coming for and the duration of your stay. For specific items to bring check with your program and look at our suggested list on this page. Each room will have a bed, dresser, and desk. Each residence hall will have an open kitchen with a refrigerator and stove and a laundry room with washers and dryers. The halls also have lobbies with TVs and a game room (it depends on the hall, but they usually have a pool table and ping pong table, and other games and DVD available to all guests, upon request).

During your stay, please feel free to let me or any of the other student staff know how we can best help you, and make your stay the best possible. Please be mindful of your safety and the safety of everyone around you. I know you, as well as everyone else will have an amazing time on campus, as long as all directions and instructions are listened to and enforced.

Have a great stay!
Marianne Martinez, Class of 2019
Summer at DePauw Intern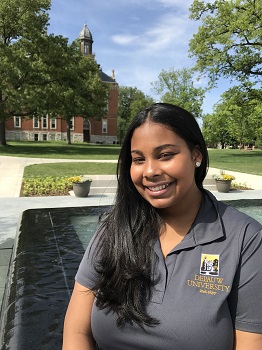 Items to Bring:
Appropriate clothes

Towel(s)

Personal hygiene items

Rain coat/umbrella

Gear/materials for your specific summer program

Cell phone or calling card (the residence halls have common phones, there are not phones in each room)

Check with your specific summer program to see if you need to bring bed sheets/sleeping bag
Items not to Bring:
Candles

Pets

Halogen lamps

Cooking items with an open flame or open heating element

Anything that can be considered a weapon
Summer Facilities
---