Amber McNamara '97 looked at the gopher tortoise lying on the treatment table and considered her options.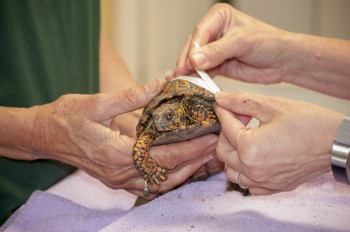 The creature had been hit by a car, and was dragging her back legs. The veterinarian had treated wildlife with medications typically used for domestic animals, "but at some point, you run out of treatment options," she said, "and this tortoise was very amenable to receiving acupuncture and physical therapy."
And thus McNamara, trained in traditional veterinary medicine at Purdue University's College of Veterinary Medicine, tapped her less traditional training – she is certified in veterinary acupuncture – to treat her patient.
"Eventually she was able to walk again," McNamara said. "And eventually, released. So it is really amazing to see. And even though it's a slow progression, it was progression and movement in the right direction."
McNamara is an associate professor of biology at Lees McRae College in North Carolina and a veterinarian at its May Wildlife Rehabilitation Center, where more than 1,500 injured and orphaned wildlife patients were treated last year.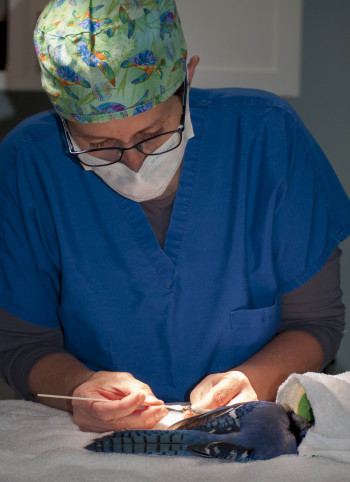 A biology major and math minor at DePauw, McNamara had always loved animals but credits a winter-term experience shadowing a vet for helping her envision how her love of science and her compassion for animals jibed.
Her track took a turn toward the unusual when she was in veterinary school and worked a six-week externship at a wildlife clinic in Florida.
"I really loved the idea that every day was different," she said, "and it really felt good at the end of the day to feel like you were doing something positive, not only for that individual animal but for the habitats in which they live and, to some extent, the environment and the ecology of the whole."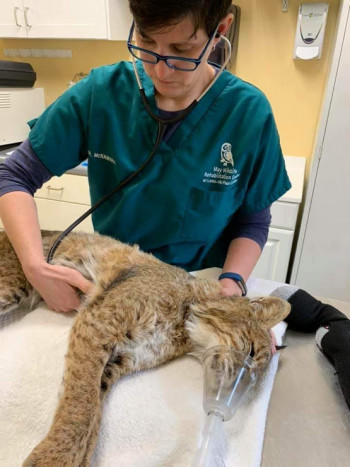 After graduating from Purdue, McNamara interned at the Clinic for the Rehabilitation of Wildlife in Sanibel, Florida, then worked there for eight years.
"Wildlife medicine requires you to think quite a bit outside the box," she said. "Since our patients are anywhere from two grams to 20 kilograms" – that's seven-tenths of an ounce to 44 pounds – "solutions can be hard to come by."
McNamara has had her share of bites and scratches, though nothing serious. "I try to teach the students that, even though we are trying to help the animals, to them, we are predators. We teach the students to handle the patients in a way that is both safe for the handler and minimizes the stress of the patient."
Her liberal arts education taught to consider more than one way to approach a problem, she said. Her wildlife patients, including that gopher tortoise, often benefit from a different approach to healing.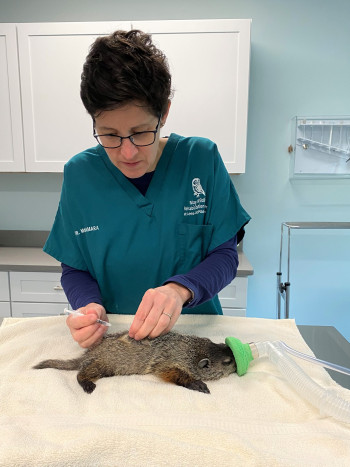 She tries to impart the same sort of thinking to her students, and hopes they recognize that they can do good, "even if it's just one small action," she said. "It doesn't always mean that we have a positive outcome. Sometimes the outcome is not what we hoped for, but if we can show compassion to an animal – even if that compassion means ending their suffering – they can do something good."
DePauw Magazine
Summer 2020
A GATHERING PLACE FOR STORYTELLING ABOUT DEPAUW UNIVERSITY
Whether we are writing about the intellectual challenge of our classrooms, a campus life that builds leadership, incredible faculty achievements or the seemingly endless stories of alumni success, we think DePauw has some fun stories to tell.

101 E. Seminary St.
Greencastle, IN, 46135-0037
(765) 658-4416

News and Media