The Ferid Murad Medal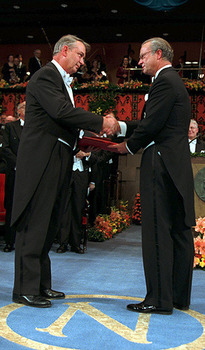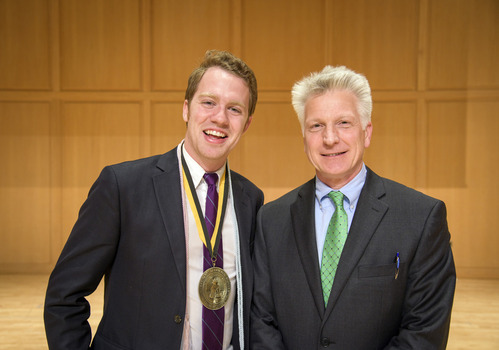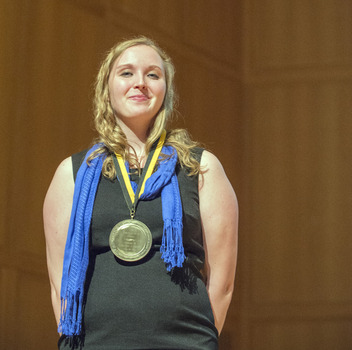 Named for Nobel laureate Dr. Ferid Murad '58, the Murad Medal recognizes the senior who has had the most significant scholarly or artistic achievements during his or her time at DePauw.
The 2015 Murad Medal Finalists
Stephen C. Dobbs (Winner)
Stephen Dobbs is a geology major and mathematics minor from Mooresville, IN. Originally on track to study history at DePauw, Stephen's academic goals made a sharp turn when he discovered his love for geology. Seeing Stephen's genuine interest, promising ability, and a passion for the discipline, DePauw Professor Tim Cope invited Stephen to conduct geological research with him in northeast China. For the past three years—including over 150 days of field work in rural China— Stephen has devoted his undergraduate career to his research in an attempt to understand the complex history of the region. Aside from his time in the field, Stephen was a lab technician under Professor Jim Mills for DePauw's Department of Geosciences. Here, Stephen performed analyses for his research and the department while also teaching other students. Stephen's research culminated into two publications that he authored and presented at the Geological Society of America's annual meetings of 2012 and 2013. Since February 2014, Stephen has been working on a Senior Thesis about his research that he plans to publish. Stephen's academic pursuits earned him a series of honorary distinctions. DePauw's Department of Geosciences awarded him the Ernest Rock Smith Award in 2013 and 2014 for academic achievement in the geosciences. Stephen was also honored with DePauw's Paul S. Jarrett Endowed Merit Scholarship for 2013 and 2014, which commemorates academic achievement based on the criteria for the Rector Scholarship. Stephen was featured in DePauw magazine's 2013 fall issue highlighting his research in China. Nationally, he has had the honor of being initiated into Phi Beta Kappa, and has been recognized twice by the Barry M. Goldwater Scholarship Foundation—the most sought after academic achievement scholarship in the U.S. for undergraduate science students—with honorable mentions in 2013 and 2014.
Hang D. La
Originally from Ha Noi, Viet Nam, Hang La (Lucy) is a history major, member and Public Relations officer of the Phi Alpha Theta history honor society. Her years at DePauw University have enabled her to pursue the twin passions of history and education. Her first major history project arrived in 2013, during her off-campus semester in Paris, France. Working in conjunction with French scholars at the Center for History at Sciences Po, Lucy wrote "Indochina in 1946: Two Competing Visions for Independence," elucidating the perspectives of the French colonial authority and Vietnamese nationalists. The paper was later nominated for the Forum on Education Abroad on Undergraduate Research award. In September 2014, Lucy presented another paper, "Moral Panic: Identity and Power during the New York Conspiracy Trials of 1741 and September 11 Terrorist Attacks of 2001," written for Professor David Gellman's class at the Annual Conference of the Midwest World History Association. Her interests in colonialism extended into her senior year when, under the guidance of Professor Glen Kuecker, Lucy examined the literature of French- educated Vietnamese intellectuals who used Western ideas to eliminate Confucian socio-cultural norms and to reimagine Vietnam as an independent nation-state. The eventual paper, "Self-Strength Literary Group and the Modernization of Vietnam," was also accepted for presentation at the Phi Alpha Theta Ohio Regional Conference in March 2015. Alongside history, Lucy was also curious to learn about American public education, as evident in her two articles, "An Alternative to Unionism: Teaching as a Profession" and "Character Begins Here – Or Not," published in the Indiana Policy Review. In the future, Lucy hopes to continue deepening her interests in culture, colonialism, Asian, American, and European history, starting with a secondary-level teaching career.
Madeline F. Perry
Madi Perry is a biochemistry and global health double major from Cincinnati, Ohio. She is a Rector Scholar, Science Research Fellow, and a member of Phi Beta Kappa. In her time at DePauw, Madi has dedicated many of her academic and extracurricular efforts to improving access to quality, reliable healthcare for individuals around the world. As a first-year student, Madi began a research project with Professor Sharon Crary to develop a rapid diagnostic technique for the neglected tropical disease leishmaniasis. She also became involved in Timmy Global Health and has led this club throughout the past four years. In her junior year, Madi studied global health and development policy in Geneva, Switzerland. While there, she interned with the Global Institute for Water, Environment, and Health and generated a report on climate change and its effects on the spread of infectious diseases. Also while in Switzerland, Madi collaborated with the World Meteorological Organization and edited a report titled "Health and Sanitation Aspects of Flood Management." After this international work, Madi partnered with Cincinnati Children's Hospital to work on a clinical trial testing medicine to improve the growth of children stunted by repeated occurrences of diarrheal disease and malnutrition. With a dedication science communication, Madi has summarized her research at a number of poster sessions and oral presentations and even developed a video synopsis of her thesis to share with the public. In addition to research and academic efforts, Madi has dedicated herself to grassroots activism by working with the right-to- health non-profit Article 25 for the past year. In her time at DePauw, Madi has been honored with multiple awards including the Condit Science Scholarship and the Donald J. Cook Scholarship for excelling chemistry and biochemistry majors. Madi plans to continue her education at the University of Cincinnati College of Medicine, hopefully after spending a year in Northern Uganda to implement a pharmaceutical analysis program at Lacor Hospital.
2015 Nominees
Quincy L. Abarr, Chelsea C. Schumacher, Patrick C. Brems, Kevin M. Smith, Emily C. Vincent, Doron Kantor, Michael L. Weber, Taylor M. Zartman, Yukun Zhang
Past Winners
Samantha M. Anderson '14
Samantha graduated from DePauw in three years as both a Rector Scholar and a Science Research Fellow. Committed to teaching science, she worked as a teaching assistant for the chemistry and biochemistry department and as a Quantitative Reasoning Center tutor. She also encouraged other women to pursue their interest in science through her role as a peer mentor for the Women in Science organization.
Samantha worked on five different research projects during her time at DePauw University. As a first year student, she learned how to weld while designing and building the protein sculptures that now hang in the atrium of the Percy L. Julian Science and Mathematics Center—a collaborative research project between biochemists and artists. Samantha found her passion for science research while completing a second research project that investigated protein structure and function. During another project, Samantha worked to create a drought resistant plant that could make its own water. Based on this work, combined with extraordinary classroom performance, the Biochemistry department awarded Samantha the Wylie-Condit Science Scholarship for promising science students. Samantha completed an internship in biochemistry and microbiology at the University of Wisconsin-Madison. This work resulted in a recent publication in Molecular Microbiology. She also worked on a project focused on neglected tropical diseases. Many of Samantha's projects culminated with poster sessions and oral presentations where Samantha was able to hone her science communication skills.
2014 Finalists: Trina M. Manalo, Maritza J. Mestre
2014 Nominees: Ethan E. Brauer, Anna M. Butz, Mackenzie M. Creameans, Gwendolen L. Eberts, Dana M. Ferguson, J.D. Hoover, Meredith D. Lockman, Cole P. Rodman, Katherine R. Shover, Garth E. Synnestvedt, Weiqing Zhang
About Ferid Murad '58

Dr. Murad won the 1998 Nobel Prize in Medicine for his discovery of the role of nitric oxide in the cardiovascular system. The discovery not only contributed to a better understanding of how information is transmitted between cells but also had a significant influence on cardiovascular medicine, leading to changes in treatment following a heart attack. His research and findings on the effect of nitric oxide continue to influence the treatment of cancer and arthritis and other human diseases.
A professor at George Washington University's School of Medicine and Health Sciences, Murad has received numerous other awards and honors, including the Albert and Mary Lasker Basic Medical Research Award, American Heart Association Ciba Award and Baxter Award for Distinguished Research in the Biomedical Sciences from the Association of American Medical Colleges
Murad earned his undergraduate degree in premedical science and chemistry from DePauw in 1958 before earning M.D. and Ph.D. in Pharmacology from Case Western Reserve University in 1965.