The Ferid Murad Medal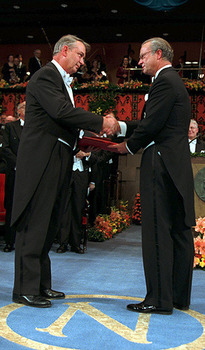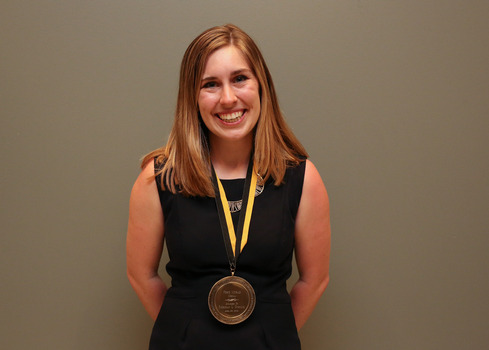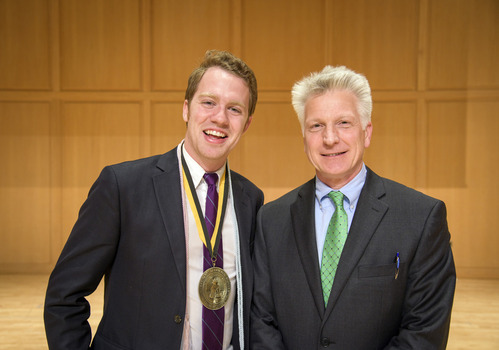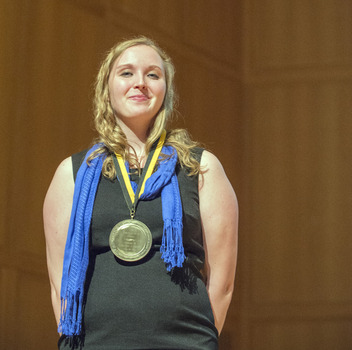 Named for Nobel laureate Dr. Ferid Murad '58, the Murad Medal recognizes the senior who has had the most significant scholarly or artistic achievements during his or her time at DePauw.
The 2016 Murad Medal Finalists
Megan Bailey
Megan Bailey is a political science major from Columbus, Indiana. She is a Rector Scholar, Honor Scholar, and member of Phi Beta Kappa and Pi Sigma Alpha. Megan's first opportunity for research came after her sophomore year when she interned at the Sagamore Institute, a non-partisan think tank in Indianapolis. She worked on many research projects, her most notable being "Mapping Ohio's Compassion," a commissioned project for the Governor's Office of Ohio where she analyzed data relating to Ohio's non-profits to determine their reach and efficacy. The results of this research were presented to the Governor's Office and published online. During the fall of her junior year, Megan studied international studies and multilateral diplomacy in Geneva, Switzerland. Her final paper in Geneva examined the strategic relationship between Israel and Russia and its implications for U.S. security was published by the School for International Training. In summer 2015, Megan interned at Exodus Refugee Immigration where she navigated the difficulties of refugee resettlement and helped formalize a program to connect refugee women with WIC and other programs to ease the transition to America. This year, Megan completed a political science thesis examining securitization theory and its applications for the current refugee crisis in the European Union, and her Honor Scholar thesis examines women's roles in conflict using the Democratic Republic of Congo as a case study. Megan intends to publish both of these papers. Most recently, Megan was honored with the Stephen Charles Sellett Memorial Award for outstanding seniors in political science. Post graduation, Megan will work in Indianapolis at KSM Consulting as part of the Orr Fellowship. After the fellowship, she intends to pursue a Masters degree in international security.
Sydney Cason
Sydney Cason is a neuroscience major and Honor Scholar from West Lafayette, IN. After spending her first year in the School of Music and performing lead roles in two operas, Sydney created an independent major in neuroscience, combining coursework in psychology, biology, chemistry, and computer science. She has led multiple neuroscience educational outreach endeavors, including co-founding Neuroscience Education and Research at DePauw (NERD), creating and playing The Neuron Games in an after-school science program, and giving a public lecture at the Putnam County Public Library on Alzheimer's disease. Additionally, Sydney co-founded and recorded a science podcast series with the award-winning publication Glasgow Insight into Science and Technology while studying abroad in Glasgow, Scotland. She is a 2015 initiate of Phi Beta Kappa, a Peer Mentor in the Mentor Program, and has served as a teaching assistant. She joined her first research lab as a first-year and has been working in two collaborating labs at Purdue University for the last two years. At Purdue, Sydney has worked on two major research projects that are being prepared for publication in peer-reviewed journals. She received grants from the biology and psychology departments for her research and has presented her work at two conferences. Her Honor Scholar thesis comprises original research addressing age-related hearing loss, and her major thesis reviews recent research on Alzheimer's disease for a general audience. In 2013 and 2014 respectively, Sydney was awarded the Meghan Parker Memorial Prize for the outstanding first-year vocalist and the Condit Science Scholarship for the promising sophomore or junior in psychology. Sydney is one of the 2,000 individuals nationwide selected for the competitive National Science Foundation Graduate Research Fellowship. She plans to attend the University of Pennsylvania next fall and hopes to eventually pursue a career in academia focusing on the aging brain and neurodegenerative diseases.
Sheridan Schulte (2016 Murad Medal recipient)
Sheridan Schulte is a biochemistry and history double major with minors in French and European studies from Houston, Texas. Ultimately, Sheridan intends to pursue a career in medicine, but DePauw's liberal arts education has given her the opportunity to develop a broader understanding of world cultures, languages, and global health. She served as president of Timmy Global Health during her junior and senior years, raising campus awareness about health disparities, hosting public health speakers and fundraising events, and organizing medical service trips to Ecuador and the Dominican Republic. She also put her interest in public health and medicine to use in a research setting at DePauw, where she worked with Dr. Sharon Crary in the biochemistry department to create a diagnostic test for the neglected tropical disease, leishmaniasis. At M.D. Anderson Cancer Research Center, she examined different imaging modalities' ability to earlier detect pancreatic cancer. As a history major, Sheridan has performed extensive historical research. While studying abroad in Paris, Sheridan earned a scholarship to complete a thesis on the French Resistance movement during World War II. Her senior history thesis on the role and treatment of twentieth century American female physicians explores what it was like to be a female physician at a time when the level of women in medicine hovered at just five percent. Sheridan has been the recipient of multiple awards and scholarships, including the William Wallace Carson History Scholarship, Charles E. & Agnes Shawen Merit Scholarship for pre-medical students, and the Morehead Givens Western European Art History Scholarship. She is a member of Phi Beta Kappa, Order of Omega, and Phi Alpha Theta honor societies. Next year, Sheridan will begin her Masters of Public Health at the University of Texas with a concentration in Maternal and Child Health; she then plans to attend medical school. Her goal is to become an obstetrician and gynecologist and use her public health background working for a global health nonprofit organization that focuses on women's health and empowerment.
2016 Nominees: Page Daniels, Kimberly Mendez, Matt Piggins, Julia Roell, Erin Tolar, Céline Wachsmuth, Noelle Witwer
PAST RECIPIENTS
Stephen Dobbs '15
Stephen Dobbs is a geology major and mathematics minor from Mooresville, IN. Originally on track to study history at DePauw, Stephen's academic goals made a sharp turn when he discovered his love for geology. Seeing Stephen's genuine interest, promising ability, and a passion for the discipline, DePauw Professor Tim Cope invited Stephen to conduct geological research with him in northeast China. For the past three years—including over 150 days of field work in rural China—Stephen has devoted his undergraduate career to his research in an attempt to understand the complex history of the region. Aside from his time in the field, Stephen was a lab technician under Professor Jim Mills for DePauw's Department of Geosciences. Here, Stephen performed analyses for his research and the department while also teaching other students. Stephen's research culminated into two publications that he authored and presented at the Geological Society of America's annual meetings of 2012 and 2013. Since February 2014, Stephen has been working on a Senior Thesis about his research that he plans to publish. Stephen's academic pursuits earned him a series of honorary distinctions. DePauw's Department of Geosciences awarded him the Ernest Rock Smith Award in 2013 and 2014 for academic achievement in the geosciences. Stephen was also honored with DePauw's Paul S. Jarrett Endowed Merit Scholarship for 2013 and 2014, which commemorates academic achievement based on the criteria for the Rector Scholarship. Stephen was featured in DePauw magazine's 2013 fall issue highlighting his research in China. Nationally, he has had the honor of being initiated into Phi Beta Kappa, and has been recognized twice by the Barry M. Goldwater Scholarship Foundation—the most sought after academic achievement scholarship in the U.S. for undergraduate science students—with honorable mentions in 2013 and 2014.
2015 Finalists: Lucy Hang La, Madeline Perry
2015 Nominees: Quincy L. Abarr, Chelsea C. Schumacher, Patrick C. Brems, Kevin M. Smith, Emily C. Vincent, Doron Kantor, Michael L. Weber, Taylor M. Zartman, Yukun Zhang
Samantha M. Anderson '14
Samantha graduated from DePauw in three years as both a Rector Scholar and a Science Research Fellow. Committed to teaching science, she worked as a teaching assistant for the chemistry and biochemistry department and as a Quantitative Reasoning Center tutor. She also encouraged other women to pursue their interest in science through her role as a peer mentor for the Women in Science organization.
Samantha worked on five different research projects during her time at DePauw University. As a first year student, she learned how to weld while designing and building the protein sculptures that now hang in the atrium of the Percy L. Julian Science and Mathematics Center—a collaborative research project between biochemists and artists. Samantha found her passion for science research while completing a second research project that investigated protein structure and function. During another project, Samantha worked to create a drought resistant plant that could make its own water. Based on this work, combined with extraordinary classroom performance, the Biochemistry department awarded Samantha the Wylie-Condit Science Scholarship for promising science students. Samantha completed an internship in biochemistry and microbiology at the University of Wisconsin-Madison. This work resulted in a recent publication in Molecular Microbiology. She also worked on a project focused on neglected tropical diseases. Many of Samantha's projects culminated with poster sessions and oral presentations where Samantha was able to hone her science communication skills.
2014 Finalists: Trina M. Manalo, Maritza J. Mestre
2014 Nominees: Ethan E. Brauer, Anna M. Butz, Mackenzie M. Creameans, Gwendolen L. Eberts, Dana M. Ferguson, J.D. Hoover, Meredith D. Lockman, Cole P. Rodman, Katherine R. Shover, Garth E. Synnestvedt, Weiqing Zhang
About Ferid Murad '58

Dr. Murad won the 1998 Nobel Prize in Medicine for his discovery of the role of nitric oxide in the cardiovascular system. The discovery not only contributed to a better understanding of how information is transmitted between cells but also had a significant influence on cardiovascular medicine, leading to changes in treatment following a heart attack. His research and findings on the effect of nitric oxide continue to influence the treatment of cancer and arthritis and other human diseases.
A professor at George Washington University's School of Medicine and Health Sciences, Murad has received numerous other awards and honors, including the Albert and Mary Lasker Basic Medical Research Award, American Heart Association Ciba Award and Baxter Award for Distinguished Research in the Biomedical Sciences from the Association of American Medical Colleges
Murad earned his undergraduate degree in premedical science and chemistry from DePauw in 1958 before earning M.D. and Ph.D. in Pharmacology from Case Western Reserve University in 1965.