The Ferid Murad Medal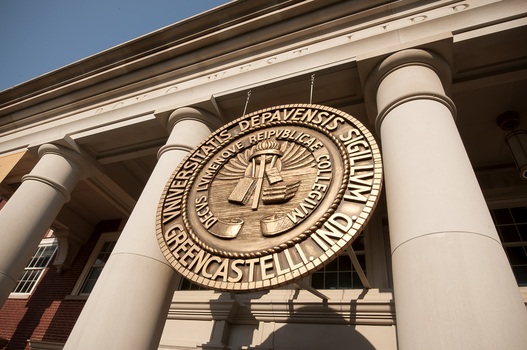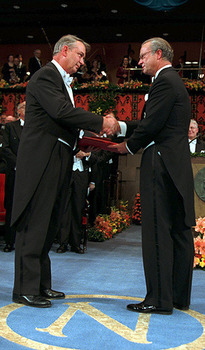 Named for Nobel laureate Dr. Ferid Murad '58, the Murad Medal recognizes the senior who has had the most significant scholarly or artistic achievements during his or her time at DePauw.
Murad Medal Winners
Samantha Anderson, 2014 (Inaugural Winner)
The 2014 Murad Medal Finalists

Samantha M. Anderson
Major: Biochemistry
Minor: History
Hometown: Wonder Lake, Ill.

Samantha is graduating from DePauw in three years as both a Rector Scholar and a Science Research Fellow. Committed to teaching science, she has worked as a teaching assistant for the chemistry and biochemistry department and as a Quantitative Reasoning Center tutor. She has also encouraged other women to pursue their interest in science through her role as a peer mentor for the Women in Science organization.
Samantha has worked on five different research projects during her time at DePauw University. As a first year student, she learned how to weld while designing and building the protein sculptures that now hang in the atrium of the Percy L. Julian Science and Mathematics Center—a collaborative research project between biochemists and artists. Samantha found her passion for science research while completing a second research project that investigated protein structure and function. During another project, Samantha worked to create a drought resistant plant that could make its own water. Based on this work, combined with extraordinary classroom performance, the Biochemistry department awarded Samantha the Wylie-Condit Science Scholarship for promising science students. This past summer, Samantha completed an internship in biochemistry and microbiology at the University of Wisconsin-Madison. This work resulted in a recent publication in Molecular Microbiology. Currently, she is working on a project focused on neglected tropical diseases. Many of Samantha's projects culminated with poster sessions and oral presentations where Samantha was able to hone her science communication skills.
Samantha plans to continue her education at the University of Wisconsin-Madison in the Integrated Ph.D. Program in biochemistry.
---

Trina M. Manalo
Majors: Biology and Spanish
Minor: Chemistry
Hometown: Fort Wayne, Ind.
As a student at DePauw University, Trina Manalo wanted to make the most of her scholarly career. Although she was not in the Science Research Fellows program, she sought and obtained a research opportunity with the Indiana University School of Medicine for the summer after her first year of college. During this experience, Trina investigated nutrient deficiencies in the nation's largest Burmese refugee population for the Department of Health of Allen County.
Trina worked with DePauw Professor Daniel Gurnon, Professor Jacob Stanley and ten students to create the sculptures that hang in the atrium of the Percy Lavon Julian Science and Mathematics Center. Additionally, Trina worked with Professor Gurnon to create a user-friendly interface explaining the science behind the sculptures, which are part of the University's permanent art collection. Her work is part of an ongoing project to create an interactive kiosk for the atrium.
Trina joined Professor Pascal Lafontant's lab in her junior year and continues to conduct research with him. She examined cardiac remodeling in the Giant Danio fish after injury induced by the cancer drug doxorubicin and determined the mechanism of tissue regeneration. Currently, Trina is working on in vitro fertilization of Giant Danio fish for future studies.
Among her accomplishments, Trina contributed to an abstract that was selected to be presented at the Indiana Physiological Society conference in 2013, and which won first place. She was again selected to present at this conference in 2014. Her research was also selected as one of eleven national finalists for the undergraduate poster presentation competition held by the American Association of Anatomists in both 2013 and 2014. Additionally, Trina helped complete a project started by previous students. This work resulted in Trina being listed as a co-first author on a paper entitled "Cardiac repair and regenerative potential in the goldfish (Carassius auratus) heart" published in Comparative Biochemistry and Physiology.
---

Maritza J. Mestre
Major: Sociology
Hometown: Urbana, Ill.
An Honor Scholar and Media Fellow, Maritza is also a member of Phi Beta Kappa, Alpha Kappa Delta International Sociology Honor Society and Order of Omega Greek Honor Society, for which she served as the Vice President her senior year.
Maritza has benefited greatly from the unique, challenging, and rewarding experiences at DePauw and from the endless support of her professors as she has pursued her intellectual goals. During her first and second years she served as a section editor of The DePauw, for which she received four state-level awards for published articles. During her Media Fellows internship, Maritza worked at the United Nations World Food Programme in Rome. Additionally, Maritza interned with Teach for America, teaching sociology and English as a second language in a high school in Memphis, TN.
As a sophomore, Maritza presented a paper titled "Representations of Body Image, Diversity, Self, and Agency in Popular Teen Magazines" at the DePauw Undergraduate Honors Communication Conference. Last summer Maritza worked as a research assistant at the University of Illinois helping to code data on a federally funded grant investigating grade school students' experiences with bullying. This spring Maritza presented her sociology senior thesis titled, "'Sweeping it Under the Rug': Student and Faculty Experiences Discussing Race and Ethnicity" at the North Central Sociological Association Conference. Her Honor Scholar thesis entailed a content analysis of Susan B. Anthony and Elizabeth Cady Stanton's letters. This research analyzed the role of their friendship in advancing the pair's personal and professional goals.
Maritza's experiences as a First-Year Mentor, writing tutor, and sociology tutor, combined with her research experiences, inspired her to pursue a career as a professor, and she will enter Indiana University's Ph.D. program in sociology in the fall.
The 2014 Nominees
Nominated for the Murad Medal by their departments and programs, these students represent the height of academic and artistic achievement at DePauw.
Samantha M. Anderson (Finalist)
Ethan E. Brauer
Anna M. Butz
Mackenzie M. Creameans
Gwendolen L. Eberts
Dana M. Ferguson
J.D. Hoover
Meredith D. Lockman
Trina M. Manalo (Finalist)
Martiza J. Mestre (Finalist)
Cole P. Rodman
Katherine R. Shover
Garth E. Synnestvedt
Weiqing Zhang
About Ferid Murad '58

Dr. Murad won the 1998 Nobel Prize in Medicine for his discovery of the role of nitric oxide in the cardiovascular system. The discovery not only contributed to a better understanding of how information is transmitted between cells but also had a significant influence on cardiovascular medicine, leading to changes in treatment following a heart attack. His research and findings on the effect of nitric oxide continue to influence the treatment of cancer and arthritis and other human diseases.
A professor at George Washington University's School of Medicine and Health Sciences, Murad has received numerous other awards and honors, including the Albert and Mary Lasker Basic Medical Research Award, American Heart Association Ciba Award and Baxter Award for Distinguished Research in the Biomedical Sciences from the Association of American Medical Colleges
Murad earned his undergraduate degree in premedical science and chemistry from DePauw in 1958 before earning M.D. and Ph.D. in Pharmacology from Case Western Reserve University in 1965.