About the Program
The DePauw Honor Scholar Program is open to students of all majors who show unusual promise and commitment to the development of the life of the mind. Each year a small number of carefully selected first-year students are invited to participate in the program and the special opportunities it presents.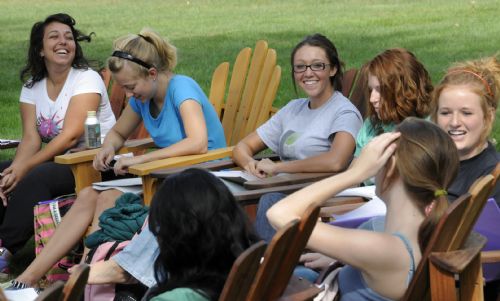 In their first year, Honor Scholars take two special Honor Scholar First-Year Seminar courses. During their remaining three years, students take three interdisciplinary seminar courses. These seminars focus on a wide variety of topics, and allow students to investigate topics in the natural sciences, socials sciences, and humanities. These seminars allow Honor Scholars to read, discuss, and write about both classic and cutting edge sources in a small group setting, working closely with professors.
During their last two semesters at DePauw, Honor Scholars pursue independent work under the direction of a faculty thesis advisor and a committee of two or more additional faculty members, culminating in an Honors thesis.
Being an Honor Scholar implies more than formal academic study. There are opportunities for Honor Scholars to mix socially and informally with one another and with members of the faculty. Above all, the program provides an opportunity to be part of a group that seeks especially to find in its college education an intensive and stimulating intellectual experience.
Liberal arts education at its best, the Honor Scholar Program ideally prepares its members for any postgraduate training or careers.