Sales & Marketing Management Names Gary Summy '72 'Sales Trainer of the Year'
December 18, 2002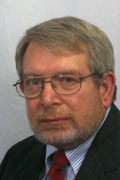 December 18, 2002, Greencastle, Ind. - Gary A. Summy, a sales trainer with Motorola Corporation and a 1972 graduate of DePauw University, has been awarded the prestigious Sales Trainer of the Year award from Sales & Marketing Management magazine. An article in today's Pilot News of Plymouth, Indiana notes, "It is an achievement for Gary which started with the work ethic he learned in his hometown and carried through to graduation from DePauw University and into the corporate world."
Summy has been with Motorola for 3 years and have responsibility for all sales training and development for Motorola's global sales organization. His title is, Principle Solutions Manager: The Customer Experience, Motorola University. "I deal with the Motorola sales organization, training internal sales people, a great group," he told the newspaper, which is distributed in the town in which Summy grew up, Bremen, Indiana.

Sales & Marketing Management's editor-in-chief, Melinda Ligos, says the award "is designed to recognize top performers in the sales and marketing fields who go above and beyond the call of duty and set examples for their industries. We had an incredible group of talent this year. The applicant pool was so competitive, it wasn't enough just to do your job well or post impressive revenue figures. Nobody won for putting up big numbers. Every recipient either invented a clever new approach to conducting business or designed a unique and innovative solution to a difficult problem."
You can read the article in the Pilot News online by clicking here. Gary Summy, his wife Laurie and their two children live in Mentor, Ohio. You can e-mail him by clicking here or here.
Back