Ball Corp's David Hoover '67 Among America's Top New CEOs
January 29, 2003
January 29, 2003, Greencastle, Ind. - R. David Hoover, president, chief executive officer and chairman of the board of Ball Corporation and a 1967 graduate of DePauw University, is "ranked in the top five of new CEOs nationwide, according to Standard & Poor's data compiled by Bloomberg News," notes an article in the Rocky Mountain News of Denver, Colorado. Bloomberg analyzed CEOs who were hired in 2001, using stock performance as the barometer. "Hoover, hired to lead Broomfield-based Ball in January 2001, ranked second in the nation, with Ball's stock returning nearly 180 percentage points more than the S&P 500 average since he took the helm," the story states.
Only AutoZone CEO Steve Odland, whose company's stock outpaced the S&P 500 by 240.6%, eclipsed the 179.2% gain in Ball Corporation stock on David Hoover's watch. Heather Draper writes, "Hoover often shares his simple business model with shareholders and analysts: He wants to make more money than he spends. That is the kind of business model that resonates with an investing public tired of the 'smoke and mirrors' business models of the late 1990s, analysts say."
Michael Useem, director of the Wharton School's Center for Leadership and Change Management at the University of Pennsylvania, tells the paper, "Two years ago, the idealized CEO candidate would have been a hard-charging forward thinker who could execute. Today, the world has become less forgiving and more uncertain." You can read the article online in its entirety by clicking here.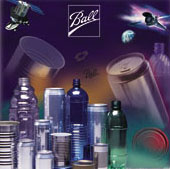 David Hoover received a bachelor's degree in economics from DePauw in 1967, an M.B.A. in finance and real estate from Indiana University in 1970, and completed the Advanced Management Program of the Harvard University Graduate School of Business in 1988.
Ball Corporation (NYSE: BLL) is a manufacturer of metal and plastic packaging, primarily for beverages and foods, and a supplier of aerospace and other technologies and services to commercial customers. This morning, Ball announced it posted a fourth-quarter profit of $28.7 million, or 50 cents a share, up from $7.9 million, or 14 cents a share, a year earlier, on earnings of $31.9 million, or 56 cents a share, up from $18.4 million, or 32 cents per share, exceeding analysts' expectations. You can read more in a Reuters story here.
Back