Work of Richard Lou on Exhibit at Peeler Art Center, September 1- October 10
August 12, 2004
Also:
"Bright Sadness: Russian Icons from the Sinsky Collection," August 25 through December 5
August 12, 2004, Greencastle, Ind. - On September 1, a solo exhibition featuring the work of artist Richard Lou will open at the Richard E. Peeler Art Center at DePauw University. Through his work, Lou constantly engages in the analysis and deconstruction of cultural, social and ethnic identity, a process that reveals how contemporary consciousness is profoundly shaped by negative stereotypes of people of color. Primarily conceptual and, in varying degrees, interactive, the works featured in this exhibition articulate issues of identity, power, history and privilege.(top image: The Border Door, 1988, door frame, keys and mixed media; courtesy of the artist)
Richard Lou's conceptually informed projects, site-specific installations and performances -- which are as culturally paradoxical as the United States-Mexico borderlands region in which he was raised -- are mediated through photography and video and frequently address issues related to identity

and border politics. Lou received his B.F.A. from California State University, Fullerton, and earned his M.F.A. at Clemson University. His work has been exhibited at the Irvine, California Fine Arts Center; Palomar College, the Istanbul Contemporary Art Museum, the Museum of Contemporary Art in San Diego, and was featured in the traveling 2000 exhibition "Hecho en Califas: The Last Decade," for which he was curator. He is currently chairman of the department of art at Georgia College & State University in Milledgeville, Georgia.
Lou is a former member of the influential Border Art Workshop/Taller de Arte Fronterizo (BAW/TAF), an artist collective formed in 1984 that explored border identity through performance, text and other interdisciplinary vehicles. In the early 1990s, Lou began collaborating with fellow BAW/TAF member Robert Sánchez on a series of projects and performances in which they assume the fictional roles of
Los Anthropolocos, two futuristic Chicano anthropologists/archaeologists who discover and study white ethnicity. Several works from this collaboration are featured in the current exhibition. (at left: Voices from the Conquered, 1992, color photograph; courtesy of the artist)
Also featured will be a site-specific installation based upon an excerpt from a love poem by Mexican poet laureate Octavio Paz (1914-1998). Titled Como agua en agua, literally "like water in water," the work will be sited in the trees located in the park (the Hamilton Exercise Trail) to the west of the Peeler Art Center, allowing the visitor to walk around and through the text of the poem, becoming a part of the seamlessness implied by the poetry fragment.
Note: This exhibition contains imagery that is difficult, may be upsetting to some, and may not be appropriate for children. Viewer discretion is advised.
The galleries at the Richard E. Peeler Art Center are open Monday through Friday from 9 a.m. to 4 p.m.;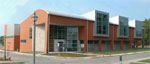 Saturday 10 a.m. to 4 p.m.; and Sunday 1-5 p.m. An opening reception with a gallery talk by the artist will take place September 1 from 4 to 6 p.m. The exhibit, which continues through October 10, is free and open to the public. For more information, call the gallery information line at (765) 658-4882 or click here.
Back