Hank Leander '52 Honored by Junior Achievement, Profiled in Magazine
July 12, 2005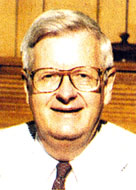 July 12, 2005, Greencastle, Ind. - "As a student at DePauw University, [Henry A. "Hank"] Leander earned a bachelor's degree in economics," notes Business People magazine of the 1952 DePauw University graduate. Leander, retired president of the Ford Meter Box Inc., is profiled by the publication as one of this spring's honorees of Junior Achievement of Northern Indiana.
"I thought I was going to be an accountant, so I took all the accounting classes I could," Leander tells the magazine. "Then, my senior year, an economics professor handed me Business Week, with an article about Harvard Business School. I read it and the professor encouraged me to apply to Harvard's M.B.A. program."
That's precisely what Leander did. While earning his graduate degree,"he also married his wife, Louise, whom he met while he waited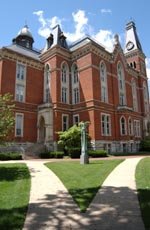 tables at DePauw," the article points out. The story describes Leander's rise in the business world, noting, "When he retired as president and CEO in 1992 after 33 years of service, the company had grown to yearly sales topping $75 million and more than 700 employees."
Leander says, "I believe strongly in independent higher education... I went to private colleges and so did my children, and I believe private schools need our support to survive. I want others to experience those highed education experiences and the career success that can result."
Access Business People online by clicking here. Hank Leander received an honorary degree from Manchester College in 2003. Read more in this previous story.
Back