Newsweek Video Report Spotlights DePauw
June 27, 1981
June 27, 1981, Greencastle, Ind. — "DePauw University, a small, private liberal arts college in the heart of Indiana's corn belt," begins a video report distributed nationally by Newsweek. "In 1979, DePauw -- unlike most colleges -- raised its standards of admissions," notes the voiceover.
"We think what is happening -- and this is my gamble, if you will -- I think that what people are going to be seeking from certain private schools in the years to come is a demonstrably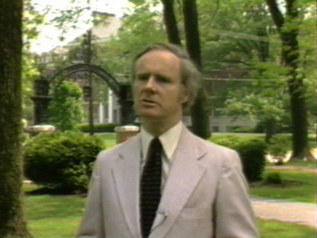 high quality education: it's got to be there," President Richard F. Rosser says. "And that means you certainly cannot have open admissions, you've got to have standards in terms of getting in and in terms of financial aid."
The video shows DePauw's Class of 1981 picking up their final grades and gathering one last time on campus as a group on the night before commencement.
The piece cites forecasts that nationally, "declining admissions, rising costs and cuts in federal funding will force parents and students to shop around for a sheepskin."
See the video report here:

[Download Video: "Newsweek Video Report" - 4419kb] or on YouTube.
Erma Bombeck addressed the Class of 1981 at DePauw's commencement on May 23. Details can be found in this recent story.
Back