Field Trip
June 22, 2010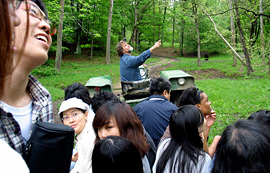 Two dozen students and professors stepped out of their cars onto a grass field just south of the Putnam-Owen county line. It was a wet day with more rain predicted, but the opportunity to escape the stress of finals week had lured them from DePauw's campus.
Yang Chen, a junior economics major from Beijing, organized the field trip. There are a lot of interesting places around Greencastle they'd never seen, she had told DePauw's Chinese community in her invitation. Jerry Bates' cattle ranch was one of them.
The way Chen tells it, you're lucky to spot a squirrel in the cities she and most of the other Chinese students call home, but this trip wasn't only about seeing cows. The ranch blends nature and agriculture, creating a landscape where humans seem out of place.
Riding on a wagon, the group followed Bates along a wooded path to one of the pastures. As they approached, the cows within quickly became aware of their presence. It was the largest group of people they'd ever seen.
Alter Egos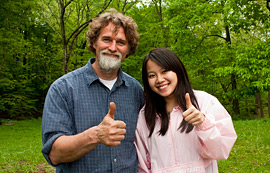 Chen met Bates (both pictured) while addressing what she saw as a critical lack of practical ability -- namely, she wanted to learn how to make furniture. She was eventually directed to Bates, who works part-time at DePauw as an art studio assistant and runs the Peeler Art Center wood shop. As the two talked, Chen learned about Bates' other life as a rancher.
He and his wife Katie moved to the area in 1997 from Syracuse, N.Y., where he earned a M.F.A. degree in painting and she had worked as an art director. The move meant more than just a change in scenery. A family ranch 20 minutes south of DePauw had been passed down from father to son for generations. At the time, Bates' uncle was still running things, but he had no children of his own, putting the artist nephew next in line.
Bates wasn't unprepared for the life that awaited him. Growing up in Illinois, he spent summers on the ranch with his uncle. "He taught me as much as he could about conservation and erosion, and how to work the cattle," Bates says of his uncle, who passed away two years ago. "He kind of let the mysteries unfold."
Choosing to put their careers on indefinite hold, Bates and his wife built a new house on a second family farm not far from the 220 acres of pastures, woods and cattle. He also toyed with the idea of going without electricity before his wife exercised her veto. Still, the family lives as much off the land as they're comfortably able. They keep chickens for eggs and a pair of dairy cows for milk.
"Whenever I milk a cow, I feel like I've joined the ranks of thousands of years of cow milkers, just by having a bucket and a pair of hands," Bates says.
Bates and his wife have added two more to their family since the move. Unlike their parents, life on the ranch is all the children know.
"The other morning, we found that one of my son's show chickens was killed by another animal overnight," Bates says. "It was a painful experience, but a good experience. Reality is a mix of struggle and pleasure. I don't know when they'll need to draw on that, but no matter what they go on to do, I think they'll be better off for their time here."'
Beef Economics
As a growing number of people avoid the products of what they believe to be an unethical meat industry, Bates' ranch provides another option. In contrast to most store-bought beef, his cattle are pasture-fed. Their diet consists mostly of the grass they graze, an occasional acorn fallen from the surrounding oak trees and hay during the winter.
This less-is-more approach is evident in other ways. Peaking at around 30 head of cattle in the spring, the Bates ranch is a relatively small operation. Bates thinks he can potentially grow his herd to 50 cattle -- enough to feed 100 families -- but only if the land will support them. In this respect, cows and humans have a lot in common. Start filling a room with strangers, and you'll inevitably reach a breaking point.
"You can tell if a cow is too stressed," Bates says. "Its head will be down and it won't be as clean as it normally should be. Cows clean each other, probably to replenish their own salt, but healthy cows will stay away from others if they think there's something wrong."
As Bates says, his cows live their entire lives "expressing their cowness" by grazing and doing all the other things that healthy, happy cows do. And it's their health that's ultimately being sold.
"It's a product we feel good about selling," Bates says. "Our animals have a good life, and it shows."
Field Trips
There have been other visitors to the ranch. One of Bates' first customers, a local judge, came to see the calves. A Japanese man, in Greencastle on business, also wanted to see how things were run. He wasn't going to buy anything without seeing the operation first.
It was typical for Bates to have a customer or two come over, but never as many as Chen brought with her that day.
The herd could tell that something was up. Mothers quickly gathered their young and waited to see what would happen. Sensing their nervousness, Bates walked alone to the pasture gate.
"He started talking to one of the cows," Chen says. "Eventually, one-by-one, they followed him out of the pasture and up to the wagon. That was an emotional moment for me. Where I come from, you don't see that kind of trust and respect between animals and humans."
Back