Completed Projects
The following campus projects were recently completed.
Anderson street entrance
completed december 2012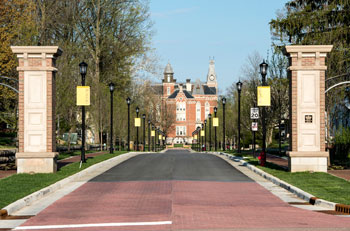 The Campus Master Plan, endorsed by the Board of Trustees in October of 2010, called for a new official entrance to campus. Shortly after the plan's endorsement, the University partnered with the City of Greencastle on its Stellar Communities Initiative and the University-financed Anderson Street Project was included in the grant application. By including the project in the application, the University's investments provided matching dollars that will make it possible for additional streetscape improvements to be made in the City's central business district.
Prior to the beginning of Anderson Street Construction in May of 2012, the street ran one-way, from west to east. Upon the project's completion, Anderson Street now serves two-way traffic and features brick sidewalks, new limestone retaining walls, and new light posts. The Hoover Gates, named to honor R. David and Suzanne Hoover (both '67), sit at the corner of Anderson Street and Bloomington Street (Highway 231). Photographs of the completed project, along with photographs documenting various stages of construction, are available in the University's photo database.
Eli's Books - University bookstore
completed september 2012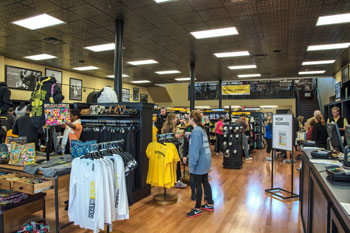 The Eli's Books and Starbucks Cafe project was also part of the Stellar Communities Initiative. Initially proposed as a means of creating a high-traffic commercial and retail anchor on the square, the University offered to move its bookstore from the Memorial Student Union Building to the corner of Indiana Street and Washington Street on Greencastle's courthouse square. In addition to providing new commercial spaces, the property includes an open-to-the-public community meeting room and four loft-style apartments.
The new bookstore is named in honor of Colonel Eli Lilly, who attended the Academy at Indiana Asbury (which would become DePauw University) and opened his first pharmacy in downtown Greencastle. The Follett Higher Education Group operates both Eli's Books and Starbucks. Photographs of the Eli's Books grand opening celebration are available in the University's photo database (here and here).
Emison Building - Office of Admission
completed summer 2012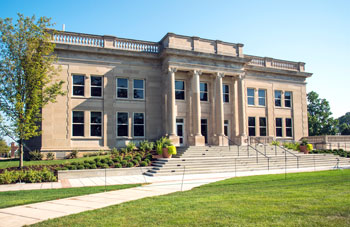 The Emison Building is now home to the University's Office of Admission and Financial Aid. The renovated building provides a first floor reception area for prospective student visitors, with campus tours departing onto East College lawn from the building's north steps. While the reception area on the first floor re-opened in the fall of 2011, the second floor of the building was completed in summer 2012. It now provides office space for the admission and financial aid staff. Photographs of the reception area of the Emison Building are available in the University's photo database.