Contractor and Vendor Information and Forms
Forms
Policies
Parking Policy
Purpose

Provide for the safety of the campus and to improve the appearance of the DePauw University landscape and hardscape by managing vehicular use on campus.

Intent

It is the intent of this policy to exclude and/or limit vehicles from the landscaped areas, sidewalks, lawn and other University grounds areas except for drives and designated building access areas. Pedestrian safety is of paramount concern in this matter. The University has a commitment to the preservation and beautification of campus grounds. Deterioration of landscaping and walkways due to excessive vehicular weight, soil compaction, tire ruts, and damage to lawns and landscape beds detract from the overall appearance of the grounds and increases the cost of grounds maintenance. It is recognized that exceptions will have to be made to this policy from time to time for a variety of reasons. In such cases, permission to operate or park a motor vehicle(s) or other motorized equipment on University grounds and walkways must be obtained in advance from Facilities Management. Emergency vehicles in performance of official business are exempt from this policy.
Contractor and Vendor Parking Policy
Definitions

Service Vendors are defined as vendors who provide services to departments on campus. Service vendors may also include vendors making deliveries of products or equipment that they can reasonably transport on foot from a valid parking space
Delivery Vendors are defined as vendors who provide deliveries of large products or bulk quantities of products to departments on campus.
A contractor is defined as an external company that provides construction

Requirements

Contractors must display a contractor parking tag in the vehicle. These will be available at the Facilities Management office or from the project manager
A map of contractor parking lots will be posted and available at the Facilities Management office. Contractors parking in other lots are subject to fines/penalties.
Contractors, vendors, and delivery personnel are required to obtain parking authorization prior to parking in a designated space. Violators will be subject to fines/penalties.
Contractors working for the University will use designated spaces as outlined in project documents/contracts.
Loading docks must be used by delivery personnel when available. Vehicles must move as soon as unloading is finished
All vehicles parked on the landscape, pedestrian walkways or in the process of service delivery, must display adequate safety devices, i.e. flashing lights, cones, signage, etc.
All incidents of property damage must be reported to the Facilities Management office and to the office of Public Safety.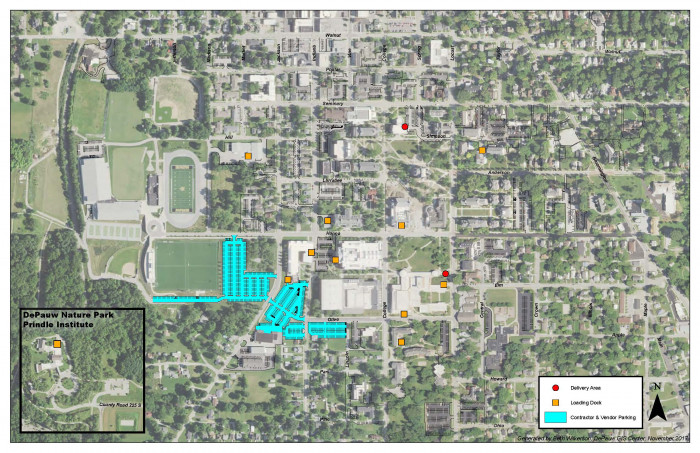 UTV and Back-Up Alarm Policy
Purpose

Provide for the safety of the campus community and to improve the appearance of the University landscape and hardscape by managing UTV use on campus.

Intent

It is the intent of this policy provide guidance for use of UTVS on sidewalks, lawns, landscaped areas and other University grounds. Pedestrian safety is of paramount concern in this matter. Backup alarms are required for pedestrian safety.
UTV Policy
Definition

UTV—Utility Vehicle or Utility Task Vehicle

Requirements

All motorized UTV traffic using the walkways and areas other than the roadway must first receive authorization from Facilities Management
All motorized UTVs that leak or drip liquids are prohibited from traveling or parking on walks or landscaped areas
Contractors or vendors that park UTVs on University hardscape or landscape areas will be held responsible for damage and restoration expense.
All motorized UTVs or equipment using the walkways must give the right-of-way to all pedestrian traffic, moving off to the side to allow for safe passage.
Back-Up Alarm Policy
Definition

Back-up beeper also known as a back-up alarm, or vehicle motion alarm, is a device intended to warn passers-by of a vehicle moving in reverse

Requirements

University contractors, vendors, or delivery vehicles that use equipment with an obstructed view to the rear must be equipped with a back-up alarm.
The back-up alarm must be distinguishable from the surrounding noise level
Vendor and Contractor Uniform and Dress Code Policy
Purpose

Provide guidance for Vendors and Contractors on DePauw University Facilities Management uniform (appearance) expectations.

Intent

The intent of this policy is to provide clear guidelines for vendors and contractors associated with DePauw Facilities Management, on the expectations for professional appearances while working on campus and interacting with Students, Faculty and Staff.

Uniform Wear

All vendor and contractor employees must wear apparel which clearly denotes their company.
Vendors and contractors are responsible for following their job safety plans and will require all employees to abide by the PPE requirements for each task performed.
Uniforms must be appropriate PPE where applicable, denoting company logo.
All work-appropriate clothing must be presentable and in good condition.
Clothing with adverse or offensive materials will be prohibited and if there is a violation, the employee will be asked to remove the clothing or leave DePauw property.

Adverse Weather Condition

All vendor and contractor employees will be respectful of University property during adverse weather conditions. Mud, snow, concrete slurry, etc. will not be permitted in all University properties. The employer will be responsible for taking measures to mitigate the exposure of these conditions. The employer will also be responsible for the cleanup of any such incident. b. Work-appropriate clothing shall be required in all types of weather.

Exceptions

Exceptions to this policy for religious beliefs and practices, social events or special circumstances may be approved by the Associate Vice President of Facilities in advance.
Security and Badges Policy
Purpose

Provide guidance for the issuance and wear of security badges while working on campus.

Intent

The intent of this policy is to provide clear guidelines so that vendors and contractors working on campus understand why there is a need for security badges, and how and when to obtain them.
The Facilities Management Department is committed to the safety and security of all individuals on campus. We believe the visibility of a badge confirms the right to be on campus when encountering any student, staff or faculty member.
Contractors Working 5 Days or Less on Campus

A general badge can be obtained from the Facilities Management Office upon arrival on campus.

Contractors Working Greater than 5 Days on Campus

Each employee will be expected to obtain a photo ID at our help desk in Union Building upon arrival on campus.

Criminal Background Checks & Drug Screenings

A contractor has verified employee for the criminal background check and drug screenings by providing documentation (i.e. on company letterhead), stating that this employee has been given these tests and received a negative drug test result.
Insurance and Contract Coverage Requirements
Effective November 29, 2017
General Requirements (Apply to all Contractors)
Must be licensed or approved to do business in the State of Indiana
Must provide a minimum of 30 days advance written notice of cancellation, material change, or non-renewal of policies required under the contract to DePauw
Must provide a completed Certificate of Insurance for all policies required
Must provide a renewal certificate for any required insurance which will expire during the course of the contract at least 5 days prior to the expiration
Required proof of professional liability and environmental/pollution liability coverages must be provided for 3 years after the completion of the contract
Must agree in writing that the insurance requirements specified in the contract do not reduce the liability that the Contractor has assumed in the indemnification/hold harmless section of the contract
DePauw University reserves the right to approve the security of the insurance coverages provide by the insurance company(ies) terms, conditions, and the Certificate of Insurance. Failure of the Contractor to fully comply with these requirements during the term of the Contract will be considered a material breach of contract and will be cause of immediate termination of the Contract at the option of DePauw University.
Commercial General Liability
$1 Million per Occurrence
$2 Million Aggregate
Must name DePauw Additional Insured
Workers Compensation
$1 Miilion Employers Liability
$1 Million Occupational Disease
If have employees; applicable in Indiana
Autio Liability
$1 Million Occurence
If vehicles on campus
Employee Dishonesty/Crime
$1 Million per Claim
If have employees
Sexual Misconduct/Abuse Liability
$1 Million per Occurrence
$5 Million Aggregate
If have access to the campus. Waived if documented criminal history background checks conducted on all employees.
Additional Requirements (for Certain Contractors)
Architects and Engineering Consultants
Architect Professional Liability
$2 Million for Major Construction Project
$1 Million for Minor Rehabilitation Project
Construction Contractors
Commercial General Liability
$10 Million per Occurrence for Major Project (requires blueprints)
$5 Million per Occurrence for Minor Project (no blueprints)
Auto Liability
$5 Million per Occurrence for Major Project
Environmental/Pollution
$5 Million per Occurrence with DePauw as Additional Insured
Trade Contractor/Independent Contractor - Minor Projects with No Sub-Contractors
Commercial General Liability
$2 Million per Occurrence
Outsourced Services (Providing Products)
Products Liability
$5 Million per Occurrence
Elevator Services Provider
Commercial General Liability
$5 Million per Occurrence
Environmental/Pollution Liability
$5 Million per Occurrence
Housekeeping Service Providers
Commercial General Liability
$4 Million per Occurrence
Employee Dishonesty/Crime
$2 Million per Occurrence
Environmental/Pollution Liability
$5 Million per Occurrence
Network Security/Privacy Liability
$3 Million per Occurrence
If able to access the DePauw system
Employment Practices Liability
$1 Million per Occurrence
Pest Control Services
Product Liability
$5 Million Per Occurrence
Environmental/Pollution
$5 Million per Occurrence
Snow Plow Services
Auto Liability
$2 Million per Occurrence
Washing Machine and Dryer Service Vendors
Commercial General Liability
$5 Million per Occurrence
Waste Disposal Contractors - Hazardous
Environmental/Pollution
$5 Million per Occurrence
Waste Disposal Contractors - Non Hazardous
Environmenal/Pollution
$2 Million per Occurrence