The Ferid Murad Medal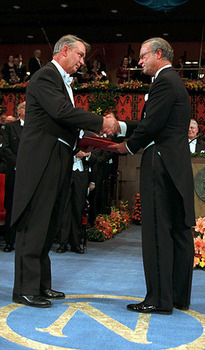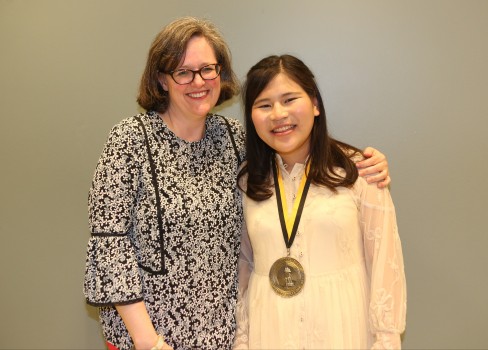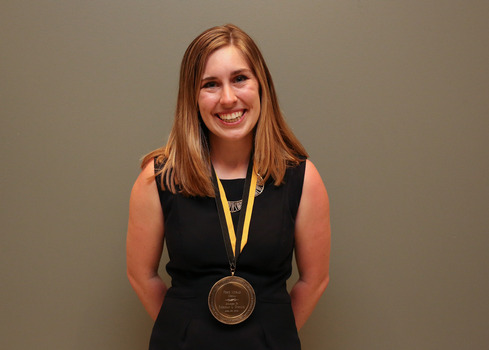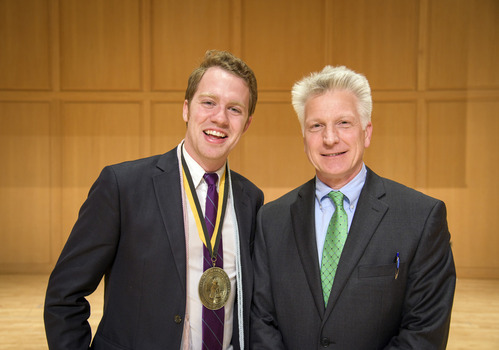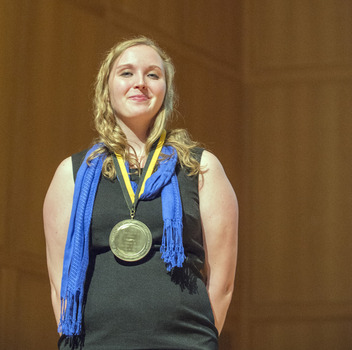 Named for Nobel laureate Dr. Ferid Murad '58, the Murad Medal recognizes the senior who has had the most significant scholarly or artistic achievements during his or her time at DePauw.
The 2017 Murad Medal Finalists
William Burke
William Burke is an English Writing and Theatre double major from Cleveland, Ohio. He is an Honor Scholar and a member of Phi Beta Kappa and Alpha Psi Omega. He is the recipient of the Gilpin Prize in Dramatic Writing, the Barbara Petty Award, and the Don Campbell Award, and was a regional semifinalist for the John Cauble Award for Short Playwriting and the Irene Ryan Acting Award. He has spent the last two semesters finishing three full-length capstone projects: A hybrid honor scholar thesis consisting of full length play and dedicated research component concerning the reaches of gender performance in contemporary drag aesthetics; a full length play modeled on absurdist theatre tradition for his English Writing major; and a dramaturgical and directorial project analyzing 'utopian performatives' in Caryl Churchill plays for this Theatre major. He has participated in the DePauw Summer Research Program, creating an interdisciplinary, cross-demographical curriculum designed to encourage and unshackle creativity in individuals who have been preemptively labeled "uncreative." He went on to present this research and curriculum at the Popular Culture Association National Conference in the Spring of 2016. He currently sits as President and Artistic Director of Alpha Psi Omega, Duzer Du. He has performed in six DePauw Theatre productions—Rocky Horror Picture Show, Parade, Arcadia, Seminar, War of the Worlds, and Angels in America. He has directed three full length theatrical productions—Accountants, a New Musical, Melancholy Play: A Contemporary Farce, and Romeo and Juliet. As assistant director he has assisted faculty directors on three productions—Parade, Company, and Merry Wives of Windsor. His one-act play, "The Balloon Man," received a reading at the Kennedy Center American College Theatre Festival and received a full production on DePauw's mainstage in spring of 2016. He has spent a season working in the Artistic Department of The Hangar Theatre, a premier regional theatre located in Ithaca, NY. Additionally, he has worked with Upstart Creatures, an NYC theatre company dedicated to readings of communal, diverse, rarely-produced theatrical pieces.
Midori Kawaue (2017 Murad Medal Recipient)
Midori Kawaue is an international student from Japan with majors in History and French. She is a Rector Scholar, a Grew-Bancroft Scholar, recipient of the William Wallace Carson History Scholarship and Prindle Humanities Prize, and a member of Phi Beta Kappa, Phi Alpha Theta, Pi Delta Phi, and Mortar Board honor societies. Inspired by the Little House series, it has been her dream to pursue U.S. history and demonstrate that there are no intellectual borders in academia. For the past three years, Midori has been working as a co-editor of a Civil War Prisoner of War diary with Dr. John Schlotterbeck and the DePauw Archives. This book length manuscript is currently under review at Kent State University Press. In 2016, Midori was one of six students selected from a national pool for the Historic Deerfield Summer Fellowship Program, among the most prestigious national fellowship for undergraduates studying U.S. history. During this nine-week program, she produced a paper on a 19th century natural scientist's intellectual and religious affinities in the context of his Enlightenment belief in science. This paper was added to the collection of the Deerfield Library. As a continuation of this project, she is writing a year-long history thesis that examines the social construction of scientific knowledge from the early Republic to the Civil War era. Midori presented her thesis at the "Undergraduate Research Conference Science, Technology, Medicine and Society." Most recently, Midori has been named a finalist for the Gilder Lehrman History Scholar Award which recognizes history majors throughout the nation for their scholarly achievement. These experiences have prepared Midori for her ultimate goal: to pursue a PhD in the history of science and serve as an intellectual bridge between the U.S. and Japan, thus contributing to global dialogues on history.
Annalysse Mason
Annalysse is an Asian Studies, Sociology, and Religious Studies triple major from Greencastle, Indiana. She is a member of Alpha Kappa Delta, Theta Alpha Kappa, and Mortar Board Honor Society. Her first opportunity for research was an independent study, Directed Readings in Asian Studies, in Fall 2015. Her research analyzed themes of pollution, purity, religiosity, gender, and caste in pre-colonial India. Additionally, she constructed an independent research project to take place in Kolkata, West Bengal, India. Upon receiving project approval and funding, Annalysse spent the May Term of 2016 studying Puja, a Hindu worshipping practice, with monks at the Ramakrishna Mission Institute of Culture. Ultimately, this research culminated in a paper titled, Puja Ritual: An Examination of Temple Puja and Public Puja Festivals in Modern Day Kolkata. Upon returning from India, Annalysse moved to Madison, Wisconsin where she received scholarship into the South Asian Summer Language Institute (SASLI). There she learned the equivalent of one year of Hindi in an intensive 8-week course. Additionally, she presented her research on the comparative spatial and spiritual components of Puja ritual and Theyyam Worship (a remote possession ritual of South India) at the SEASSI/SASLI/CESSI Joint Student Conference. Most recently, Annalysse presented a portion of her thesis research at the Indiana University Undergraduate Religious Studies Symposium. This research explored the role of mythological stories in the construction of identity for Hijras, a transgender population in India and a recurring subject of research throughout Annalysse's undergraduate career. This research was published this month in Invocations, Indiana University's undergraduate Religious Studies publication. In continuing her pursuit of an interdisciplinary study of South Asia, Annalysse will attend the University of Cambridge in Cambridge, England for her Master of Philosophy in South Asian Studies. She will continue to study the intersectional relationship between caste, gender, sexuality, and spirituality in modern Hindu India. Annalysse plans to gain enrollment in a Ph.D program by 2018 and eventually become a professor of South Asian Studies.
PAST RECIPIENTS
Sheridan Schulte '16
Sheridan Schulte is a biochemistry and history double major with minors in French and European studies from Houston, Texas. Ultimately, Sheridan intends to pursue a career in medicine, but DePauw's liberal arts education has given her the opportunity to develop a broader understanding of world cultures, languages, and global health. She served as president of Timmy Global Health during her junior and senior years, raising campus awareness about health disparities, hosting public health speakers and fundraising events, and organizing medical service trips to Ecuador and the Dominican Republic. She also put her interest in public health and medicine to use in a research setting at DePauw, where she worked with Dr. Sharon Crary in the biochemistry department to create a diagnostic test for the neglected tropical disease, leishmaniasis. At M.D. Anderson Cancer Research Center, she examined different imaging modalities' ability to earlier detect pancreatic cancer. As a history major, Sheridan has performed extensive historical research. While studying abroad in Paris, Sheridan earned a scholarship to complete a thesis on the French Resistance movement during World War II. Her senior history thesis on the role and treatment of twentieth century American female physicians explores what it was like to be a female physician at a time when the level of women in medicine hovered at just five percent. Sheridan has been the recipient of multiple awards and scholarships, including the William Wallace Carson History Scholarship, Charles E. & Agnes Shawen Merit Scholarship for pre-medical students, and the Morehead Givens Western European Art History Scholarship. She is a member of Phi Beta Kappa, Order of Omega, and Phi Alpha Theta honor societies. Next year, Sheridan will begin her Masters of Public Health at the University of Texas with a concentration in Maternal and Child Health; she then plans to attend medical school. Her goal is to become an obstetrician and gynecologist and use her public health background working for a global health nonprofit organization that focuses on women's health and empowerment.
2016 Finalists: Megan Bailey, Sydney Cason
2016 Nominees: Page Daniels, Kimberly Mendez, Matt Piggins, Julia Roell, Erin Tolar, Céline Wachsmuth, Noelle Witwer
Stephen Dobbs '15
Stephen Dobbs is a geology major and mathematics minor from Mooresville, IN. Originally on track to study history at DePauw, Stephen's academic goals made a sharp turn when he discovered his love for geology. Seeing Stephen's genuine interest, promising ability, and a passion for the discipline, DePauw Professor Tim Cope invited Stephen to conduct geological research with him in northeast China. For the past three years—including over 150 days of field work in rural China—Stephen has devoted his undergraduate career to his research in an attempt to understand the complex history of the region. Aside from his time in the field, Stephen was a lab technician under Professor Jim Mills for DePauw's Department of Geosciences. Here, Stephen performed analyses for his research and the department while also teaching other students. Stephen's research culminated into two publications that he authored and presented at the Geological Society of America's annual meetings of 2012 and 2013. Since February 2014, Stephen has been working on a Senior Thesis about his research that he plans to publish. Stephen's academic pursuits earned him a series of honorary distinctions. DePauw's Department of Geosciences awarded him the Ernest Rock Smith Award in 2013 and 2014 for academic achievement in the geosciences. Stephen was also honored with DePauw's Paul S.Jarrett Endowed Merit Scholarship for 2013 and 2014, which commemorates academic achievement based on the criteria for the Rector Scholarship. Stephen was featured in DePauw magazine's 2013 fall issue highlighting his research in China. Nationally, he has had the honor of being initiated into Phi Beta Kappa, and has been recognized twice by the Barry M. Goldwater Scholarship Foundation—the most sought after academic achievement scholarship in the U.S. for undergraduate science students—with honorable mentions in 2013 and 2014.
2015 Finalists: Lucy Hang La, Madeline Perry
2015 Nominees: Quincy L. Abarr, Chelsea C. Schumacher, Patrick C. Brems, Kevin M. Smith, Emily C. Vincent, Doron Kantor, Michael L. Weber, Taylor M. Zartman, Yukun Zhang
Samantha M. Anderson '14
Samantha graduated from DePauw in three years as both a Rector Scholar and a Science Research Fellow. Committed to teaching science, she worked as a teaching assistant for the chemistry and biochemistry department and as a Quantitative Reasoning Center tutor. She also encouraged other women to pursue their interest in science through her role as a peer mentor for the Women in Science organization.
Samantha worked on five different research projects during her time at DePauw University. As a first year student, she learned how to weld while designing and building the protein sculptures that now hang in the atrium of the Percy L. Julian Science and Mathematics Center—a collaborative research project between biochemists and artists. Samantha found her passion for science research while completing a second research project that investigated protein structure and function. During another project, Samantha worked to create a drought resistant plant that could make its own water. Based on this work, combined with extraordinary classroom performance, the Biochemistry department awarded Samantha the Wylie-Condit Science Scholarship for promising science students. Samantha completed an internship in biochemistry and microbiology at the University of Wisconsin-Madison. This work resulted in a recent publication in Molecular Microbiology. She also worked on a project focused on neglected tropical diseases. Many of Samantha's projects culminated with poster sessions and oral presentations where Samantha was able to hone her science communication skills.
2014 Finalists: Trina M. Manalo, Maritza J. Mestre
2014 Nominees: Ethan E. Brauer, Anna M. Butz, Mackenzie M. Creameans, Gwendolen L. Eberts, Dana M. Ferguson, J.D. Hoover, Meredith D. Lockman, Cole P. Rodman, Katherine R. Shover, Garth E. Synnestvedt, Weiqing Zhang
About Ferid Murad '58

Dr. Murad won the 1998 Nobel Prize in Medicine for his discovery of the role of nitric oxide in the cardiovascular system. The discovery not only contributed to a better understanding of how information is transmitted between cells but also had a significant influence on cardiovascular medicine, leading to changes in treatment following a heart attack. His research and findings on the effect of nitric oxide continue to influence the treatment of cancer and arthritis and other human diseases.
A professor at George Washington University's School of Medicine and Health Sciences, Murad has received numerous other awards and honors, including the Albert and Mary Lasker Basic Medical Research Award, American Heart Association Ciba Award and Baxter Award for Distinguished Research in the Biomedical Sciences from the Association of American Medical Colleges
Murad earned his undergraduate degree in premedical science and chemistry from DePauw in 1958 before earning M.D. and Ph.D. in Pharmacology from Case Western Reserve University in 1965.