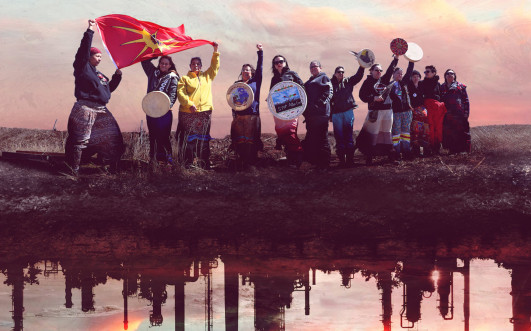 Environmental Justice means Racial Justice: Grassroots Movements, Indigenous Solutions, and Storytelling for Social Change
Event Details
Previous Speakers
Xiuhtezcatl Martinez
Climate Activist & Hip-Hop Artist
Xiuhtezcatl Martinez is an internationally renowned youth climate activist and hip-hop artist. He is a leading voice on the front lines of a global youth-led environmental movement.  At the early age of six, Xiuhtezcatl began speaking around the world from the Rio+20 United Nations Summit in Rio de Janeiro, to addressing the General Assembly at the United Nations in New York. He is the Youth Director of Earth Guardians, an organization of young activists, artists, and musicians from across the globe stepping up as leaders and working together to create positive change in their communities to address climate change, environmental justice, and the rights of indigenous peoples.  Xiuhtezcatl is also a plaintiff in a landmark lawsuit of children suing the federal government for failure to protect the atmosphere and their future.
At DePauw, Xiuhtezcatl met with a small group of student leaders for a lunch discussion and inspired an audience of more than 100 at Peeler Auditorium in the evening. He also fired up a crowd of over 450 third, fourth, and fifth-graders at Tzouanakis Intermediate School for a convocation on youth empowerment and the environment. He challenged the students to not use plastic straws and led them in a chorus of "I'm young! I'm positive!" during an interactive music performance.
Dr. Robert Bullard
Father of Environmental Justice
Dr. Bullard was a guest speaker at a faculty development workshop on environmental justice at DePauw University.  He delivered a keynote, "Building Environmentally Just, Healthy, and Sustainable Communities for All" that and conducted a workshop for faculty participants in the afternoon.  
Dr. Bullard received his Ph.D. degree from Iowa State University and is currently the Dean of the Barbara Jordan-Mickey Leland School of Public Affairs at Texas Southern University in Houston, Texas.  He is the author of seventeen books that address sustainable development, environmental racism, urban land use, industrial facility siting, community reinvestment, housing, transportation, climate justice, emergency response, smart growth, and regional equity.

Dr. Jane Goodall
Conservationist
Environmental fellows had the opportunity to meet world-renowned conservationist Jane Goodall when she visited DePauw to present an Ubben Lecture. 
Dr. Goodall first gained international fame for her studies of chimpanzee behavior at the Gombe Stream Chimpanzee Reserve, which began in 1960. In 1977, she established the Jane Goodall Institute for Wildlife Research, Education and Conservation (JGI), which today works globally to advance individual conservation efforts through education programs.