Speakers & Events
Click on our calendar for upcoming speakers and events!
Xiuhtezcatl Martinez
Xiuhtezcatl Martinez is an internationally renowned youth climate activist and hip-hop artist. He is a leading voice on the front lines of a global youth-led environmental movement. At the early age of six, Xiuhtezcatl began speaking around the world from the Rio+20 United Nations Summit in Rio de Janeiro, to addressing the General Assembly at the United Nations in New York. He is the Youth Director of Earth Guardians, an organization of young activists, artists, and musicians from across the globe stepping up as leaders and working together to create positive change in their communities to address climate change, environmental justice, and the rights of indigenous peoples. Xiuhtezcatl is a also a plaintiff in a landmark lawsuit of children suing the federal government for failure to protect the atmosphere and their future.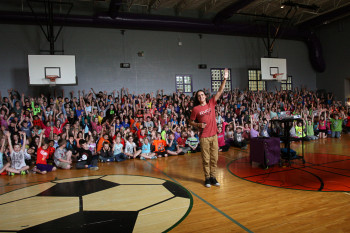 At DePauw, Xiuhtezcatl met with a small group of student leaders for a lunch discussion and inspired an audience of more than 100 at Peeler Auditorium in the evening. He also fired up a crowd of over 450 third, fourth, and fifth-graders at Tzouanakis Intermediate School for a convocation on youth empowerment and the environment. He challenged the students to not use plastic straws and led them in a chorus of "I'm young! I'm positive!" during an interactive music performance.
---
Carl Jones
Carl Jones is the 2016 Winner of the Indianapolis Prize, the world's leading award for animal conservation.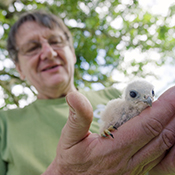 He exemplifies what it means to truly save a species from extinction. Jones is responsible for developing and leading successful recoveries for reptiles, mammals and birds, including the pink pigeon, echo parakeet and, most famously, the Mauritius kestrel. He brought the total population of the rarest bird on the planet from only four individuals to nearly 400 over the course of a decade. There are multiple species that would be extinct today if it were not for Carl's hard work and dedication.
---
Dr. Robert Bullard
Dr. Robert Bullard is often described as the father of environmental justice. Dr. Bullard was a guest speaker at a faculty development workshop on environmental justice at DePauw University. He delivered a keynote, "Building Environmentally Just, Healthy, and Sustainable Communities for All" that was free and open to the public during the morning, then conducted a workshop for faculty participants in the afternoon.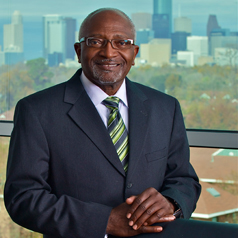 Dr. Bullard received his Ph.D. degree from Iowa State University and is currently the Dean of the Barbara Jordan-Mickey Leland School of Public Affairs at Texas Southern University in Houston, Texas. He is the author of seventeen books that address sustainable development, environmental racism, urban land use, industrial facility siting, community reinvestment, housing, transportation, climate justice, emergency response, smart growth, and regional equity.
---
Denise Abdul-Rahman
Ms. Denise Abdul-Rahman is the Chair of the NAACP Indiana Environmental Justice Department. She presented a lecture at DePauw titled, "Black Lives Matter and Environmental Justice: Hope in the Age of Climate and Economic Crisis." This keynote discussed how the current environmental crisis is negatively affecting social justice issues, particularly the Black Lives Matter movement. Ms. Abdul-Rahman was also able to meet and talk with students during a lunch hosted at the AAAS House.
---
Van Jones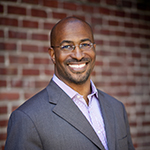 CNN contributor, author, and former White House advisor Van Jones came to speak on Earth Day. Jones is the founder of six not-for-profit organizations engaged in social and environmental justice, and has written two New York Times Bestsellers The Green Collar Economy and Rebuild the Dream. In 2009, Jones was the green jobs advisor for President Barack Obama. He is also a senior fellow with the Center for American Progress and is focused on policies relating to green jobs and job-creating climate solutions.
We are entering an era during which our very survival will demand invention and innovation on a scale never before seen in the history of human civilization. So in the end, our success and survival as a species are largely and directly tied to the new eco-entrepreneurs - and the success and survival of their enterprises. Since almost all of the needed eco-technologies are likely to come from the private sector, civic leaders and voters should do all that can be done to help green business leaders succeed. That means, in large part, electing leaders who will pass bills to aid them. We cannot realistically proceed without a strong alliance between the best of the business world - and everyone else.
From The Green Collar Economy
---
Brentin Mock
Brentin Mock is a Washington, D.C. based journalist who covers the intersection of civil rights and environmental justice for Grist. He worked for the Southern Poverty Law Center, covering bogeymen like the Ku Klux Klan and neo-Nazis. After an illuminating journalism fellowship sponsored by the Metcalf Institute for Marine & Environmental Reporting, Mock decided to tackle the far more threatening bogeyman in the sky, climate change. He previously served as lead reporter for Voting Rights Watch 2012, covering the challenges presented by new voter ID laws, suppression of voter registration drives, and other attempts to limit electoral power of people of color. He has continued to cover race, civil rights, and voting rights and is passionate about how those issues dance with environment and climate.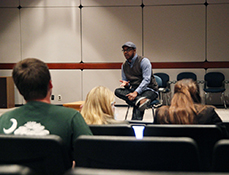 Brentin Mock met with environmental fellows during lunch for an informal discussion on environmental justice. His presentation later that evening was entitled "Justice Matters: To Pimp a Butterfly". Mock was also able to meet with student groups The Brotherhood and Real Talk during his time on campus.
---
Chris Jordan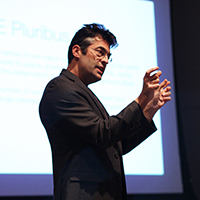 Chris Jordan is an internationally acclaimed artist and cultural activist based in Seattle. His work explores contemporary mass culture from a variety of photographic and conceptual perspectives, connecting the viewer viscerally to the enormity and power of humanity's collective will. He is best known for his composite creations portraying the scale and cost of American consumerism and waste and his moving images of the impact of plastic ocean pollution. Particularly, the birds who digest the plastic. He is currently creating a film about Midway and the pacific plastic beach. Chris describes the site and what is happening there as the "proverbial canary in the coal mine." For him the work is "…both elegy and warning, and explores the interconnectedness of species, with the Albatross on Midway as a mirror of our humanity."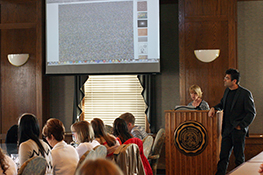 Jordan met with environmental fellows during a lunch meeting to discuss his work and the messages he hopes to convey. Later that day, he gave a talk entitled "Encountering Midway: How Do We Get to Hope From Here?" during which he further explored his work over the past 10 years and previewed unreleased clips from his upcoming film Midway. The following day, Jordan led a workshop titled "Living the Dream: Creative Workshop & Career Talk" centered around the creative process. He addressed photographic seeing and technique, compositional strategies, creative practice, and career strategies - all mixed with real world art stories.
---
Jonathan Bloom
Jonathan Bloom is a journalist, consultant, and food waste expert who created the blog "Wasted Food". In October 2010, Da Capo Press published his book, American Wasteland. Now out in paperback, the book won the IACP Green Matters Award in June 2011. Jonathan regularly gives talks on the issue of food waste, speaking at colleges and conferences from Indiana (Notre Dame) to Italy (Barilla Food & Nutrition Conference). He consults on food waste reduction, most recently working with the United Nations' Food and Agriculture Organization, Harvard Law School, the Natural Resources Defense Council, and several startups. And Jonathan was the O.V.W. Hawkins Expert-in-Residence at Bucknell University for 2012-13.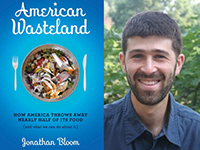 Jonathan Bloom met with students at lunch for an informal discussion, during which everyone cleaned their plates. His presentation later that evening was entitled "American Wasteland: How America Throws Away Nearly Half of Its Food (and What We Can Do About It)".
---
Dr. Patricia Chapple Wright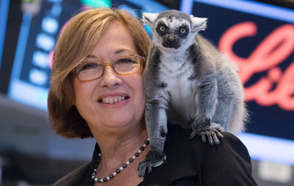 Dr. Patricia Chapple Wright, Distinguished Professor of Anthropology at The State University of New York at Stony Brook, is the 2014 recipient of the Indianapolis Prize Award - the world's leading award for animal conservation. She is renowned for her selfless dedication to protecting the lemurs, ecosystems and people of Madagascar. She earned her doctorate at the City University of New York and she has held appointments at Duke University and Stony Brook. She currently serves as the Executive Director of the Institute for the Conservation of Tropical Environments at Stony Brook University and the Centre ValBioResearch Campus in Madagascar.
Environmental fellows were able to attend a special reception with Wright before her campus presentation on "Saving Lemurs from Extinction: The Challenges".
---
Sandra Steingraber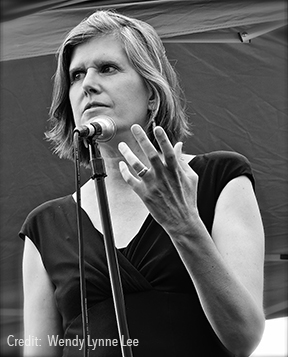 The Sierra Club calls Steingraber "the New Rachel Carson." Dr Steingraber is an internationally recognized authority on the links between the environment and cancer and human health. Her many publications include three books: Living Downstream: An Ecologist's Personal Investigation of Cancer and the Environment, Having Faith: An Ecologist's Journey to Motherhood, and Raising Elijah: Protecting Children in an Age of Environmental Crisis. Called "a poet with a knife" by Sojourner magazine, Steingraber has received many honors for her work as a science writer.
Sandra Steingraber, the Environmental Fellows Earth Day Speaker, was available for a Q&A with environmental fellows in the afternoon before her evening presentation entitled "The Whole Fracking Enchilada: Toward Meaningful Toxic Chemical Reform and a Rational Energy Policy".
---
Richard Louv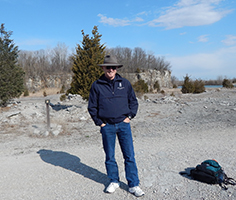 Author Richard Louv is a leading voice in the movement to reconnect children, and in fact all people, with nature. In an age when people spend progressively more time in the "virtual" world, and parents seem to be perhaps over-concerned with protect their children from dangers of all types, he argues that many are suffering from "nature deficit disorder", and that children need to experience nature and to learn about the natural world in order to lead healthy, fulfilling lives.
Louv's talk, entitled "The Nature Principle", was covered by WYFI Indianapolis. To read the article and listen to a recording of Louv's talk, click here.
"The future will belong to the nature-smart—those individuals, families, businesses, and political leaders who develop a deeper understanding of the transformative power of the natural world and who balance the virtual with the real. The more high-tech we become, the more nature we need."
---
Dr. Jane Goodall
Environmental fellows had the opportunity to meet world-renowned conservationist Jane Goodall when she visited DePauw to present an Ubben Lecture.
Dr. Goodall first gained international fame for her studies of chimpanzee behavior at the Gombe Stream Chimpanzee Reserve, which began in 1960. In 1977, she established the Jane Goodall Institute for Wildlife Research, Education and Conservation (JGI), which today works globally to advance individual conservation efforts through education programs.
In addition to the lecture presentation, Dr. Goodall participated in a Q&A forum for selected students, including environmental fellows. The forum was moderated by professors Jen Everett and Kevin Moore. Among the questions asked was one from environmental fellow Sam Leist ('14), who asked Dr. Goodall what her thoughts were on trying to close the gap between climate data and policy action.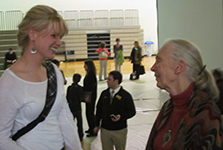 Following the conclusion of the evening Ubben Lecture, audience members were given the opportunity to sign up for membership in JGI's "Roots & Shoots" program, or to have a book signed. Students took the opportunity during their turn to snap a picture and exchange a few words with Dr. Goodall.
Roots & Shoots is an educational program created by JGI in 1991. Today, Roots & Shoots is established in over 100 countries around the world. A number of environmental fellows volunteered to help register new members after the lecture, and afterwards had the opportunity to speak with Dr. Goodall.
---
Dr. Steven Amstrup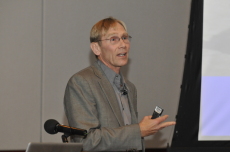 Indianapolis Prize winner Dr. Steven Amstrup presented a lecture on his polar bear research at DePauw University. Often called "the most influential person working on polar bear conservation today", Dr. Amstrup, along with his research team, were responsible for polar bears being listed as a threatened species in 2008, making them the first species to be listed as a direct result of global climate change.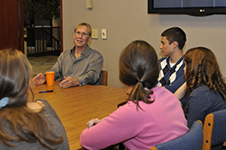 Environmental fellows had the opportunity to have a private Q&A session with Dr. Amstrup immediately following the presentation. The session was moderated by Environmental Fellow Sam Leist, who worked with Dr. Amstrup's organization, Polar Bears International. It was a great experience for the Fellows to converse with someone whose work has made such an impact on modern conservation.