DePauw Student Research
This page showcases samples of student and student-faculty collaborative research at DePauw University.
EXAMPLES OF RECENT COLLABORATIVE PUBLICATIONS AND PRESENTATIONS
---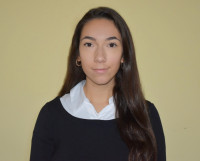 Esposito, Maria - Aesthetic Encounters Beyond the Present: Historical Materialism and Sonic Pedagogies for Resisting Abstraction
Major: Education Studies and Psychology
Research: Basing ourselves on Marx's method of historical materialism, this article builds on Marxist literature on capitalist abstraction and focuses on the struggle for differentialization. This amounts to a critique and, more importantly, an affirmation: elements of the future exist in the present. This is a future in which the force of...
Funding: Asher Summer Funding for Research at DePauw
---
Fall 2021 Poster Session
---

Aikin, Michael - Latex Variation in Hemp Dogbane (Apocynum Cannabinum)
Major: Environmental Biology
Research: Hemp Dogbane (Apocynum cannabinum) is a weedy perennial native to North America that can reproduce by seed or clonally. Shoots can emerge from vertically oriented crown roots or horizontally orientated lateral roots. This plant can be found readily throughout the nature park in small to large patches. We sampled from 6 populations, 3 within the quarry bottom and 3 outside of the quarry bottom. We looked at latex production to determine if it was influenced more by...
Funding: Douglas A. and Phyllis G. Smith Endowed Fund for Student-Faculty Research and the Kranbuehl, Roberts, Hillger Endowed Fund for Faculty Summer Research
---
Atkinson, Sophia; Borse, Diana; Chandler, Cedrick; Saltz, Daniel L. -Life on the rocks: Small-scale primary succession in an abandoned limestone quarry
Department: Biology
Research: Abandoned quarries, from which all soil and plant life have been removed, represent an opportunity to study primary succession at a small scale. Using a framework suggested by Gilardelli et al. (2016), we assessed the stage of primary succession in an abandoned limestone quarry in Greencastle, Indiana, where gravel extraction ceased in 1977. From 2018-2021 we surveyed the quarry floor to describe the species composition and distribution of flowering plant species that have established at the site, then...
Funding: J. William Asher and Melanie J. Norton Endowed Fund in the Sciences
---
Avila, Isidro - Edge influence on forest composition in a pine-oak forest in central Mexico
Major: Biology & English (Writing)
Research: Deforestation in central Mexico comes as a direct consequence of the increase in agriculture demand and has resulted in the creation of more habitat edges. Changes in land usage for agriculture and resource extraction has resulted in habitat destruction and degradation; these same mechanisms have led to habitat fragmentation by producing smaller, and isolated fragments separated by human-transformed land cover. The loss of continuous area has resulted in greater exposure to human dominated landscapes resulting in changes to the structure and function of...
Funding: DePauw Department of Biology
---
Bell, Lizzie; Meyer, Jillian - Mental Health among College Students during the COVID-19 Pandemic
Department: Psychology
Research: This research project was a continuation of research conducted in PSY215 Research Methods from the Fall 2020 Semester and subsequently extended in Spring 2021 via Asher funds to collect additional data. The purpose of the research was twofold: conduct a longitudinal study that examines how college students' mental health has been impacted by the COVID-19 virus from the Fall 2020 semester to the Spring 2021 semester; a second goal was to obtain...
Funding: J. William and Katherine C. Asher Endowed Research Fund
---
Bourantas, Christina - The Effectiveness of Serial Casting in Children with Arthrogryposis
Major: Physics & Kinesiology
Research: The most common foot deformity in children with arthrogryposis is clubfoot, which is typically stiffer than in the idiopathic clubfoot (IC). While the use of the Ponseti method in IC has led to improved foot mobility and reduced invasive surgical procedures, there is currently limited information of the effectiveness of serial casting (SC) in arthrogryposis. The purpose of this research is to determine the effect of serial casting in recurrent clubfoot in children with arthrogryposis on brace tolerance, foot position, patient reported outcome, and the need for surgery.
Funding: Nemours Summer Undergraduate Research Program
---
Brelage, Thomas - Small Farms Throughout Southwest Indiana
Major: Kinesiology & Chemistry
Practicum: During Summer 2021, I acted as an intern for the DePauw University Office of Sustainability at the Ullem Campus Farm. My internship involved learning the innerworkings of a small farm while visiting other small and larger farms throughout southwest Indiana. Because of my internship, I gained a better understanding of the problems small farmers face and the influence of the agriculture industry on the success of small farms.
Funding: Office of Sustainability
---
Chen, Ziyi - A model of flexible feature learning for segmentation and unitization
Major: Computer Science
Research: The form of visual feature learning called segmentation involves learning components from whole objects, whereas unitization is learning whole objects via repeated exposure to the key parts. While some computer vision approaches get similar results as empirical findings from humans, the models are not very biologically plausible. This project presents a web-accessible version of a neural network model of flexible visual feature learning developed by Roberts and Goldstone. Here we use HTML and javascript to create a website which allows users to draw and train with their own input patterns, adjust parameters, and then test the features learned by the network.
Funding: J. William and Katherine C. Asher Endowed Research Fund
---
Childs, Aaniyah - Problematic Social Media Use: Are There Gender Differences in Control and Craving
Major: Neuroscience
Research: Problematic social media use is characterized by being overly concerned about social media, having an uncontrollable urge to use social media, and devoting ample amounts of time to social media that impairs other important life areas. According to Statista, 15% of people from 23-38 years of age admit they demonstrate problematic social media use, and 30% of all the participants surveyed admit they somewhat demonstrate problematic social media use. Problematic social media use is a growing problem, especially during a time where...
Funding: Science Research Fellows Program
---
Chinyanya, Kuzivakwashe; Button, Andrew- Behavior and genomics of nicotine-seeking larval zebrafish
Department: Biology
Research: Nicotine-use behavior is one of the main causes of preventable diseases such as cancer, cardiovascular diseases, diabetes, and chronic obstructive pulmonary disease. Helping people quit nicotine products is a main goal of our projects. Developing a zebrafish model for nicotine use behavior could provide...
Funding: Buehler Family Foundation, Steven S. Clark Endowed Fund for Student- Faculty Environmental Research, Science Research Fellows Program, Martha C. Rieth Faculty Fellowship
---
Cook, Abigail - The Impact of Local Anthropogenic Activities on Soil Health within a Retired Farm: Implications for Urban Gardens
Major: Interdisciplinary: Environmental Chemistry
Americans are implementing private food gardening for food access and affordability. A report by the National Gardening Association (2020) reveals a notable increase in food gardening in the past decade among urban households, especially millennial households. These national trends reflect an increasing interest in healthy living, sustainable gardening practices, and mitigating food insecurity within communities. Nonetheless, little is being done to assess soil health, especially for...
Funding: J. William Asher and Melanie J. Norton Endowed Fund in the Sciences
---
Cowger, Kate - Neural Innervation of the Immune Response Could Lead to Treatments for Severe Asthma: The Screening of Neurotransmitters on T Helper 17 Cell Differentiation
Major: Physics and Neuroscience
T Helper 17 (Th17) cell-driven neutrophilic asthma is a rare, yet severe phenotype that accounts for over 75% of all asthma related medical costs. Neural innervation has been known to play a role in the immune response and we investigated whether the addition of neurotransmitters to would affect Th17 cell differentiation. Results indicated that neural innervation upregulated Th17 cell differentiation and expression of its cytokine IL-17 that is responsible for the severe symptoms seen in neutrophilic asthma.
Funding: National Institutes of Health
---
Csehill, John - The Impacts of the Presence of Amino Alcohols on Xenobiotic Cell Signaling Pathways
Major: Biochemistry
Research: For this project, we investigated the effects of the presence of amino alcohols on the xenobiotically-catalyzed cell signaling pathways growth of Saccharomyces cerevisiae yeast cells. Amino alcohols have been hypothesized to act as antitumor agents against different types of tumor cells because they could act as a ligand for the aryl hydrocarbon receptors (AhRs) responsible for regulating downstream enzymes involved in the cellular response to xenobiotic stimuli.Yeast cells, on the other hand, do not have AhR proteins within their cells...
Funding: Science Research Fellows Program
---

Deckard, Jenna - The Effects of Sugar Osmolytes on Reverse Micelle Systems
Major: Biochemistry
Research: Reverse Micelles (RM) are nanoscopic pools of water encapsulated by an amphipathic surfactant molecule that allows the water pool to be suspended in a nonpolar solvent. We use RM systems because they allow for the study of water and dissolved osmolyte interactions in confinement. Gaining an understanding of how sugars interact with water in confinement has significant implications for...
Funding: National Science Foundation – Award # 1956198
---
DeLancey, Rachel; Deju, Bamlak - Effect of a Hexylamine Derivative on Cancer Cell Viability
Department: Biology
Research: 2-[(p-Chlorophenyl)hydroxymethyl]-1-[(methylamino)hexyl]cyclohexanol is a drug produced by hexyl amine and an epoxide through an aldol epoxidation reaction. Motifs of β-amino alcohols and nonpolar R groups in organic compounds have been found to have cytotoxic properties. Past studies in Dr. Hansen's lab has shown that this hexylamine derivative has similar LC50 values to other antitumor agents. They also found that the drug was cytotoxic to HL-60 cancer cells. No other cell lines have been tested with this drug. Our study investigates the...
Funding: Science Research Fellows Program
---
Forward, Adam; Sajid, Muhammad Omer - Extracting the Mean Lifetime of the Neutron

Department: Physics & Astronomy
Research: Neutrons can be stable only when bound to the nucleus of an atom through the strong force. For every passing second, there is a probability that any isolated neutron will decay into a proton, an electron and an antineutrino. However, for the past 15 or so years, the only two neutron lifetime measurement methods have consistently shown lifetimes differing by over 8 seconds. One of the lifetime measurement methods is called the "beam method" and the other is called the "bottle method." While the measured lifetimes from the beam and bottle methods differ, the Standard Model of Particle Physics predicts that neutrons...
Funding: National Science Foundation – Award # 1714461, Science Research Fellows Program
---


Gost, Emily; Collins, Brandon - Testing Inductive Learning Effects from Changing Attentional Focus with Training Instructions
Department: Psychology & Neuroscience
Research: Participants studied a variety of artists' paintings with different instructions regarding which elements of the paintings to focus on. The identification and recognition of trained and novel paintings was then tested. The additional instructions did not significantly alter memory performance or inductive learning.
Funding: J. William Asher and Melanie J. Norton Endowed Fund in the Sciences; Science Research Fellows Program
---
Hinshaw, Rachael - Investigating the effects of the benzylamine and epoxide product on the cell viability of MCF7 and SUM159 breast cancer cell lines

Major: Cellular and Molecular Biology & Spanish
Research: Breast cancer is currently the most prevalent form of cancer in the world. Early stage treatments such as selective estrogen receptor modulators and antibody-based therapies have proven effective, but there are few options for late stage triple-negative disease (TNBC). Thus, current research is focused on chemopreventive and chemotherapeutic agents for late stage disease. Dr. Hansen's lab has found evidence that their synthesized β-amino alcohol compounds are potential targets for cancer treatments due to...
Funding: Science Research Fellows Program
---
Husby, Natalie; Csehill, John; Longan, Ian; Reece, Ellie
-
Expression of Lactate Dehydrogenase (LDHA) WT and A320T Mutant
Department: Biochemistry
Research: The human genome has a length of approximately 3 billion base pairs, containing a total of over 20,000 genes, which can all be subjected to mutations that cause variations in the genome. Variations in a genome can be potentially either benign or pathogenic, but it can be difficult to distinguish whether a variant is one or the other, leading to tens of thousands being classified as variants of unknown significance (VUS). Our lab was particularly interested in...
Funding: DePauw Department of Chemistry and Biochemistry
---
Jones, Sophia - Assessing the Cognitive and Social Behaviors of Apis Mellifera in Finding Food
Major: Neuroscience
Research: Apis mellifera, or more commonly named, honeybees, are known for their keen ability to navigate the natural world in search of an unpredictable food source; nectar. Honeybees have a trichromatic visual spectrum which allows them to find flowers through vision, but their spectra is based on ultraviolet, blue and green (Riddle, 2016). They also have a circadian rhythm that allows them to know the optimal times to leave the hive in search of food (Moore et al. 1989). The social behaviors of honeybees also...
Funding: Office of Sustainability
---
Kaiser, Emily; Allen, Lannea - Mississippian Conodont Biostratigraphy of the Ste. Genevieve
Department: Geosciences
Research: Are conodonts present in the Nature Park? Can we identify them and use them to determine the age of the rocks in the Nature Park? Do the specimens we find in the Nature Park match the species found in previous studies of the Ste. Genevieve Limestone? To answer these questions, we processed limestone samples by manually extracting them and crushing those samples. We then...
Funding: J. William Asher and Melanie J. Norton Endowed Fund in the Sciences
---
Kennedy, Emma - In-vitro Stimulation of CD4+ Lymphocytes Following Renal Ischemia/Reperfusion Injury
Major: Biochemistry
Research: To explore the Th-17 activation mechanism, renal CD4+ cells were isolated from post ischemic rats and stimulated in-vitro with varying conditions. These conditions focused on the effect of adenosine on IL-17 response using RT-PCR. Additionally, inhibitors of adenosine were added to test their IL-17 response in conjunction with adenosine. Specifically, an inhibitor for the Orai1 calcium channel. Furthermore, adenosine agonists were tested with to determine their effect on IL-17 response in the in-vitro stimulation plate.
Funding: IU School of Medicine
---
Koch, Alyssa; Bynagari,Vidhur; Tan, Yangjie - Identifying an appropriate in vitro model to study the effects of microRNA-4705 on S100β expression
Department: Biology
Research: Elevated S100β protein levels are linked to TBI pathology. Therefore, reduction of S100β is a therapeutic goal. MicroRNAs are small RNA sequences that can inhibit protein translation. We selected a microRNA using bioinformatics and self-defined parameters, and we are performing in-vitro experiments to test whether miRNA-4705 can downregulate S100β.
Funding: J. William Asher and Melanie J. Norton Endowed Fund in the Sciences; Science Research Fellows Program
---
Loudermilk, Samantha - Determining Swimming Power Output using a Commercially Available Tethered Pulley Device
Major: Kinesiology
Research: Previous literature exists that supports resistive training in the water to improve competitive swim performance. Most of these examples include research involving relationships between swim power and performance. However, no established protocols to estimate measurements of power utilizing resistive training devices exist. PURPOSE: First to estimate peak swim power using a pulley-based training device and second, to examine the relationship between peak swim power estimated...
Funding: Science Research Fellows Program
---
Marchant, Erika - Thinking Global & Acting Local in Chiang Mai, Thailand: A Semester with the International Sustainable Development Studies Institute
Major: Chinese Studies
Practicum: Erika completed her Environmental Fellows Program practicum as a student with the International Development Studies Institute (ISDSI) in Chiang Mai, where she spent four months studying the relationship between Thai history, culture, society and the northern region's unique local ecology. Courses involved the study of sustainable food ways, political ecology of forest ecosystems, and marine biodiversity.
---
McDaniel, Autumn - Analyzing the effect of benzylamine product on yeast cells deficient in the oxidative stress response
Major: Neuroscience
Research: Oxidative stress occurs when there is an imbalance of reactive oxygen species and antioxidants. The brain is especially vulnerable to the effects of ROS because of its high oxygen demand. Previous studies have demonstrated that oxidative stress plays a central role in common neurodegenerative diseases such as Alzheimer's disease and Parkinson's disease. Furthermore, ROS have been found to trigger programmed cell death in cancer cells. Our lab aims to investigate the oxidative stress response in...
Funding: Science Research Fellows Program
---
Mezaki, Nanami - Droplet Impact Part 2: Engineering a Droplet Generator
Major: Physics & Pre-Engineering
Research: Prior droplet impact research at DePauw used a syringe to pump fluid through a tube to create a droplet. This method generated ~2.5mm diameter droplets with secondary satellite droplets that formed during pinch-off and influenced rupture upon collision with the main droplet. Furthermore, the large diameter caused the droplet to experience significant oscillation as it fell, making it difficult to control impact shape without changing impact velocity. Part of this summer's research focused on...
Funding: J. William Asher and Melanie J. Norton Endowed Fund in the Sciences; Science Research Fellows Program
---
Michaels, Natalie - Big Cities: Air Pollution and Human Health
Major: Cellular and Molecular Biology & Global Health
Research: Our project explores the growing issue of air pollution on urban environments throughout the United States. Through the use of the County Health Rankings data set, we investigated the connection amongst air pollution, health outcomes, and other socioeconomic and environmental risk factors.
Funding: Science Research Fellows Program
---
Nan, Ga - Resiliency of Travel Networks to Disasters
Major: Computer Science
Research: We used graph theory's centrality measures to process the resiliency of rail stations in India. Centrality measures are the principles of processing, while Python is the tool of processing.
Funding: Summer Internship Grant
---
Phan, Hai - Numerical Approaches of Pricing European Options in the Cox-Ross-Rubinstein Models
Major: Computer Science
Research: The Cox-Ross-Rubinstein (CRR) market mode is used to price European and American Options without complex elements, including dividends, stocks, and stock indexes paying a continuous dividend yield, futures, and currency options. The model is an elegant, simple, but strong model to explain the general economic intuition behind option pricing and its principal techniques. In the paper, the CRR model's numerical elements and equations are indicated, and a practical event is examined to demonstrate the...
Funding: J. William Asher and Melanie J. Norton Endowed Fund in the Sciences; The Tenzer Technology Initiative
---
Saltz, Daniel - Born to run? Vegetative spread of the invasive plant Phragmites australis via stolons (runners)
Major: Environmental Biology
Research: Phragmites australis is a highly invasive wetland grass species that dominates nearly any ecosystem that it invades, this is due to its incredibly dense foliage which makes it hard for plants and animals to live in the vicinity of phragmites. Phragmites can grow in versatile environments and are extremely durable. Therefore, once phragmites establish itself, it is very difficult to remove it. On top of that, Phragmites spreads very quickly by utilizing both sexual and asexual reproduction.
Funding: J. William Asher and Melanie J. Norton Endowed Fund in the Sciences
---
Stanley, Katherine - Voxelwise Mapping of Whole-Exome Sequencing to Noninvasive Imaging with Stereotactic Localization and Deep Learning
Major: Biochemistry
Research: Tumor heterogeneity presents a significant barrier to glioblastoma treatment. While multiparametric imaging can improve characterization of such heterogeneity, advances have been limited by access to ground truth pathology and genomics. Stereotactic localization addresses the former issue, allowing pairing of biopsy location with corresponding voxels in MR image. Using stereotactic localization, as well as voxel-wise MR image analysis, a feedforward dense network, and whole-exome sequencing, the authors sought to improve multiparametric MR characterization of tumor heterogeneity.
---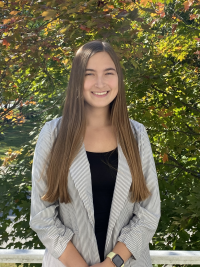 Stefaniak, Monica - Diversity Oriented Synthesis of Sulfur Containing Epoxide Compounds
Major: Biochemistry & Hispanic Studies
Research: Diversity oriented synthesis is a drug discovery approach that allows the creation of a wide variety of new compounds that can each have exciting new characteristics. Previous research involving the opening of epoxide rings with amine groups has shown promising results with regards to bioactivity. Our research involved finding a simple procedure to open the epoxide ring using various thiol groups such as octanethiol, hexanethiol, and benzenethiol. We are hoping to develop a library of new sulfur containing compounds that show...
Funding: Howard & Lucile Burkett Endowed Research Fund
---
Wei, Yuhui - Diversity Oriented Synthesis of Furan Epoxide
Major: Biochemistry & Computer Science
Research: In this project, we are doing the Diversity Oriented Synthesis of Furan Epoxide. There are two main reactions we are trying to accomplish with the epoxide which are the Achmatowicz reaction with the furan ring, and the epoxide ring opening reaction with amine. During this summer, we are able to make the amino alcohol and the Achmatowicz product has been made from the previous semester. We were also trying to get Achmatowicz reaction happening with the amino alcohol product. However, the result doesn't show the...
Funding: J. William Asher and Melanie J. Norton Endowed Fund in the Sciences
---
Wilkerson, Ben - Droplet Impact Part 1: Controlling Skirting Velocity
Major: Computer Science
Research: Droplet skirting occurs when a fluid droplet rolls over a bath of the same fluid without merging. To achieve skirting, we introduced a ~0.6 mm-diameter droplet of 1 cSt silicone oil into a bath of the same fluid by bouncing it off an angled glass slide coated with 100,000 cSt silicone oil. Our work suggests that initial skirting velocity increases as a function of slide angle and, to a lesser degree, droplet generator height. Furthermore, we conclude that...
Funding: J. William Asher and Melanie J. Norton Endowed Fund in the Sciences; Science Research Fellows Program