This page showcases samples of student and student-faculty collaborative research at DePauw University. These students recently presented their work at the Fall 2020 poster session at DePauw, which primarily highlighted science and math research this year; however, there are also many substantive and successful research projects in other fields at DePauw!
---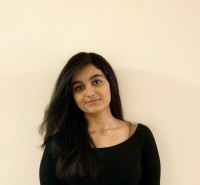 Ali, Mishal - Analysis of Dynamical Systems for Synthesis of Phenobarbital
Major: Biochemistry
Research: The use of mathematical methods for the analysis of chemical reaction systems is one of the useful tools. Phenobarbital (a barbiturate type medication also called phenobarb) is a prescription drug used to control seizures, relieve anxiety, treat epilepsy (in some countries), and prevent withdrawal symptoms in people dependent on other barbiture drugs. We approaches it with matrix analysis and ODE system. It helps us understand the chemical stoichiometry of these synthesis reactions.
---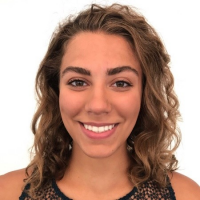 Dapore, Ashley; Ash, Carl; Kirby, Bridget; Malley, Kaitlyn; Zhu, Shasha - Predictors of Pathology Smartphone Use: Reward Processing, Depressive Symptoms, and Self-Control
Department: Psychology and Neuroscience
Research: The widespread adoption of smartphones that allow us to work, engage with friends and family, and pursue leisure activities has been associated with the emergence of pathological smartphone use wherein individuals experience anxiety and depressive symptoms when separated from their devices and may be more likely to engage in risky behavior while using their phone. Consistent with the broader literature on behavioral addictions, smartphone pathology is associated with increased depressive symptoms and decreased self-control. The current study builds upon a foundation of evidence from studies of pathological technology use including video games, the Internet, and social media to explore the association between the neural correlates of reward processing and smartphone pathology, depressive symptoms, and self-control...
---
Atkinson, Sophia - A Preliminary Look into Regional Primary Succession in the DePauw University Nature Park Quarry
Major: Biology
Research: Quarries are anthropogenic landscapes that when abandoned, leave a blank slate in the environment for species to come in and repopulate the area. This gives way to primary succession, a process that re-vegetates areas devoid of soil. The goal of this research is to investigate where the abandoned limestone quarry at the DePauw University Nature Park is in terms of its successional phase since extraction stopped in 1977...
---
Borse, Diana - A Comparison of Invasive and Native Plants in an Abandoned Limestone Quarry
Major: Biology
Research: The abandoned limestone quarry in the DePauw Nature Park is a site of interest for research into plant community establishment due to the harsh, heterogenous, and fluctuating environment. Because the limestone floor of the quarry is a novel anthropogenic environment, every plant species in the quarry had to be introduced somehow. Perhaps native species that are able to establish populations in the quarry are more likely to share traits with invasive species. Using information collected from scientific articles, I compared traits of three pairs of plants with similar forms to compare their life history traits to see if any patterns emerge...
---

Bourantas, Christina - Long Term Gait, Mobility, and Daily Living Outcomes after Orthopedic Surgery for Youth with Cerebral Palsy: Influence of Rehabilitation Dose and Setting

Major: Kinesiology and Physics
Research: Cerebral palsy (CP) is a broad diagnostic description of early brain insult causing motor impairment. To help correct gait abnormalities, many children with CP undergo an orthopedic single event multi-level surgery (SEMLS). After surgery and most importantly SEMLS, rehabilitation is important to recovery. The purpose of this study was to examine the effects of post-op therapy setting and dose on functional mobility outcomes for youth with CP...
---
Claus, Madeline; Coondiah, Ashna; Sajid, Omer - Very High Energy Studies of the Crab Nebula
Department: Physics and Astronomy
Research: The Crab Nebula is the remnant of a powerful stellar explosion first observed in 1054 AD and is the most studied object outside of our solar system. Our three-pronged research is focused on understanding the emission mechanisms responsible for energy range 100 MeV – 10 TeV. Our project consisted of 1) making light curves of Crab Nebula from Fermi-LAT's data, 2) extending and investigating the pre-existing VERITAS light curve, and 3) phaseograms of the Crab Pulsar using VERITAS's data.
---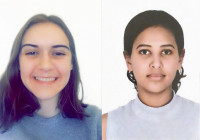 Draper, Madeline; Guta, Amerti - Antibiotic resistance and variability in the physiological profiles of streambed bacterial communities: implication of wastewater treatment plant effluents
Major: Cellular and Molecular Biology
Research: The effluents of wastewater treatment plants (WWTPs) include a complex mixture of nutrients and toxic substances, thus, the potential exists for the effluent to significantly impact the biochemical characteristics and bacterial communities of the receiving freshwater ecosystem. Our findings highlight the worrisome impacts of WWTPs on microbial biomass, coliform forming units, bacterial metabolic diversity, and antibiotic resistance patterns on the receiving water...
---
Federighi, Gina - A Brief Overview of Analyzing Testing Procedures in the Quality Control Lab at Elanco Animal Health
Majors: Chemistry and Global Health
Research: The study of testing procedures within the quality control lab was conducted at Elanco Animal Health through the summer internship program. The internship program focuses on the development of young professionals as research and manufacturing leaders in the pharmaceutical industry. The purpose of this project was to determine ways in which to save both time and money in the quality control lab through the study of various quality testing procedures. Quality Control plays a vital role in the manufacturing process in order to ensure quality of products and consistency between batches. It is important to improve upon the current testing procedures of products and raw materials, and is a common method in the pharmaceutical industry in order to create a more efficient manufacturing process while ensuring the highest standard of quality.
---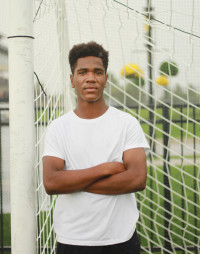 Forbes, Sydney; Wills, Aaron - Conceptualizing and Analyzing Metal-Organic Frameworks and the Role of the Ionic Liquid
Department: Chemistry and Biochemistry
Research: The synthesis of Metal-Organic Frameworks, or MOFs, can be easily changed or manipulated simply by changing the solvent medium. The research focused primarily on the role ionic liquids (ILs) had in MOF synthesis. ILs can be defined as salts that are liquid at room temperature. IL ligands were found one of three ways in the final structure; either acting as the anion, cation, or neither and just acting as a medium for a reaction. This research primarily revolved around Cambridge Structural Database (CSD). The purpose of CSD was a way to look more closely at these crystalline structures from previous research papers and create certain figures that are different from the ones used in the originals to formulate a better understanding of the role of the IL in the MOFs...
---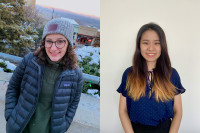 Husby, Natalie; Inoue, Akane - Visualizing and Analyzing Structures of Coordination Polymers Synthesized in Ionic Liquids
Department: Chemistry and Biochemistry
Research: Synthesis of metal organic frameworks can result in different products based on the solvent that is used. One option is to use ionic liquids (ILs, or room temperature molten salts) to create novel metal organic coordination polymers. Our group analyzed metal organic polymers synthesized in ILs with the goal of cataloging the topology of the structures, the connectivity of the organic ligands, and the roles of the ILs in the syntheses...
---
Kennedy, Emma; Shemet Pitcher, Aziza; Krause, Sabrina; Marton, Hayley; McDaniel, Autumn; Ruggles, Molly - Tools for Genotyping of Nicotine-Seeking Zebrafish
Department: Biology
Research: Smoking is one of the main causes of preventable diseases such as cancer, cardiovascular diseases, diabetes, and chronic obstructive pulmonary disease. Helping people quit using nicotine products is a main goal of our projects. Developing a zebrafish model for nicotine use behavior could provide a tool for studying the underlying genetic risks and neuronal elements of nicotine use behavior. The availability of large numbers of larval zebrafish, relatively short generation time and genetic tools present a major advantage for studying the genetic causes of nicotine use behavior. Here, we present our approach to test whether identified single nucleotide polymorphisms (SNPs) associated with smoking behavior in humans have SNP homologs in nicotine-seeking zebrafish...
---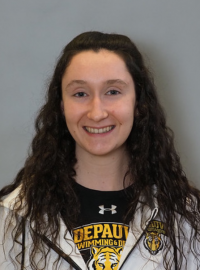 Koch, Alyssa - Cardiac Neuroanatomy and Chronotropic Modulation of the Adult Giant Danio Heart
Major: Cellular and Molecular Biology
Research: Studies in non-mammalian models species have contributed significantly to our understanding of the biology and the nature of innervation in the heart. The giant danio (D. malabaricus) is a teleost fish species closely related to zebrafish, that is also capable of heart regeneration. We previously described the development and maturation of the giant danio (GD) heart. However, little is known about its innervation. We hypothesized that the pattern of innervation in the GD heart is anatomically and physiologically complex, and that the heart is responsive to physiological modulation similar to that seen in cyprinid fish and mammals...
---
Ling, Jingwei; Tucker, Toria - Ultra-high vibrational and rotational motion of the HF molecule via Infrared (IR) laser excitation
Department: Chemistry and Biochemistry
Research: Our summer research goals were to build on previous work in our group modeling ultra-high vibrational and rotational excitation in small molecules via unique pulse sequencing of an infrared (IR) laser. The system was modeled both using Fortran and Mathematica as programming languages. We were able to demonstrate that different numerical techniques for propagating coupled differential equations forward in time led to equivalent levels of vibrational excitation and allowed for identical visualization of molecular state probabilities as a function of time. Work including the rotational motion progressed to the point of being able to see both significant excitation when rotations are included as well as leaking into neighboring rotational states as expected. Much work remains to be done before a full analysis of the rotational excitation can be completed.
---
Nagai, Masayuki; Shrivastava, Kavya; Ta, Kien - A Highly-Parameterized Ensemble To Play Gin Rummy
Department: Computer Science
Research: In this work we describe the development and tuning of a computer Gin Rummy player. The system includes three main components to make decisions about drawing cards, discarding, and ending the game, with numerous hyperparameters controlling behavior. After the components are described, three sets of hyperparameter tuning and performance experiments are analyzed.
---

Nguyen, Linh - Pattern of health behavior and its association with self-rated health: evidence from the 2018 behavioral risk factor surveillance system in the United States

Department: Mathematics
Research: Physical inactivity, tobacco use, and alcohol consumption are linked with increased morbidity and mortality. To improve public health services, we need to keep policymakers updated with health-related issues. Yet, there are limited numbers of recent research on the combination of those lifestyle behaviors as the determinants of self-rated health (SRH) in the US. Therefore, this study (1) examines the pattern of physical activities, smoking, alcohol consumption, and SRH, and (2) investigates the association between the behaviors and SRH status among US citizens...
---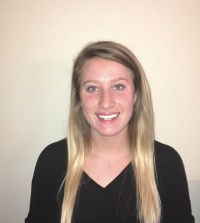 Ruggles, Molly - Hsa-miR-4520-2-3p: A Potential Modulator of COVID-related ACE2
Major: Biology
Research: ACE2 is a transmembrane receptor located in cells in various tissues around the body. Its normal role is the conversion of Angiotensin II to Angiotensin 1-7 leading to vasodilation and a subsequent reduction in blood pressure via the renin-angiotensin-aldosterone system. ACE2 also plays a pivotal role in the infection of COVID-19 as it determines entry of virus into human cells. SARS-CoV-2 uses one of its four structural proteins, the spike (S) glycoprotein, to bind to the ACE2 receptor. This entry into the cell begins the process of infection and spread of the disease; because of the abundance of ACE2 throughout the body, viruses are able to enter a number of different organs...
---

Stanley, Kate - Mapping Disparities in COVID-19: Determining the Demographic, Economic, Educational, Housing, Quality of Life, and Health Factors that Relate to Disparities in COVID-19 infections and Deaths

Major: Biochemistry
Research: Background: Throughout the pandemic, minority groups, particularly African Americans and Hispanic/Latino Americans have experienced disproportionately high infection and death rates as compared to their white and Asian counterparts. Though this phenomenon could be attributed to high rates of pre-existing conditions in black and Hispanic communities, there are other underlying factors that cause such disparity. We set out to determine whether or not various demographic, economic, educational, health, housing, and quality of life indicators were correlated with higher rates of COVID-19 infection.
---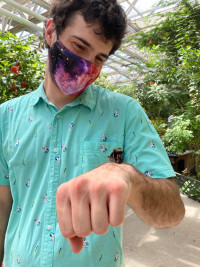 Troutman, Michael -Walking with Butterflies: Citizen Science Research of the Future
Major: Environmental Biology
Research: Butterflies are important pollinators and indicator species of many ecosystems. As some of the most recognizable and colorful insects, they are a gateway to the wider world of naturalism. As an intern for the Colorado Butterfly Pavilion, I helped oversee 60+ butterfly monitors, identified butterflies, and did conservation research comparing distribution and diversity of butterflies between two large butterfly databases (Pollard Base and iNaturalist). This internship led me into the greater world of citizen science and helped me understand its importance in worldwide conservation.
---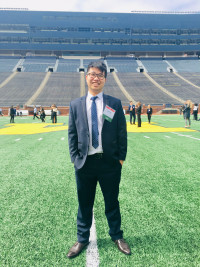 Truong, Sang - Visualizing Income Distribution in the United States
Majors: Economics and Computer Science
Research: We used IPUMS CPS data to create household income deciles adjusted for price level and household size for each of the 50 states and the District of Columbia from 1976 to 2018. We adjusted for state price differences from 2008 to 2018. Plotting these data gives a 3D chart that provides a startling picture of income differences within and across states over time...
---