Allen Neuharth
Also:

[Download Video: "Allen Neuharth at DePauw" - 3511kb]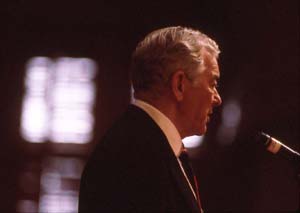 December 3, 1993, Greencastle, Ind. - Allen Neuharth, a self-made millionaire who built the nation's largest newspaper company and started the nation's most widely read newspaper, USA Today, says Marshall McLuhan was correct. "The world is a global village linked electronically by satellite. There are no more secrets anywhere in the world, and the more people see and hear and read of places, the more they want to know about them," said Neuharth as he presented the Timothy and Sharon Ubben Lecture in East College, Meharry Hall. The title of his speech was "USA Today, Media Challenges Tomorrow."
In the future, the information business and educational enterprises "will be the two most rapidly changing industries for the rest of this decade and into the next," Neuharth said. "There will be radio and television, and more of them. There will be networks and cable programming, and more of them. There will be newspapers by the hundreds."
He added, "People will want the information they want, when they want it and where they want it. They will want it at work and at play; at home and while traveling. And they will want all of the news -- the good and the bad; the glad and the sad. They will want to be informed and entertained and they will want their news to provide debate without dictating answers."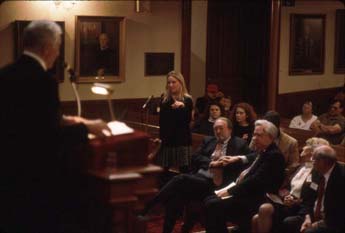 During a morning program, Indiana natives and DePauw graduates Kenneth "Casey" Hogate and Bernard Kilgore, who transformed the Wall Street Journal into one of the nation's most respected newspapers, were inducted as inaugural members of DePauw's Media Wall of Fame. The induction program took place in the Center for Contemporary Media, Watson Forum. DePauw's Media Wall of Fame, located in the lobby of the media building, is intended to recognize the university's tradition of producing outstanding leaders in the field of news media.
Neuharth, born in 1924 in Eureka, South Dakota, began his career as a reporter on a small newspaper in his native state. After rising through reporting, editing and management ranks at newspapers in South Dakota, Florida, Michigan and New York, he became Gannett Company's president and chief operating officer in 1970, president and chief executive in 1973 and chairman, president and chief executive in 1979. During his time with Gannett, he started USA Today.
In 1989 Neuharth retired, and he is now chairman of Freedom Forum, one of the nation's largest private charitable foundations. The foundation has assets of more than $700 million, and it awards more than $30 million in grants and programs annually in the areas of free press, free speech and free spirit.
He is the author of seven books, including his best-selling autobiography, Confessions Of An S.O.B.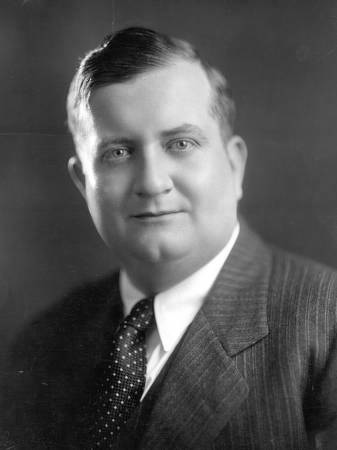 Kenneth C. Hogate (pictured at right), a native of Danville, Ind., and 1918 DePauw graduate, translated the journalistic courage and business integrity he saw in his father, a small-town newspaper editor, into an eminently successful, 26-year effort to transform the Wall Street Journal into one of the nation's most important newspapers. Hogate joined the Journal in 1921, at the age of 24, as chief of its Detroit news bureau. Two years later he was named managing editor of the paper's New York office. Dow Jones, the Journal's parent company, sought out Hogate's business acumen and appointed him vice president in 1926 and general manager in 1928. He assumed the company's presidency in 1933, guiding the paper through the Depression and World War II period, and he was serving as chairman of the board of Dow Jones & Co. at the time of his death in 1947.
As a student at DePauw, Hogate was editor of the student newspaper, a board member of the yearbook and active in several organizations. He graduated with Phi Beta Kappa honors.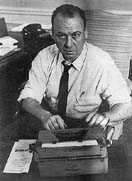 Bernard Kilgore (pictured at left) was born in Albany, Ind., and grew up in South Bend, and he graduated from DePauw in 1929. Upon his death in 1967, he was credited with being "the man who changed the Wall Street Journal from a small financial newspaper into the nation's only national daily." In 38 years with the Journal, Kilgore revolutionized its news coverage, built its circulation, expanded its technology and increased its profitability.
Hired by Hogate as a 20-year-old reporter fresh out of DePauw, Kilgore rose quickly at the Journal from copy editor, to San Francisco news editor by 1931, editorial page columnist by the age of 24 in 1932, Washington bureau manager in 1935, managing editor in 1941, vice president and general manager in 1942, president of Dow Jones & Co. in 1945 at age 36, and chairman of the board in 1966.
At DePauw, Kilgore was editor of both the student newspaper and yearbook. He was Phi Beta Kappa and active in several organizations. The Kilgore Counselor program at DePauw, founded in his memory in 1969, each year brings to the DePauw campus two professional journalists to work with the staff of the student newspaper.