Ambassador L. Paul Bremer III
September 16, 2004, Greencastle, Ind. -

[Download Video: "A Noble Project" - 370kb] "It is a noble project that we're involved in in Iraq, [but] it's going to take a lot of time and a lot of patience," said L. Paul Bremer III, former presidential envoy to Iraq, in his Timothy and Sharon Ubben Lecture at DePauw University tonight. Bremer addressed a standing room-only crowd in a speech opening "DePauw Discourse 2004: Issues for America," a three-day election issue forum hosted by the Washington C. DePauw Society. He addressed the topic, "Iraq and the War on Terrorism."

[Download Audio: "The College Generation's Challenge" - 877kb] "Neither the war against terrorism nor stabilizing Iraq are projects that will be over shortly," Bremer said. "Your generation -- speaking now to the undergraduates -- is challenged just as the older generation was challenged in 1945, 1946 and 1947, to a long term difficult struggle. I have every confidence that America will meet that challenge."
As presidential envoy to Iraq, Bremer was the senior coalition official in the country, overseeing reconstruction efforts and the creation of new institutions and governing structures. Ambassador Bremer accomplished his mission on June 28, 2004 when he successfully handed over power to the interim government of Iraq. Ambassador Bremer served as special assistant or executive assistant to six Secretaries of State during a 23-year State Department career. He also served as chairman of the National Commission on Terrorism.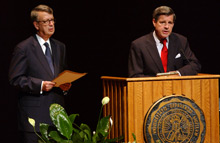 Bremer says, while we now know that Iraq did not have weapons of mass destruction, as America believed before the war began, there was what he calls a "gathering threat," and told his DePauw audience that he believes that Saddam Hussein had been communicating with terrorists.
The Ambassador described arriving in Baghdad in May 2003 to the sights of a city on fire and citizens in turmoil. He was given the job of overseeing a country the size of California with a population of 25 million. His goals -- and the nation's -- were to get Iraq's severely weakened economy moving forward, reform the country's political system, and -- perhaps most key, he said -- provide security. Some 30-thousand police officers are being trained in Iraq, the largest training program in world history, Bremer says.

[Download Audio: "Securing Iraq" - 271kb] "I think who has to win in the end are the Iraqis. It's their country, and one of our objectives all along -- and still is -- to get the Iraqis more and more in charge of their own security. The problem is, you cannot create an effective police force overnight," Bremer noted.
Earlier, at a student forum this afternoon in Meharry Hall, the ambassador admitted, "The single most important change -- the one thing that would have improved the situation -- would have been having more troops in Iraq at the beginning and throughout... Although I raised this issue a number of times with our government, I should have been even more insistent." (photo at right shows Bruce Stinebrickner, chairman of DePauw's department of political science, with Bremer at the student forum)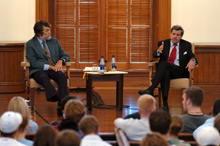 Bremer predicts there will be elections in January in Iraq, but says they may be "pretty messy," which he added, should not be a surprise given the fact that the attempt to build a democracy began relatively recently.

[Download Audio: "Elections" - 215kb] "I think it's going to be possible to hold the elections in January. It is not going to be easy. They're going to have to make progress on the security front against the insurgents, but particularly against the terrorists."
The former presidential envoy says the insurgents are made up "almost entirely" of members of Saddam's regime, including the intelligence services and special forces.

[Download Audio: "Insurgents" - 141kb] "They want to seize power and they know that democracy is a vital threat to them, because they cannot be elected. They're hated by the Iraqi people." Bremer says the same is true of Abu Musab al-Zarqawi, who is leading an al Queda cell in Iraq.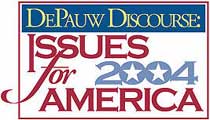 Ambassador Bremer's visit opens "DePauw Discourse 2004: Issues for America," a three-day election issue forum hosted by the Washington C. DePauw Society. Seminars Friday and Saturday will feature Lee Hamilton '52, former U.S. Congressman and vice chair of the 9/11 Commission; civil rights leader, Pulitzer Prize-winner and political historian Roger Wilkins; and three dynamic panels of accomplished current and former public servants, journalists, and DePauw faculty members who will define domestic issues, discuss the media's impact on the presidential campaign, and contemplate America's role in the world. The sessions are open to all students and faculty in addition to those registered for "Issues for America."
Ambassador Bremer noted his long friendship with Lee Hamilton at tonight's speech, adding,

[Download Video: "Bremer on DePauw" - 388kb] "It's a delight to be here at DePauw. We've had a chance to look around your campus a little bit. I had a nice session with some students this afternoon."