Andrew Young

[Download Video: "William Bennett & Andrew Young Clips" - 10,222kb]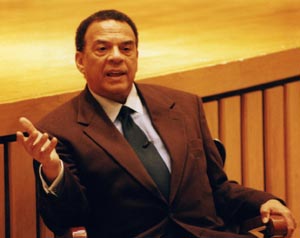 March 2, 2000, Greencastle, Ind. - "I don't think anybody would try to justify slavery today," Andrew Young said today at DePauw. "Just 150 years ago, people tried to justify slavery. My hope is that in 25 years from now, nobody will try to justify poverty."
Young, former United Nations ambassador and mayor of Atlanta appeared with William Bennett, former chairman of the National Endowment for the Humanities and former U.S. Secretary of Education. The men, two of the most influential voices in the nation's cultural and political life today, gave the Timothy and Sharon Ubben Lecture on "American Values: Disaffection, Outrage, Renewal" in the Performing Arts Center's Kresge Auditorium.
Bennett stated, "I think we're at a point where we have addressed and solved a lot of the problems that we confronted early on. But there's a sense in America today, a sense that that's not enough. We're looking for something more, something larger."
After the afternoon Ubben Lecture, Young and Bennett participated in a question-and-answer session. Both events were open and free to the public.
During the 1980s, Bennett emerged as one of the nation's leading political figures, serving as chairman of the National Endowment for the Humanities and Secretary of Education under President Reagan and as "drug czar" under President Bush. Since leaving government, Bennett has accomplished the rare feat of achieving an even greater impact on the national political debate.
He has written and edited 10 books, including The Book of Virtues, The Children's Book of Virtues and Our Sacred Honor. His newest book, The Death of Outrage: Bill Clinton and the Assault on American Ideals, spent several weeks on the New York Times bestseller list. Bennett, a Republican, continues to tackle some of the most important issues facing society today through his roles as co-chair with former Democratic Senator Sam Nunn of the National Commission on Civic Renewal and co-chair with former Democratic Governor Mario Cuomo of the Partnership for a Drug-Free America. He serves as a John M. Olin Distinguished Fellow at the Heritage Foundation and co-director of Empower America.
Young, who has spent more than 40 years in public service, was elected to three terms in the U.S. Congress, where he represented the Fifth Congressional District of Georgia. In 1977 he resigned his seat in the House of Representatives to become U.S. Ambassador to the United Nations under President Carter. Recently, President Clinton appointed Young chairman of the new Southern Africa Enterprise Development Fund, a $100 million fund designed to help establish small and medium-size businesses throughout Southern Africa. Elected to two terms as mayor of Atlanta in 1981 and 1985, Young is credited with revitalizing the city. Following his terms as mayor, he joined Law Companies Group, Inc., one of the most respected engineering and environmental consulting companies in the world, and in 1993 was appointed vice chairman. He is a member of numerous boards, including Delta Airlines, Thomas Nelson Publishing Company, Host Marriott Corporation, the Martin Luther King, Jr. Center, Global Infrastructure Fund and Center for Global Partnership. Among the awards he has received are the Presidential Medal of Freedom, America's highest civilian award; the Legion d'Honneur (France); and more than 45 honorary degrees.
After serving as associate director of the Department of Youth Work for the National Council of Churches in New York City, Young returned to Atlanta in 1961 to work as a top aide to Martin Luther King, Jr. during the civil rights movement. He later served as executive vice president of the Southern Christian Leadership Conference, and he wrote of his experiences in his book, An Easy Burden: The Civil Rights Movement and the Transformation of America.