Barbara Bush

[Download Video: "View Video Clip of Barbara Bush's Ubben Lecture" - 677kb]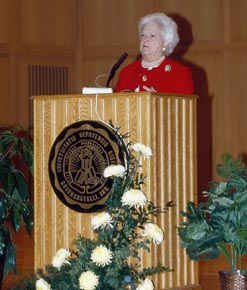 March 20, 1996, Greencastle, Ind. - Speaking at Dan Quayle's alma mater today, Barbara Bush said the former vice president "is truly a hero of mine." In a Timothy and Sharon Ubben Lecture in the Performing Arts Center's Kresge Auditorium, the former first lady declared that she and her husband "truly love" Dan and Marilyn Quayle. "You can be proud of Dan and what he's accomplished," she said of the 1969 DePauw graduate.
"Dan Quayle was right," stated Mrs. Bush. "The responsibility for strong families begins at home, with parents and grandparents. As parents we must make time for our children," she stated, while acknowledging, "Being a good parent is not easy. Just take it one day at a time. Also remember that home is your first school. Strong families give love, support and security. Strong families build character."
Despite a heavy spring snow that blanketed the DePauw campus today, about 1,300 people braved the elements to hear the former first lady's address.
The founder of the Barbara Bush Foundation for Family Literacy also stressed the need for Americans to conquer illiteracy. Her foundation has awarded 79 grants totalling $2.6 million for reading programs, she told the audience. After her Ubben Lecture she took part in an open forum with students and faculty in the Center for Contemporary Media, Watson Forum.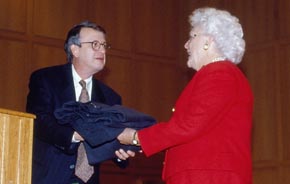 Asked if she has regrets that her family no longer inhabits the White House, Bush said, "I don't miss a darn thing" about life in Washington. She called Operation Desert Storm the event that she recalls the most about her husband's four years in office. "It was a very difficult decision -- to send someone else's sons and daughters to war," she said soberly. "It was not the most happy, but it was the most memorable."
Since leaving the White House in 1993, Mrs. Bush has continued to serve others with the same tireless energy, goodwill and good humor that endeared her to millions around the world. Throughout her years in public life, Mrs. Bush volunteered in and supported hundreds of charity and humanitarian causes. Today, she continues her service as Americare's ambassador-at-large; Mayo Clinic Foundation board member; and a general supporter of various organizations, including the Leukemia Society of America, Ronald McDonald House and the Boys & Girls Club of America.
Her number one cause, however, is family literacy. Mrs. Bush believes, and so do many experts, that if more people could read, write and comprehend, we would be much closer to solving so many of the problems plaguing our society today. In 1990, she helped to develop the Barbara Bush Foundation for Family Literacy that has a mission to support the development of family literacy programs, break the intergenerational cycle of illiteracy and establish literacy as a value in every American family. She currently serves as honorary chair of the foundation and hosts its annual fundraiser, "A Celebration of Reading," and regularly donates a portion of her proceeds to the foundation's causes.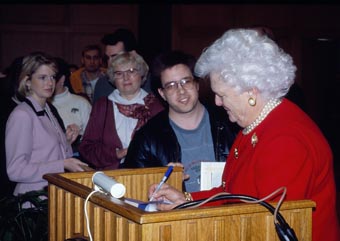 Mrs. Bush's involvement in the literacy cause does not end with her foundation. She regularly undertakes a myriad of projects and a rigorous appearance schedule designed to emphasize reading as a part of daily family life. By visiting literacy programs across the country -- in schools, housing projects, organizations and businesses -- she witnesses, firsthand, the powerful impact reading has on those who were previously illiterate.
She regularly appeared on Mrs. Bush's Story Time, a national radio program that stressed the importance of reading aloud to children, and wrote two books, C. Fred's Story and the best-selling Millie's Book, from which profits benefited the literacy cause. Most recently, she wrote Barbara Bush: A Memoir, her best-selling autobiography that emphasizes the importance of family, faith and friends.
Born Barbara Pierce on June 8, 1925, she grew up in Rye, N.Y., where she met and later married George Herbert Walker Bush on January 6, 1945. The Bush's first daughter, Robin, died in 1953 after fighting leukemia. Today, the Bush family includes four sons, George W., Jeb, Marvin and Neil; one daughter, Dorothy; four daughters-in-law; one son-in-law; and 13 grandchildren.