Bill Bradley

[Download Video: "Sen. Bill Bradley at DePauw" - 4822kb]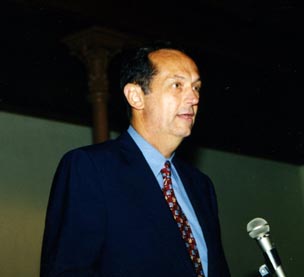 September 10, 1997, Greencastle, Ind. - "If you haven't talked to someone of a different race about race in the last 30 days, you are part of the problem," Bill Bradley said today at DePauw University. Bradley, former senior United States senator from New Jersey and a leading national voice on dealing with racism, presented the first in a series of convocations on race issues planned at DePauw University during the 1997-98 academic year. He discussed "Beginning a Conversation About Race" in a Timothy and Sharon Ubben Lecture tonight at 7:30 p.m. in Meharry Hall of historic East College. A question-and-answer session with Bradley took place at 4 p.m. in the Center for Contemporary Media, Watson Forum.
"Slavery is our original sin, race our unresolved dilemma," Bradley declared in the Ubben Lecture.
DePauw is planning a series of speakers on race issues throughout the year. Among the speakers will be Jonathan Kozol, popular author of books on education and social justice, on November 11.
Throughout his senate career, Bradley used the senate floor and other opportunities to lay out a series of larger challenges to the American people to heal racial wounds, fight violence, build a stronger civil society and reform the American democracy. He established himself as a serious voice in the national dialogue on racism, pluralism and discrimination.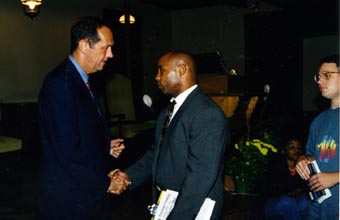 Bradley continues to focus on these issues, and he speaks frequently around the country. His book, Time Present, Time Past, a memoir based largely on his experience as a senator and his travels across the nation, includes details of his personal experiences with issues of race. "Race as a category in a multicultural society should ideally have very little meaning," Bradley writes in the book. "America is not yet such a society... America is a nation obsessed with the interplay between African-Americans and white Americans."
A Democrat, Bradley announced in 1995 that he would not seek reelection but would remain active in public life. Since leaving office, he was named vice chairman of J.P. Morgan & Co.'s International Council, and he serves as a senior adviser to the firm. Bradley also joined the ranks of CBS News and is a contributor exploring the lives of Americans today and the events that effect them. On September 1 he established an office at Stanford University where he serves as the Payne Distinguished Professor at the Institute for International Studies.
Before his successful senate race in 1978, Bradley had achieved distinction in academics and athletics. A graduate with honors at Princeton University, he was awarded a Rhodes Scholarship to Oxford University. As an undergraduate, Bradley was a three-time basketball All-American and won the Sullivan Award as the country's outstanding amateur athlete. He was captain of the U.S. basketball team that won the gold medal at the Tokyo Olympics. After returning from Oxford in 1967, Bradley joined the New York Knicks and played professional basketball for 10 years. In 1970 and 1973, the Knicks won the NBA championship with Bradley as a starting forward. His book about his decade with the Knicks, Life on the Run, was published in 1976 and became a classic in sports literature.