Bill Clinton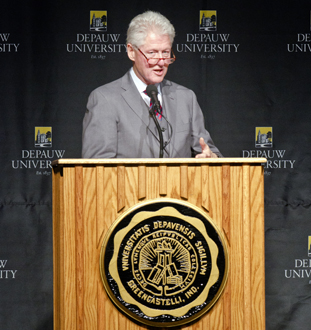 November 18, 2011, Greencastle, Ind. —

[Download Video: "An Interconnected Future" - 1911kb] "Today, more than ever before, we seven billion human beings find our futures tied together," President Bill Clinton, founder of the William J. Clinton Foundation and the 42nd President of the United States of America, told a crowd of approximately 5,000 at DePauw University this afternoon. Speaking to the students who filled many of the seats in a packed Neal Fieldhouse, he continued, "You need to decide what you'd like the world to look like when the next generation of students graduates from DePauw."
President Clinton imagines "a world of shared opportunities, shared prosperity and shared responsibilities. A world with a sense of community that embraces all the myriad diversities of the human species. A world that has a profound sense of obligation to the future. A world that uses the earth we have been given but also preserves it for future generations. A world where we celebrate our differences but understand that the only reason we can celebrate them is that we know our common humanity matters more. If that's the kind of world you want you have to ask yourself -- how do I get it?"
The event, presented by the Timothy and Sharon Ubben Lecture Series, marked the 25th anniversary of the first Ubben Lecture at DePauw on November 5, 1986, by Richard Lamm, then the governor of Colorado. Created by a gift by the Ubbens, both 1958 graduates of DePauw, the series has since hosted a wide range of world leaders and thinkers, including Mikhail Gorbachev, Tony Blair, Elie Wiesel, Benazir Bhutto, Margaret Thatcher, Gen. Colin Powell, Shimon Peres, Jesse Jackson and Oscar Arias. The visitors have included eight Nobel laureates (six of them won the Nobel Peace Prize). President Clinton became the first U.S. president to deliver an Ubben Lecture.
America's 42nd president was introduced by his friend since the early 1970s and longtime adviser, Vernon Jordan, a 1957 graduate of DePauw, who later presented Clinton with questions that were submitted by DePauw students.

[Download Video: "President Clinton Takes the Stage" - 2130kb]
"You come from all kinds of different economic backgrounds and experiences and you are entering a world that is more interdependent than at any period in human history," the former president told the students. "All the world's borders, even those that are accompanied by fences and walls look more like nets than walls."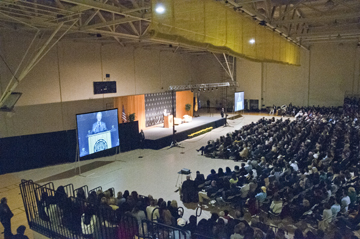 The world is challenged by inequality and instability and unsustainable ecological practices, Clinton told the packed house. Progress is being made in combating poverty and disease, and the pace of scientific discovery is quickening.
"This is a pretty exciting time to be alive and there are a lot of good things happening in the poorest places on Earth and in the biggest brains on Earth and in all points in between. The trick is for all of you to figure out how to build up the positive forces of our interdependence and reduce the negative ones."
In the world's poorest nations, infrastructure must be put in place to allow people to have access to things like education, clean water, and opportunity, President Clinton stressed. The challenges in America, he says, include finding political common ground.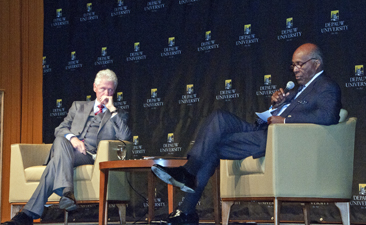 [Download Video: "Idealistic, Not Ideologues" - 2215kb] "The founding fathers were idealistic, not ideologues. There's a big difference. If you are idealistic you tend to be a little conservative or a little liberal but you are open to evidence and argument because you want to know what the competition is doing and you don't think you have soiled yourself if you compromise with somebody because they have different views. If you are an ideologue you know what the truth is already so you are impervious to evidence and argument and compromise is weakness. That is madness in a world where nobody has got all the truth," the former commander-in-chief declared as the crowd erupted in applause.

[Download Audio: "Community Service at DePauw" - 617kb] "I read that 87% of the students here by the time you graduate will have participated in community service or volunteer work," Clinton noted. "I thank you for that. Some of you have launched your own organizations and programs to help members of the local community. This work is really important. First of all you learn how to get along with different kinds of people. You learn about the problems other people face and you learn how to reach across the differences that too often divide us. And in the process you create a microcosm of the world we need. One with more partners and fewer enemies. And when you make a positive difference in someone else's life you increase the chance that they will do the same in turn."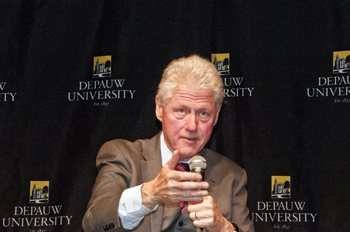 President Clinton noted,

[Download Video: "Hope for the Future" - 746kb] "I would give anything to be the age of the undergraduates at DePauw just to see what happens in the next fifty years. But what happens will have a lot to do with the decisions you make." To build a better world, he says,

[Download Video: "In Closing..." - 3623kb]"We need everybody. We need the libertarians who suspect the government of going too far. We need the progressives who understand that the conservatives are right that culture, family values matter along with programs. We need all these perspectives."
President Clinton concluded, "But in the end we are going to be judged by three things. Are people better when we quit then when we started? Do our children have a brighter future? And are we coming together or being driven apart? Those are the three things when you reach Vernon's age and mine that you want to be able to say yes to." (at right, l-r: Vernon Jordan, President Brian W. Casey, Tim and Sharon Ubben)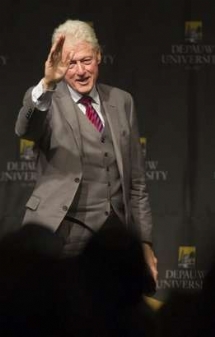 Of Vernon Jordan, the former president of the National Urban League, who later asked the former president questions that had been submitted by students, Clinton declared,

[Download Video: "On Vernon Jordan '57" - 3118kb] "I'm grateful for all the decades of unbelievable advice and support he has given," declared Clinton. "I am even more grateful for the golf rounds and the good jokes we've shared and the fact that he has perfected the art of true friendship as much as anybody I know. And I'm even more grateful for all that he has done to embody the American dream in his own life and to try to give everybody else a chance to chase their dreams. He has worked to advance civil rights and voting rights. To support economic empowerment and civic engagement. I love Vernon Jordan and I know very few Americans who have done as much to make our country and our future better. He got his start with the education and the experiences and the opportunities he received here at DePauw. So to the students in the audience, what you are learning and doing here will also shape your tomorrows."
Before President Clinton took the stage, DePauw President Brian W. Casey thanked Tim and Sharon Ubben for creating the endowment that supports the Ubben Lecture Series.

[Download Video: "A Gift of Ideas" - 2194kb] "A university at its core is a place for the communication and celebration of ideas and discourse," Dr. Casey said, as the Ubbens and Vernon Jordan stood beside him. "No two people have supported that core endeavor at DePauw more profoundly than Tim and Sharon Ubben. There is not a single member of this community untouched by their generosity and their commitment to this place. They have brought us the world." A long standing ovation followed. (bottom photo: President Casey greets the Ubbens)
As he began his remarks today, President Clinton offered,

[Download Video: "DePauw Connections" - 2201kb] "I want to say a special thanks to Tim and Sharon Ubben for bringing me here and for the 25th anniversary of this lecture series that has done so much to bring the world to Greencastle and to DePauw." He also noted that two other DePauw friends, Tim Collins '78 and Bruce Stinebrickner, professor of political science at the University. Clinton told the crowd that Dr. Stinebrickner was "a basketball hero at Georgetown when I was there."
Spectators began lining up early this morning for the free event, which was covered by a number of media outlets.