Carl Rowan

[Download Video: "View Video Clip of Carl Rowan's Ubben Lecture" - 1192kb]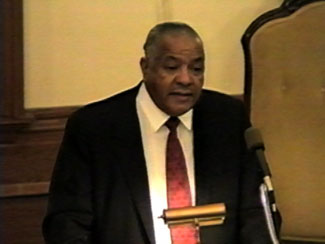 April 6, 1993, Greencastle, Ind. - "Soul. That's what we need a great deal of in this country today if we're going to get away from the polarization that bedevils this society if we're really going to extend equal opportunity to all," Carl T. Rowan, nationally syndicated columnist and best-selling author said at DePauw University tonight. Rowan delivered the Timothy and Sharon Ubben Lecture East College, Meharry Hall. Rowan's talk, titled "Breaking Barriers," included his perspectives on Supreme Court Justice Thurgood Marshall's contributions and civil rights in America.
Rowan published his latest book, Dream Makers, Dream Breakers: The World of Justice Thurgood Marshall, in January.
Rowan is one of the most honored journalists in American history. He has 44 honorary degrees and is the only journalist in American history to win the Sigma Delta Chi medallion for journalistic excellence in three successive years. He is in both the Black Journalists Hall of Fame and the Sigma Delta Chi Hall of Fame. He holds the "Missouri Medal," the highest honor given by the University of Missouri School of Journalism and has received the E.I. Du Pont-Columbia University Silver Baton.
After World War II, Rowan attended Oberlin College and the University of Minnesota, preparing for a career in journalism. He became a reporter for the Minneapolis Tribune and wrote articles about bigotry in the South. As a result, he was named Minneapolis' "outstanding young man" by the Junior Chamber of Commerce and "one of America's 10 outstanding young men" by the U.S. Junior Chamber of Commerce in 1954.
Rowan served as deputy assistant secretary of state under President John F. Kennedy and helped to integrate the State Department. He later served as a delegate to the United Nations during the Cuban Missle Crisis, ambassador to Finland, and as director of the U.S. Information Agency, becoming the first black person to sit with the U.S. National Security Council and the Cabinet.
Most recently, Rowan is the founder of "Project Excellence," a scholarship program which has given more than $2 million to high-achieving black youngsters in the past five years.