Dan Quayle '69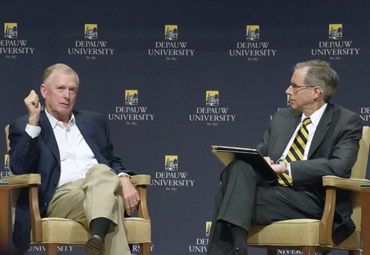 The national controversy over a newly-approved Indiana law, America's nuclear negotiations with Iran, and reflections on the road that brought him from DePauw University to becoming the 44th Vice President of the United States were among the many things Dan Quayle talked about at his alma mater tonight. A 1969 graduate of DePauw, Quayle engaged in a discussion with Jeffrey M. McCall '76, professor of communication, and took a range of questions from the audience in Kresge Auditorium. The program marked the 100th presented by DePauw's Timothy and Sharon Ubben Lecture Series.
Vice President Quayle made the plane trip to Greencastle as Indiana's governor was holding a news conference to discuss the Religious Freedom Restoration Act, which critics say opens the door to legalized discrimination of LGBT citizens.
"Mike Pence has been a longtime friend of mine and he's doing a good job," Quayle told the 820 students, alumni, faculty and others in the hall. Of the governor and Republicans in the Indiana legislature, "My guess is they did not see the reaction coming that has come their way ... If they did, I'm fairly convinced the he wouldn't have" signed the bill.
"We need to let the legislature and the governor fix it, they gotta do that, and then maybe take a step back and say, 'Where are we today?'." Quayle says there are "two very fundamental principles involved here ... one, religious freedom and religious liberty, and two, that there should be no tolerance for discrimination against an individual for race, religion or sexual orientation."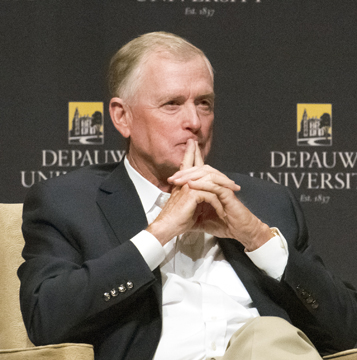 An Indiana native who was elected to two terms in the U.S. House of Representatives, and two in the U.S. Senate, before being tapped to be running mate to George H.W. Bush in 1988, Quayle also offered, "In Indianapolis I think that (lawmakers) missed how far the country has moved on the lesbian-gay community issues. The country has moved dramatically on that ... My view is that the (U.S.) Supreme Court, which is not really the bastion of liberalism, is probably going to strike down the ban against same-sex marriage this summer."
Quayle is almost certain that the nuclear negotiations with Iran will lead to an agreement, but he doesn't celebrate that. "The Obama administration has made an internal decision, which I don't necessarily agree with, that Iran is destined to get the bomb and that Iran, in fact, could be a real partner with us in the Middle East." An alliance with Iran is probably unrealistic, Quayle asserted, and would be "really bad news" for Israel, Saudi Arabia, Turkey, Egypt and for all the Sunni countries and lead to a number of them beginning nuclear programs.
"Remember this discussion early on in the administration, six or seven years ago, how they wanted to get rid of all the nuclear weapons?," he asked. "OK, well that's a fine idea, Reagan actually flirted with that idea, I think it's a little far-fetched, but we're going in the opposite direction. 'Cause it's going to be total nuclear proliferation in the Middle East. And unfortunately, mutual assured destruction, which was the deterrence between the United States and the Soviet Union, it actually worked. I'm not sure that mutual assured destruction will work in the Middle East; it might be more of a mutual invitation to create chaos with these weapons once they get 'em."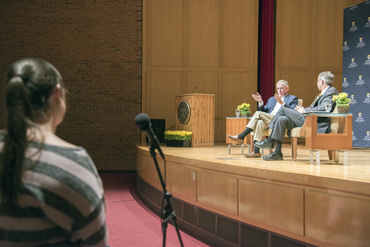 Asked about the partisan climate of Washington today, Quayle recalled partnering with Democrat Edward M. Kennedy to co-author the Job Training Partnership Bill. "Once he gave you his word, it was good," he said. "He was a very valuable partner."
More than 30 years later, "I think one of the reasons that we don't see this collaboration and congeniality and getting along is that today -- members of the House, in particular, and a lot of senators -- they don't move their families to Washington," Quayle observed. He recalled that he and Dick Gephardt, a Democrat, would share rides to work. "We were friends. But we became friends not necessarily on the House floor, where we were pounding each other every day. We became friends because his kids were about the same age as my kids and we lived close to each other."
The modern 24/7 news cycle and the constant need for "outrageous statements" has contributed to the partisan divide, Quayle believes, and he says the primary system is increasing yielding candidates who represent the extremes of both parties. An open primary setup, where any registered voter can vote in any party's primary, could possibly improve that, he says.
Quayle's children were ages 12, 10 and 8 when their dad was asked to join the presidential ticket of George H.W. Bush. When he told the kids he was being considered, Quayle recalled the youngest saying, "Really?," the middle child said, "He's not gonna pick you ... you're not even a famous senator," and his eldest son said, "You know he's going to pick Bob Dole." As the crowd chuckled along, Quayle added, "So I was out."
But the young senator from Indiana wound up being the choice, and he got the call about two hours before the announcement was made. What's more, he was told to be at the Spanish Plaza in New Orleans where, unbeknownst to Quayle, he had to make his way through thousands of people to get to the stage, a humorous story that also generated laughs.
As vice president, Quayle traveled to 47 countries over four years and headed the Council on Competitiveness and as the first chairman of the National Space Council. "But what I did most for (Bush) was to serve somewhat of as his eyes and ears on Capitol Hill, because I was in both the House and the Senate. He was in the House, but not the Senate."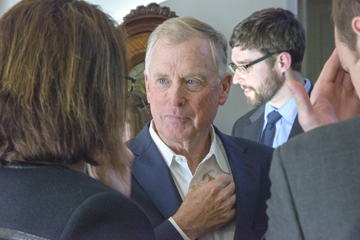 Quayle declared, "The role of the vice president is rather interesting and sometimes awkward, because you're there to assist the president but any time you do something -- whether it's foreign travel, or dealing on Capitol Hill, or you're dealing with tax matters, environmental matters, or budget matters -- you're always doing somebody else's job, 'cause that's why you have the cabinet." He added, "You're always stepping on someone's toes. And I was fortunate to have George Bush be vice president for eight years (before me) because he knew the challenges of being a vice president. You're really almost like a surrogate chief of staff, if you will."
The media "always need to pick on one of you, either the president or the vice president," Quayle noted. "And it's really much better for the president if they're picking on the vice president," he chuckled. "And so for three-and-a-half years they sort of picked on me. But the last six months they didn't. They turned their fire to 41."
His biggest regret as vice president? "I was one of those in his inner circle that did not take Ross Perot seriously at the beginning," Quayle admitted. "I kept saying, 'Look, don't worry about this guy. He's from Texas, we've got a lot of common friends ... we've just gotta talk him out of this thing. This is in the spring."
In the election of November 1992, Perot, running as an independent candidate, received about 19% of the popular vote. Quayle believes 75-to-80 percent of those votes would have gone to Bush. "It was the difference," he stated tonight. "My biggest regret is not seeing that coming."
Quayle launched a brief bid for the presidency in 1999, before his old boss's son, George W. Bush, entered the contest and won the obvious endorsement of his father. He is now chairman of Cerberus Global Investments LLC, one of the world's leading private investment firms, and has served on many boards of directors.
Looking ahead to next year's race for the White House, Quayle says that Hillary Clinton "is going to be a very formidable candidate" and believes she is a virtual lock for the Democratic nomination. "I think the Republicans can beat her with the right candidate," he stated, but says it's too soon to identify that person, assuming they emerge with the GOP nomination.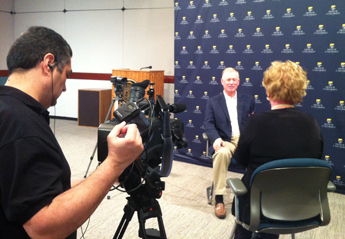 "There will be a strong desire to have the first woman president, just as there was a strong desire to have the first African-American president," Quayle added. "I think that's there and I think that you'll see that she'll probably play the gender a little bit differently this time than when she ran against Obama in 2008."
Dan Quayle arrived on campus this afternoon and was whisked to a news conference at the Eugene S. Pulliam Center for Contemporary Media, named for his uncle, who was a noted newspaper publisher and 1935 graduate of DePauw. Quayle also paid a visit to the studios of WGRE, the station on which he worked as a student, before attending a reception and dinner with students, faculty and alumni at The Elms.
He'll remain on campus for a breakfast with political science students, a visit to a DePauw classroom, then lunch with the men's and women's golf teams, followed by a round of golf at Windy Hill Country Club.
Quayle received a standing ovation at the beginning and conclusion of this evening's event.
"It's a great school," the former vice president said of his alma mater. "It's great to be home."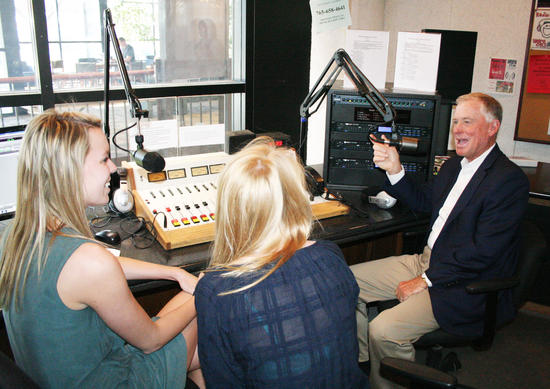 A third generation DePauw student (his father and mother, James and Corrinne Pulliam Quayle, were 1943 graduates; his grandfather, Eugene C. Pulliam, received a DePauw degree in 1910; and his uncle, Eugene S. Pulliam, is a 1935 graduate), Quayle noted, "Every time you come back you just go back through memory lane. You think about the good times and all the people that you met -- it's so special. And the students here, you'll have that opportunity. I think the longer you're away from it, the more you yearn for it."
He added, "The liberal arts education, it exposes you to life. It's what you learn in the classroom, but it's also what you learn outside the classroom: it's a learning experience 24/7," said the political science major who captained the golf team and was a member of Delta Kappa Epsilon fraternity.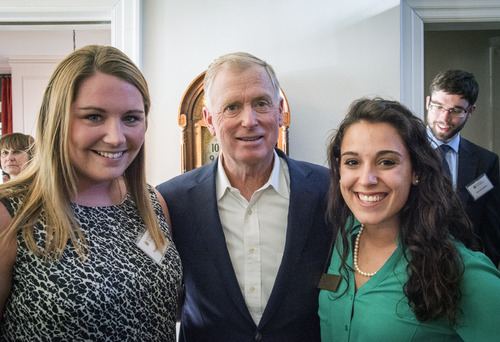 Like many alumni, his four years at DePauw also provided him with lifelong friendships. Quayle named civil rights legend and former Clinton adviser Vernon Jordan '57, venture capitalist and former Wall Street securities analyst Mary Meeker '81, and Fox News anchor Bret Baier '92 among the many people he encounters as he travels. "And when you see fellow alums like that, you always say, 'It all began at DePauw,' and it does all begin at DePauw. You can talk about where you're born, where you went to high school, but it's where you went to college and this is going to stick with you the rest of your life and you're gonna be amazed at what kind of rewards you're gonna have from having gone to this great University," he said to applause. (photo: juniors Sarah Burtenshaw and Erin Mann talk with Quayle on WGRE)
After the Ubben Lecture ended, Dan Quayle stepped down from the stage and offered handshakes and photo opportunities to each person in the crowd, and was still in the auditorium long after the spotlights and microphones had been turned off.
Quayle has previously made several memorable return visits to DePauw. In 1990, as vice president, he was honored with DePauw's McNaughton Medal for Public Service. Five years later, he came to campus and shared his thoughts on the state of the world in a convocation address. While a U.S. Senator, Quayle delivered the commencement address to the University's Class of 1982 and received an honorary doctorate. In 2000, Vice President Quayle was inducted into the DePauw Athletic Hall of Fame.