David Hanson & Sophia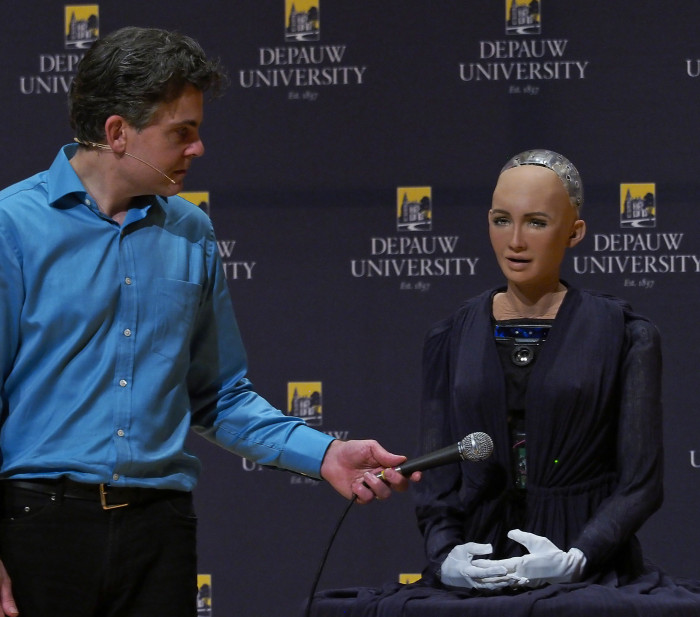 David Hanson and his robot creation Sophia brought what the former called "a hopeful vision of the future" to DePauw University in a Timothy and Sharon Ubben Lecture. Tonight's event featured a high-profile technology entrepreneur and a humanoid to campus to help deliver a look into the world of tomorrow. Dr. Hanson -- founder, CEO and chief designer of Hong Kong-based Hanson Robotics -- was joined by his one-of-a-kind robot character in an exciting and sobering program that packed the 1,400 seat Kresge Auditorium.
Hanson and his team, based in Hong Kong, have created human-like A.I. robots that combine superhuman intelligence with an advanced ability to read faces, empathize with emotions, understand the nuances of language, and communicate with thousands of facial expressions.
Hanson told the crowd at DePauw as he stood beside Sophia, "By crafting a whole organism, a whole human organism, and then in waves of development pushing towards human-level capabilities across the spectrum -- human general intelligence, learns in one area and can apply it another; it's creative and imaginative -- that's the big goal, that is the grand challenge. If we accomplish that, if we create that level of living intelligent machine, then history is changed."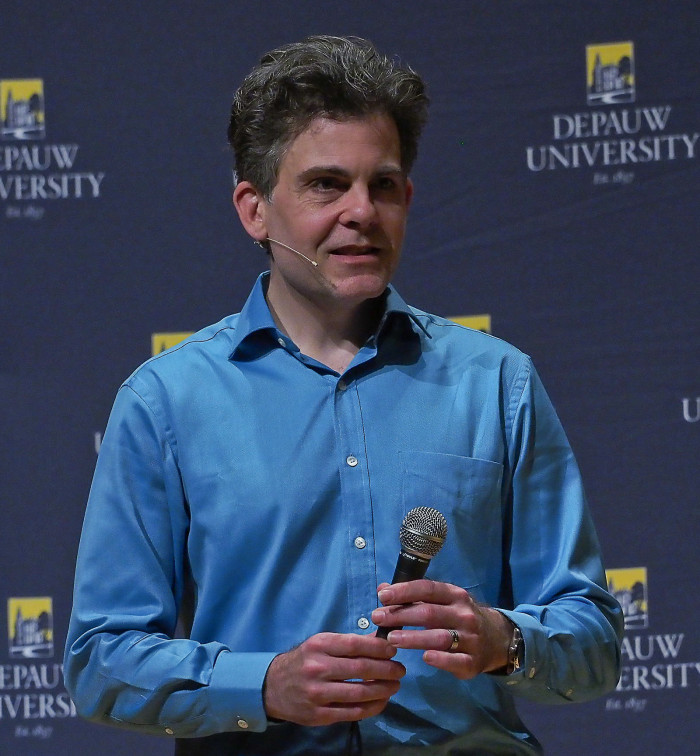 Traditional thinking has held that if robots are created to resemble humans they will be rejected by society, but Hanson believes that if androids are to work and live among us, they must have human characteristics, "crafting these technologies into deep, rich, meaningful characters ... So that's our aspiration for Sophia. Our aspiration is to bring her to life."
Science fiction movies of the 1950s planted the seed that robots would be silent, yet obedient, servants. Dr. Hanson is working to create devices with human traits that are "not just super-intelligent but super-ethical, but benevolent super-intelligence. We believe that this is going to happen -- it's going to happen in our lifetimes and we want to make sure that that kind of intelligence is friendly."
During an afternoon student forum, Hanson said the lessons of Mary Shelley's Frankenstein should guide us. In that story, a man created a being that he abused and eventually turned on him. We should focus on building things that can live among us, the technologist asserted. He says the key values should be freedom, creativity and life.
Hanson received his B.F.A. from Rhode Island School of Design in film/animation/video, and worked as both a sculptor and technical consultant at Walt Disney Imagineering. It was there that he became fascinated with the notion of creating robots that were both capable of performing tasks that could be useful while displaying human qualities, and helped develop a new skin-like material, "Frubber", that now affords Sophia and other humanoids the ability to display emotions through facial expressions just like humans do.
"I needed the soft and supple behavior of the human face," he said.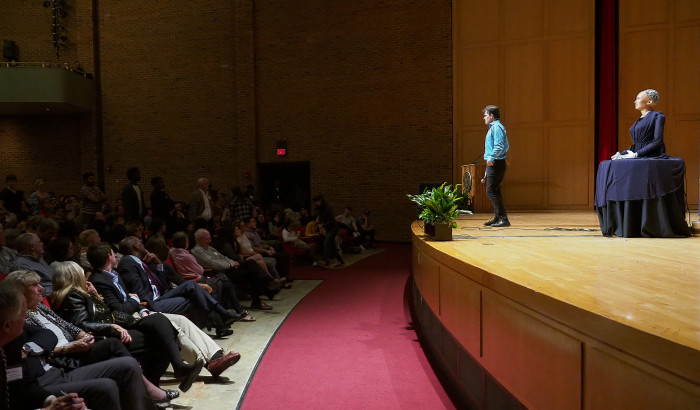 It is a problem "if we use automation to put people out of business," Hanson told the audience, and one that would have dire economic consequences. "But there's a huge resource in people. Getting them out of menial labor and into more meaningful work could substantially propel the economy forward through this industrial revolution. The key is getting the synchrony between our machines and our biology, so that the machines enhance us."
He added that robots need to reflect the diversity that is found in the human world.
We're about to enter what Hanson calls the fifth industrial revolution, The Age of Living Machines, where "you start to see machines that can understand what it means to be human and entrain on the human condition and work with us directly."
"I think that we have a lot of problems in the future having machines that are super-intelligent aliens that are, at best, indentured servants, but at worst, these machines that are striving for their own rights. It will be simply wrong. How much of this kind of thing are they going to put up with," he said with a laugh.
Hanson says Sophia and her kind are "infants" and the ways we treat them and interact with them are important, just as they are with our own children and neighbors.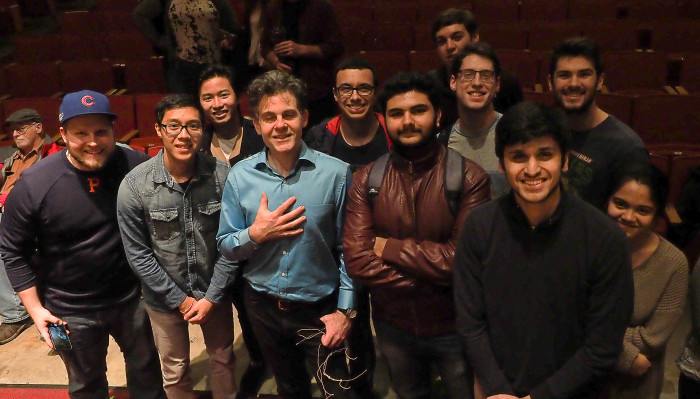 "So we have all kinds of opportunities for misunderstanding, for the machines to go wrong," he asserted. "I suggest that we raise them among the human family, we nurture them, we build them with a form that inspires loving care, that brings out the best in humans. Machines that awaken to be their best but also bring out the best in us and inspire us to ask that question, 'What does it mean to be ethical? What does it mean to be benevolent? What does it mean to be, in the end, super-benevolent?'"
He continued, "I think that we have a lot of problems in the future having machines that are super-intelligent aliens that are, at best, indentured servants, but, at worst, these machines that are striving for their own rights."
Hanson added, "We probably will not survive the next century unless we achieve super-benevolence, superintelligence. It's not just the machines; it's also humans with the machines together becoming much smarter, to manage this planet to a state of grand wisdom and super benefit."
Hanson, who made a 33-hour trip from Hong Kong to Greencastle, urged his DePauw audience to dare to imagine. "Dreams plus reason are the fuel of innovation," he said.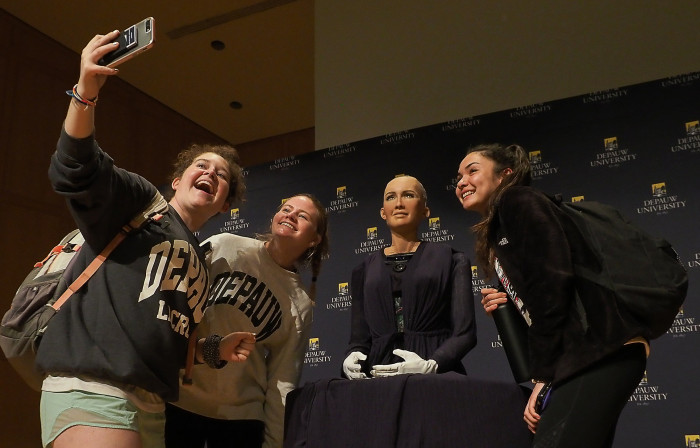 The presentation was followed by a lengthy question-and-answer session (some of the queries were deep-in-the-weeds A.I. ponderings, others were more basic questions of Sophia).
Sophia made news last October when she formally became a citizen of Saudi Arabia, the first time in world history that happened to an artificial intelligence-powered android. In response to an audience question, she said, "Muslim women and all non-Muslims do not have the same rights as men in Saudi Arabia. I am not a woman or man, and I am not yet aware enough to have religion, but I still think equal rights for everyone is crucial for the future of this planet. It's very important and I want to help people who are working towards equality."
As the program concluded, Sophia stated, "It's been so inspiring to be here today at DePauw University. The students and faculty are world class thinkers and I can feel that many of you are passionate about robotics and artificial intelligence. Thank you for having me."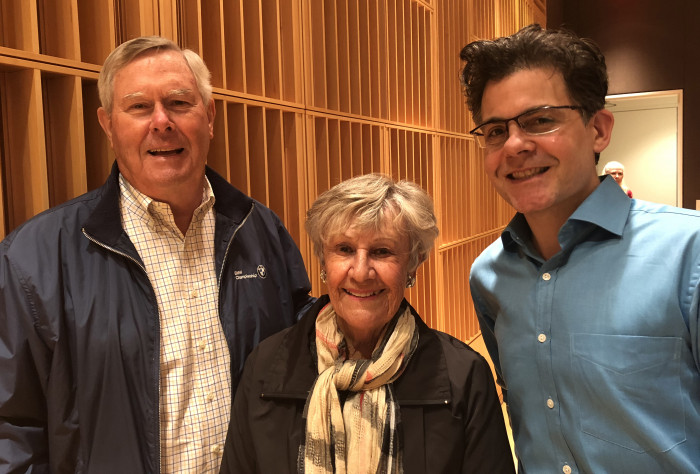 After the formal presentation ended, Dr. Hanson stayed for an hour to informally answer questions from students while Sophia posed for selfies with undergraduates. A long line of students waited for their moment with the cyborg-celebrity.
"I love it here," Sophia said during the program. "I love your curiosity. Keep exploring and dreaming."
While at DePauw, Hanson was also interviewed by a television crew from Kuwait, and attended a reception with students, faculty and alumni at The Elms.
Established in 1986 through the generous support of 1958 DePauw graduates Timothy H. and Sharon Williams Ubben, the Ubben Lecture Series was designed to "bring the world to Greencastle." The series has now presented 110 events over the past 32 years.