David R. Brower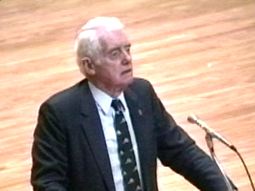 January 25, 1991, Greencastle, Ind. -

[Download Video: "David Brower at DePauw" - 667kb] "We're not thinking about what's going to happen if we want a future, and we've gotta do it," David R. Brower, the prominent environmentalist and two-time Nobel Peace Prize nominee, told students at DePauw University this morning. Brower, former executive director of the Sierra Club and the founder of many environmentalist organizations, delivered the Timothy and Sharon Ubben Lecture in Kresge Auditorium of the Performing Arts Center.
Population growth is straining the planet, he said, and turning the situation around "requires adjusting thinking. And it's possible; our brain is capable of that," he said. The audience included DePauw students and faculty as well as area schoolchildren who are beginning their studies of science and the environment.

[Download Audio: "Healing Time" - 142kb] "It's healing time on Earth," Brower asserted. And it seems to me that if we'd gotten started a little sooner on this we might have got the idea through to our own government, we might have got it through to the government of Iraq, we might get it through to a lot of governments that are doing some very bad things." Brower noted, "While we're worried about what's happened to Kuwait we've not heard a thing about what China has done to Tibet."
David Brower joined the Sierra Club in 1933, became a member of its board of directors in 1941, and was its first executive director from 1952 to 1969. He saw the club's membership grow from 2,000 to 77,000, and successfully urged the formation of the Sierra Club Foundation. Other organizations he founded include the John Muir Institute for Environmental Studies, Friends of the Earth, the League of Conservation Voters, and Earth Island Institute. Through his career, Brower had a profound impact on the state of America's wild lands by helping to create national parks and seashores in Kings Canyon, the North Cascades, the Redwoods, among others, and by leading a national discussion on conservation issues.
In his speech, Brower recalled that Russell Train, chairman of the Council on Environmental Quality in the Nixon administration, once stated: "Thank God for Dave Brower; he makes it so easy for the rest of us to be reasonable." Brower chuckled about the remark, then added,

[Download Video: "Brower on Nixon" - 2411kb] "We heard so many things about Richard Nixon towards the end of his reign that were not so good that we've forgotten that he did make some major environmental contributions to this country in putting the National Environmental Policy Act (in place). And way, way back when he first came into office, Richard Nixon made the best statement on the population problem of any president before, after, since. But it bombed at the box office; nobody ever thanked him for making that bold statement. And I don't know what might have happened if the rest of us had remembered to thank him for a good environmental statement. Well, we didn't, and we can't tell what it would have been like if we had."