David R. Gergen

[Download Video: "David Gergen at DePauw" - 3801kb]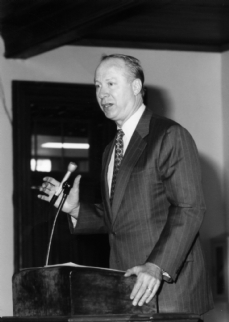 October 14, 1998, Greencastle, Ind. - "I think we're spending too much time on the gossip and looking at individual foibles of political leaders as opposed to looking at what the bigger problems are and the bigger questions facing the country which raise moral questions," David Gergen said today at DePauw University. Gergen, adviser to four American presidents, was a guest of the Timothy and Sharon Ubben Lecture Series. He spoke at 10 a.m. today in East College, Meharry Hall.
It's Gergen's view that media outlets spend too much time on issues that have nothing to do with a person's ability to govern. "It's time we stop looking for saints and time to stop investigating people to within an inch of their lives," he declared. "We in the press and others in politics now are subjecting people to tests that are very invasive, that rip away any sense of privacy and that shake every skeleton out of the closet."
Gergen's career as presidential adviser spans the administrations of Richard Nixon through Bill Clinton. He began in 1971 as a speech writer in the Nixon White House. After Nixon's resignation, he served as special counsel to President Gerald Ford. During the Reagan administration, he acted as staff director to organize all communications operations from 1981 to 1984.
Most recently, Gergen was asked by President Clinton to act as White House counselor. He served in that capacity for a year and then was asked to serve for six months as a special adviser to the president and secretary of state on foreign policy.
Gergen is also a respected journalist and political commentator. Currently editor-at-large at U.S. News & World Report and regular commentator on the PBS News Hour with Jim Lehrer, he worked primarily as a journalist and editorial writer from 1984 to 1993. Gergen has also taught and lectured as a resident fellow at the American Enterprise Institute in Washington, D.C., and at the Kennedy School of Government at Harvard University. In 1995 he became a visiting professor at Duke University, where he teaches a course on the modern presidency.
Gergen was the first of four lecturers invited this year to speak at DePauw on the topic of "Ethics and Morality in Leadership." The second speaker of the series will be former U.S. Senator Alan K. Simpson, currently director of the Institute of Politics at the Kennedy School of Government at Harvard University.