Elie Wiesel
Also:

[Download Video: "Elie Wiesel on Morality" - 8001kb]
September 21, 1989, Greencastle, Ind. - "A university is by definition a moral society, sometimes even a moralizing society," Elie Wiesel told an audience at DePauw University today. The renowned novelist, philosopher, and Holocaust survivor presented the Timothy and Sharon Ubben Lecture, "Building a Moral Society."
Wiesel, who was awarded the Nobel Peace Prize in 1986, noted, "There is something very mysterious going on in the teacher-student relationship, something very beautiful. It is so deep and so complex, and at times so rewarding or so annoying that there is nothing that it can be compared to, not even father-son relationships, although a father is supposed to be a teacher to his son."
Born in 1928 in a town that is now part of Romania, Eliezer Wiesel -- along with his family and other Jews from the area -- were deported to the German concentration and extermination camps during World War II. While Wiesel and his two older sisters survived, his parents and little sister perished. Liberated from Buchenwald in 1945 by advancing Allied troops, he was taken to Paris where he studied at the Sorbonne and worked as a journalist.
In 1958, Wiesel published his first book, La Nuit, a memoir of his experiences in the concentration camps. More than two dozen books have followed. Now a United States citizen, since 1976 Wiesel has been Andrew W. Mellon Professor in the Humanities at Boston University where he teaches "Literature of Memory." He also served as chairman of the United States Holocaust Memorial Council from 1980 to 1986.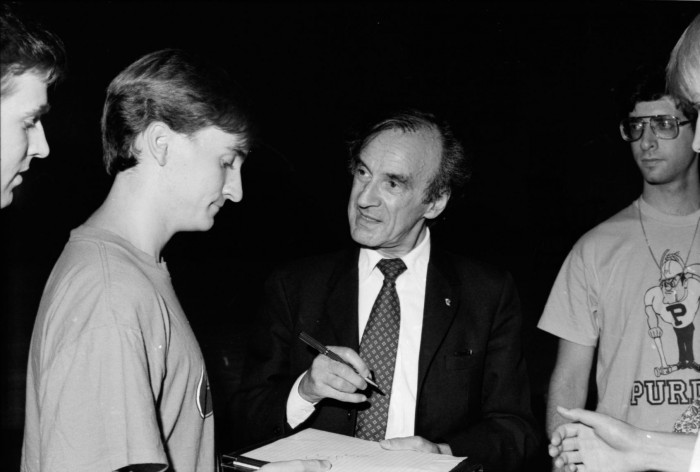 "We live in a world where for the first time in recorded history the planet is in danger," Wiesel stated at today's Ubben Lecture. "Never before have people lived everywhere under the same cloud of uncertainty. Any moment an idiot somewhere may provoke a cataclysm -- and we don't even know who the idiot is, and we don't even know why. There are today more than 40 wars, declared and undeclared, going on. Silly. Why? For what? There are religious wars today in Ireland; ethnic wars in the Soviet Union, tribal wars, wars of languages. Imagine Belgium, that little country, has a war of languages between the Flemish and the French."
Wiesel continued, "Haven't we learned that wars are ugly, grotesque, that there are no victors in wars? Haven't we learned that the people only lose, that everyone loses?... How can we build a moral society when we know how fragile the structure of our survival is?"
He also noted, "Indifference to evil is evil and sometimes worse than evil. The opposite of love is not hate but indifference. There is no alternative to humanity except humanity."