H. Ross Perot

[Download Video: "Ross Perot at DePauw" - 1911kb]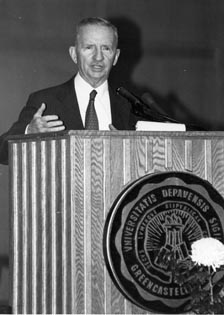 April 29, 1996, Greencastle, Ind. - America's number one growth industry is the United States government, according to Ross Perot, "And they don't sell a product. They tax." Perot, founder of the Reform Party and 1992 presidential candidate, presented the Timothy and Sharon Ubben Lecture at 7 p.m. in the Performing Arts Center, Kresge Auditorium.
Business and politics are worlds apart, Perot told the standing-room-only crowd of more than 1,500, some of whom began lining up for the first-come, first-served seats more than an hour before his talk. "Business is conducted on a rational basis and has generally accepted standards of ethics and conduct. Politics is not conducted on a rational basis. There are no rules of conduct or ethical standards," insisted Perot, who dodged questions as to whether he will enter the presidential fray this year.
"War has rules. Mud wrestling has rules. Politics has no rules," Perot declared as he raised his voice. "If you question that, go back and analyze the recent Republican primary where they just chewed on one another mercilessly. You and I have got to just turn 'em off when they start the personal attacks and say, 'Tell me how you're going to solve our country's problems and stop chewin' on the guy next to you.' That's what it's all about.'"
Calling politics a "blend of magic acts and illusion," Perot added, "In business you get promoted based on your performance ... and this may be the most important thing I say to you tonight: In politics, you get elected based on your acting ability."
In 1992, Ross Perot became a household name when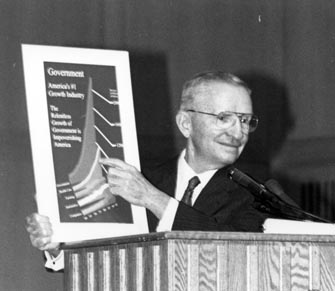 he mounted a campaign for president of the United States, delivering famous lines such as: "If someone as blessed as I am is not willing to clean out the barn, who will?" Perot wound up receiving more than 19 million votes. However, since he failed to win a state, Perot received zero electoral votes. He won 19 percent of the popular vote -- the most received by a 20th Century third party candidate, other than Teddy Roosevelt, who ran as a Progressive in 1912.
At DePauw, Perot said he is often asked what drives him. He believes the nation needs a new tax system, term limits, an overhaul of campaign laws as well as Medicare and Medicaid reform, and a balanced budget.
"Here it is, page 25 of President Clinton's 1995 budget. The next generation to be born will pay 82% tax rates. Is there anyone in this room who wants to leave their children and grandchildren a country where they only keep 18 cents out of every dollar of their paycheck? I don't think so, and we won't," he said.
Perot concluded, "There's too much debt ... We've got to go to work. Bluntly put, if we don't, we will destroy the American dream."
Today's event was covered by C-SPAN.

[Download Video: "Clip of C-SPAN Coverage" - 11,814kb]