Jimmy Kimmel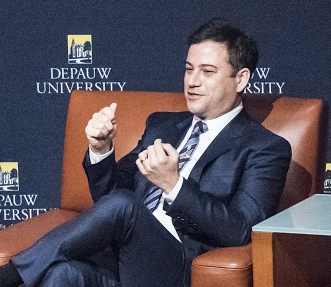 Laughter filled DePauw University's Kresge Auditorium tonight, as Jimmy Kimmel, host and executive producer of ABC's Jimmy Kimmel Live!, talked about his career, offered advice to students, and even made a crank phone call from the first row and posed for "selfies" with audience members. Presented by the Timothy and Sharon Ubben Lecture Series, Kimmel's appearance was part of DePauw's annual ArtsFest, which has a 2014 theme of "Art & Laughter."
"I wanted to be an artist when I was a kid," Kimmel recalled. "I drew all the time, I loved comic books, my parents -- we didn't get a color TV until 1983, and when we did get a color TV I snatched the 12" black-and-white that we used to gather around and I put it on my desk in my bedroom, I didn't even ask. And I'd sit there drawing and watching Johnny Carson and David Letterman ... and somewhere along the way I found up falling in love with David Letterman and I wound up changing my career path."
But, as Kimmel explained to the students who began lining up for seats inside the auditorium at 3 p.m, that path had plenty of zigs and zags. His grades in high school were good, but he didn't really think about college until August of what was his freshman year at the University of Nevada, Las Vegas. "Student is a generous way of putting what I was," Kimmel joked.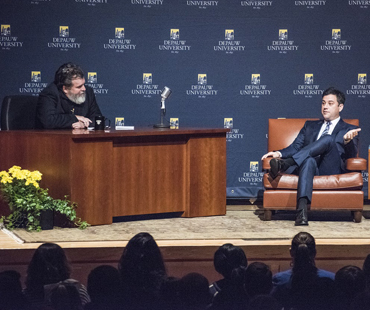 College was a struggle, Kimmel noted, but it was there that his broadcast career began. "I read that David Letterman had started in radio and I was working at a clothing store called Miller's Outpost -- your fashion answer in Las Vegas -- and there was a guy who worked there who also worked on the college radio station. He said, 'You're funny, you should be on the radio,' and so I went to the college radio station."
Radio gigs in Arizona, Washington, Florida and California followed. He made the move to TV in 1997, appearing on Comedy Central's Win Ben Stein's Money, where he won an Emmy Award, and then co-hosting and co-producing The Man Show. He created other shows, including Crank Yankers, and in January 2003 began hosting Jimmy Kimmel Live!
Kimmel credits a strong work ethic instilled in him by his parents for giving him the drive to succeed, and says he's always had a laser-like focus on delivering to his audience. "It doesn't matter if I'm talking to one person or to a million people, it makes no difference. I don't like the idea of repeating myself, that's why I never gravitated toward stand-up comedy. I want to be prepared almost at all costs."
The television personality engaged in a 45-minute-long conversation with Tom Chiarella, Hampton and Esther Boswell Distinguished University Professor of Creative Writing at DePauw and a "writer-at-large" for Esquire. Professor Chiarella produced a story on Kimmel which was featured on the magazine's April 2014 cover. The friendship that resulted led the TV host to come to DePauw tonight.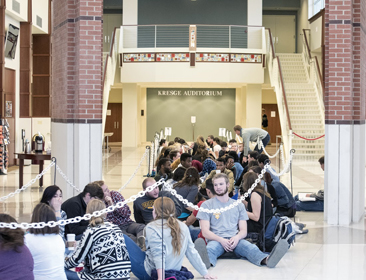 Kimmel also took questions from students in the audience, who, among other things, invited him to appear on a late night talk show produced by DePauw's student television operation, D3TV, and to drop by a fraternity following his Ubben Lecture. He also made reference to DePauw traditions like boulder runs and the Monon Bell.
Several undergraduates asked for advice on breaking into the entertainment industry. "This is the best time ever to be a writer and to be a filmmaker, in my opinion, because I've hired people based on their Twitter feeds, you know?," Kimmel noted. "And if you're very good on Twitter, eventually -- it will take a long time -- but if every day you write five original funny jokes and you post them on Twitter, or you make original films you post on YouTube, it is amazing how democratic the Internet is. If it's good, people will find it and they'll start passing it around, and it will snowball." (at right: the beginning of the line that snaked through the Green Center several hours before the event)
Kimmel added, "You have to be disciplined," as well as consistent; many people can be occasionally funny, but people need to demonstrate that they can deliver all the time.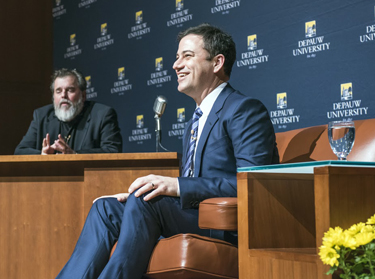 He also urged students to engage and be noticed when they take on internships. The impressions you make as an intern matter. "When you're looking to hire somebody, they will remember what you did or didn't do when you were there, and it's so easy to distinguish yourself from everyone else, it really is," says Kimmel. "If it's a place you want to work, work really hard, ask them questions, annoy them if you have to."
He added, "If you make a good impression on as many people as you possibly can, your work life will be so much easier. And then when you get in a position where you can reward people who do the same thing, I think it's important to do that."
Unfortunately, Kimmel's interns too often don't heed the advice. "I sit these kids down at the beginning of the semester and I tell them this and I explain this to them, and still eight of out 10 of them won't do it. It's interesting; for some people it's just not in their DNA."
During his talk with Professor Chiarella, Kimmel declared, "If there's one thing I'm really good at it's making prank phone calls, calling it "my greatest gift" and a skill he learned in his school days. During the Q&A segment, a DePauw student requested that Kimmel call her mother on her cell phone, and he obliged, climbing down from the stage to make the call as the audience howled with laughter.
Kimmel also obliged to student requests for "selfies," jumping down into the first row to pose for a series of photos as the event drew to a close.