John Major
October 29, 2001, Greencastle, Ind. -

[DOWNLOAD VIDEO: "Long Campaign" 320KB]

[DOWNLOAD AUDIO: "Long Campaign" 160KB] "We are embarked on a long campaign against an evil that scars our lives, and will take years, and not months, to complete." That was the assessment of former British Prime Minister John Major as he delivered the Timothy and Sharon Ubben Lecture tonight in DePauw University's Kresge Auditorium. A packed house of students, faculty, staff, alumni and Greencastle residents listened intently as Major presented his analysis of "The Changing World."
America's response to the events of September 11 has been appropriate and necessary, according to Major. But he worries that in the coming days, the United States and its allies will increasingly fight a battle over public opinion. Major says Osama bin Laden and his al-Qaida network will try to convince the Muslim world that the U.S. is not attacking terrorism, but Islam. "Now this ploy may seem absurd to us this evening. It may seem absurd to the well-informed. It may not be so absurd outside the mosques in the Middle East. It may not be so absurd in the bazaars Muslim countries... It may not be so absurd to people who are dispossessed, who are hungry, who are ill educated, who hear these voices of hate pouring out with their bile against the western democracies," he said.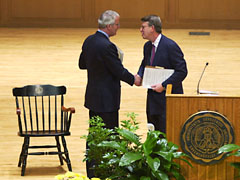 With several decades of experience with the Irish Republican Army, Great Britain knows all too well the toll that terrorism can take.

[DOWNLOAD VIDEO: "Right Response" 985KB]

[DOWNLOAD AUDIO: "Right Response" 474KB] "And what we've seen over the last 20 years is terrorism becoming more and more self confident, and terrorism in its total sense growing," the former prime minister said at an afternoon news conference at DePauw's Pulliam Center for Contemporary Media. "So I think the scale of this particular atrocity left no choice but the response we've seen. And I think it was extremely wise of the administration and their coalition partners to wait some time until there was an immediate response, to put the assets they needed in place and then to begin with the military response that we've now seen," Major told the gathering of student and professional reporters.
The former prime minister (seen at left with DePauw Director of Media Relations Ken Owen, who moderated the news conference) also assured America that Britain stands beside the USA.

[DOWNLOAD VIDEO: "British Support" 749KB]

[DOWNLOAD AUDIO: "British Support" 355KB] "Here for the first time was an attack of a ferocity and on a scale that we haven't previously seen," Major said. "The reaction was very sharp and I think you need not have a shred of doubt that, from the first moment to the last, the British will be with the United States in this particular battle."
Mr. Major arrived before noon at Putnam County Airport, where he was welcomed to Greencastle by DePauw President Robert G. Bottoms . He told reporters a few hours later,

[DOWNLOAD VIDEO: "Minds and Hearts" 1077KB]

[DOWNLOAD AUDIO: "Minds and Hearts" 530KB] "I think people have not fully appreciated the extent to which this will be a battle for people's minds and hearts, as well as simply a military battle." He continued, "The diplomats will have a great role to play in this wider conflict as it develops over the next few months, and we need to retain the support of people in the coalition, many of whom will have difficult domestic audiences, and that's going to be a tremendous job of diplomacy for the United States and Britain, and other countries."
Before the news conference, John Major spent a lengthy lunch hour at the Memorial Student Union Building, where he dined with students in a leadership class taught by President Bottoms and professor of philosophy Marcia A. McKelligan. Major commended President George W. Bush for telling Congress America is targeting all terrorist groups, not only Osama Bin Laden's network.

[DOWNLOAD VIDEO: "If Not Now?" 466KB]

[DOWNLOAD AUDIO: "If Not Now?" 401KB] "If not now, when?," he asked. "And if not at all, how much longer are we prepared to go on without various groups perhaps engaging in the same sort of atrocity that we saw on September 11th?"
In his evening Ubben Lecture, John Major touched on the changes that today's students will witness. He notes that China, Russia, Indonesia, Brazil and India have one half of the world's labor force, but less than 10% of the output. In 25 years, he predicts the five countries will double their share of world trade.

[DOWNLOAD VIDEO: "Grown-up Politics" 852KB]

[DOWNLOAD AUDIO: "Grown-up Politics" 766KB] "It is against these enormous changes in the world that we need what I call 'grown up politics.' The events of September 11th are about to give us all a master class in consequences. We need politics that confronts the uncomfortable, politics that rises above the short term and the sound bite, politics that is long term and understands that it no longer controls all the pieces on the checkerboard. Politics that injects common sense and rejects common abuse, politics that is directed at issues as opposed to personalities."
John Major is the fourth prime minister of Britain to visit DePauw, following Margaret Thatcher (1992), Sir Harold Wilson (1981) and Harold Macmillan (on several occasions, first in 1958).
See a WISH report on tonight's speech here:

[Download Video: "CBS Affiliate Coverage of John Major" - 5405kb].