Jonathan Kozol

[Download Video: "Jonathan Kozol at DePauw University" - 4515kb]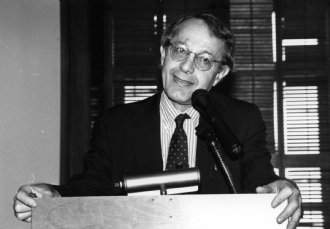 November 12, 1997, Greencastle, Ind. - "What just society would spend 10 times the amount necessary to incarcerate a person as to educate a child?," Jonathan Kozol asked at DePauw University today. Kozol, an author, educator and social critic, spoke about issues of education and race as part of the Timothy and Sharon Ubben Lecture Series.
His speech today took place at 10 a.m. in East College, Meharry Hall. Yesterday he made a 7 p.m. appearance in the Center for Contemporary Media, Watson Forum.
Part of DePauw's continuing Conversation on Race this year, both events were open and free to the public. The Tuesday evening event was broadcast live on the DePauw and Greencastle cable television channels.
"Schools in the United States are funded on the basis of local property wealth," Kozol told his DePauw audience. "If you live in a destitute community, you can tax yourself at the highest tax rate and still get no money for your schools because no one wants to live there." He says that with such a system, "It's not just that it cheats the poor; in a way, it cheats the children of the rich. A lot of these [children of the upper class] are very decent kids. They have a sense of social conscience and [the advantages they receive] bothers them."
In 1964, Kozol moved from Harvard Square into a poor black neighborhood of Boston and became a fourth-grade teacher in the Boston public schools. He has devoted the subsequent three decades to issues of education and social justice in America. Death At An Early Age, a description of his first year as a teacher, was published in 1967 and received the 1968 National Book Award in Science, Philosophy and Religion. Now regarded as a classic by educators, the book sold more than two million copies in the United States and abroad.
From the start, Kozol combined teaching with activism. He taught at South Boston High during the city's desegregation crisis. Working with black and Hispanic parents, he helped set up a storefront learning center that became a model for many others. In subsequent years, Kozol grew increasingly concerned about the large numbers of adults he met in very poor communities who could not read. In 1980 the Cleveland Public Library asked him to design a literacy plan for the nation's large cities. His plan became the model for a major effort sparked by the State Library of California. The book that followed, Illiterate America, was the center of a campaign to spur state, federal and private action on adult literacy.
A few days before Christmas in 1985, Kozol spent an evening at a homeless shelter in New York. Night-long conversations with the mothers and children who befriended him led him to remain there for much of the winter. Out of that experience came his book Rachel and Her Children: Homeless Families in America, a narrative portrayal of the day-to-day life struggle of some of the poorest people in America -- living only one block from Fifth Avenue in the nation's richest city. The book was awarded the Robert F. Kennedy Book Award for 1989 and The Conscience in Media Award of the American Society of Journalists and Authors.
In 1989, nearly two decades after the publication of Death At An Early Age, Kozol revisited America's schools. He went to rich and poor schools in more than 30 communities. What he saw convinced him that, despite the struggles of the 1960s and the efforts of the courts, America's public schools remained still separate and still unequal. This experience led him to write Savage Inequalities: Children in America's Schools, which was a finalist for the 1992 National Book Critics Circle Award and recipient of the New England Book Award in nonfiction.
Kozol returned in 1993 to one of the most racially isolated and impoverished neighborhoods in the US -- the South Bronx of New York. After two years of conversations with neighborhood children, priests and parents, he wrote Amazing Grace: The Lives of Children and the Conscience of a Nation, which was published in 1995. In this book, he explores the meditations and reflections of some very young black and Hispanic children who, although they live in one of the most violent, diseased communities in the developed world, retain a soaring spiritual transcendence.