Leslie Odom Jr.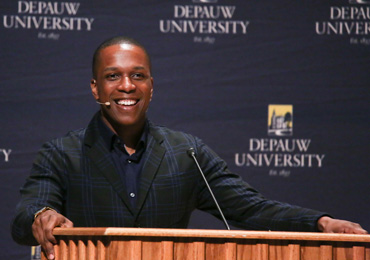 The winner of this year's Tony Award for Best Actor says the road to success has plenty of bumps and requires patience, determination and a desire to blaze your own path. Leslie Odom Jr., who starred as Aaron Burr in the smash hit Hamilton, endeared a crowd of about 1,000 at DePauw University tonight with life lessons, and electrified the venue with two musical performances as he presented a Timothy and Sharon Ubben Lecture, "Finding Your Personal Spotlight."
As a child, Odom performed at school assemblies, church functions and birthday parties, and decided, at age 16, to audition for the national tour of Rent, which he called "my Hamilton ... the show that introduced me to the theatre." He recalls, "I showed up at that audition, honest to God, not expecting to get a part. I showed up at the audition for the experience of auditioning."
As he went through several callbacks, "There was a light in the center of the room that I could feel -- it was just like, right there. Like, what if I just stepped in it and was fully myself and didn't apologize and was bold and fearless in that light? What could happen? What happened was I got a call and week-and-a-half later to come and do the show. It changed my life. I never intended to get it."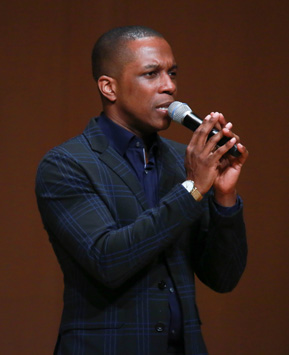 Speaking particularly to the students in the hall, Odom continued, "I say there's gonna come a moment once you find your path where you do just have to have that courage to get in the center of that thing, and stand in it and be all that you can be."
Odom was determined to continue his education, and graduated with honors from Carnegie Mellon University.
After college, he moved to Los Angeles where he was "in and out of my light" as he pursued a career in television. He was there for 10 years, appearing in such shows as CSI: Miami, Vanished, Big Day, Law & Order: Special Victims Unit, Person of Interest, Gilmore Girls, and Grey's Anatomy. But Odom says there were long breaks between roles, and "depression and unemployment were crushing and commonplace."
Odom noted, "At a certain point I got a little sick of other people's work inspiring me and not my own. There was a firm market for safe and bland and I had two feet in that market."
Bored and discouraged, the young actor considered quitting the profession at age 30. But a mentor told him, "Before you quit, I'd love to see you try." Instead of sitting at home waiting for a call offering him his next role, Odom decided to take charge of his career and his life.
"Two weeks later, maybe three, I had more jobs than I'd ever had in my life. I was back in my light," he said.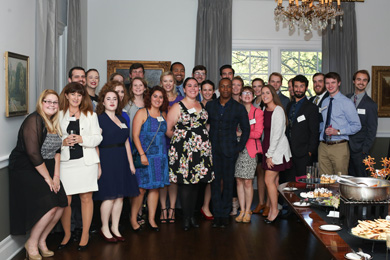 Odom landed a top role on Smash, a big break, but the show didn't have staying power. He recorded a self-titled jazz album (which has recently been reissued).
"I found different parts of my voice that I'd never found before. There would be no Hamilton for me without that record, because I was able to tap into deeper things; things that I'd just never explored before."
In 2013, Odom attended a workshop presentation of a new work-in-progress, Hamilton, at Vassar College, and says he was impressed by the powerful music and storyline but never imagined he would someday be at the center of the show.
He described his determination to win the part of Aaron Burr -- bolstered by the mentor's advice that had changed his approach to his craft. Auditioning in costume with his lines memorized, Odom won the part.
Hamilton made its Off-Broadway debut at New York's Public Theater in February 2015to sell-out crowds. In August 2015, the musical moved to Broadway's Richard Rodgers Theatre and went from hit to sensation. In 2016, Hamilton received a record-setting 16 Tony nominations, winning 11, including Best Musical and Best Actor for Odom, and the show was also the recipient of the 2016 Grammy Award for Best Musical Theater Album and the 2016 Pulitzer Prize for Drama.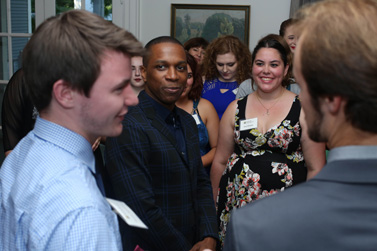 "This past year has been awesome," Odom told his DePauw audience.
Looking back on Hamilton, he observed, "At any moment anything could have messed it all up. Do you know what I mean? Shows don't work because the choreography's bad, the lighting's bad, because the costumes are bad, it's bad timing -- at any moment it could all go to waste. And so the thing that's most rewarding is the fact that this thing we loved so much turned out so beautifully."
In a speech where he encouraged the audience to find and pursue the things they love -- and to do it with great passion -- Odom observed, "I bet there's a lot of people in here that feel like you're capable of something truly great. And there's something in you that feels like, 'I think I could do something special.' But if you're not given the opportunity, if you never get the key, if somebody never shows you how to access it, you could die with it sort of locked inside. And so what Lin(-Manuel Miranda, creator of Hamilton) did for me was he showed me what I was capable of -- I didn't even know that."
Both Odom and Miranda left Hamilton on July 9. The show continues to pack the house on Broadway, opens in Chicago in a week, and begins a national tour in January. The original cast created a film of the production before going their separate ways.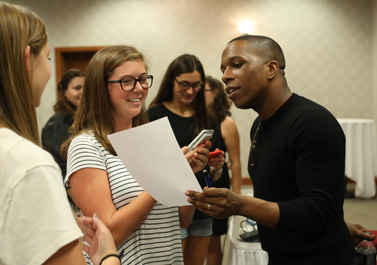 "I think Hamilton has the power to really affect political change in a really wonderful way," Odom said tonight. "I do think the show is non-partisan, but (it) has a really wonderful way of encouraging thought without telling you what to think. It's not gonna preach to you what you should think about people of color, or what you should think about the founding of the nation. But because of the genius of it, because of the brilliance, it just gets you thinking. It gets you thinking about what you're doing with your life, it gets you thinking about how you feel about certain things and certain values."
Leslie Odom Jr.'s day at DePauw included a session with student reporters and a reception with students, alumni and faculty at The Elms. He was introduced by Susan Anthony, professor of communication and theatre.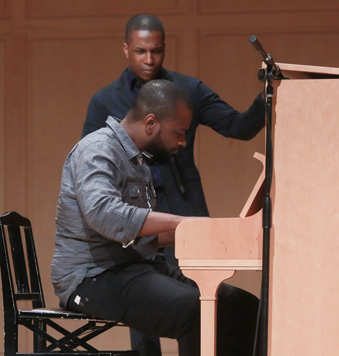 During the question-and-answer session students formed two lengthy lines to query the Tony-winning star, who distributed hugs to two of them.
The program concluded with Odom, backed by a three-person band, preforming "Look For the Silver Lining," which is featured on his album, and "Wait for It," from Hamilton.
Tonight's event served as a homecoming for the pianist who accompanied Odom tonight. Michael O. Mitchell, a 2002 graduate of the DePauw University School of Music and Bonner Scholar, is musical director of Odom's band. Odom called Mitchell on the stage for some friendly banter, and then Odom, Mitchell, guitarist Steven Walker and percussionist Senfu Stoney performed two songs to conclude the evening.
The appreciative audience stood cheering in unison as a waving Odom and his band left the stage.