Lester C. Thurow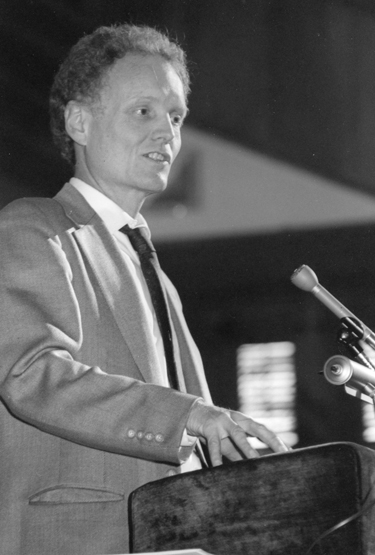 March 9, 1990, Greencastle, Ind. -

[Download Audio: "Lester Thurow at DePauw" - 159kb] "The problem we face, of course, is the rest of the world is telling us we have to change," Lester C. Thurow, professor of management and economics at Massachusetts Institute for Technology and dean of MIT's Sloan School of Management, told an audience at DePauw University today. "And the person in the world who finds it hardest to change is the person in the world who has been most successful." Dr. Thurow delivered the Timothy and Sharon Ubben Lecture, "Can America Compete in the 21st Century?."
The noted economist continued, "What the person who has been most successful says is, 'Let's go back to the ancient Roman virtues; let's go back to the ancient American virtues.' But the problem is, the world has changed and the ancient virtues ain't virtues anymore. And therefore you have to change."
The United States will no longer be the world's economic superpower in the next century, Thurow predicts. He says Americans invest less than people in the world's other economic powers and citizens of the United States are falling behind other nations in education.

[Download Audio: "Falling Behind" - 149kb] "Every single graduate of a Japanese high school has taken calculus regardless of whether they do or don't go to college; 92% graduate from high school," the professor says. "In the United States, only one out of ten high schools teaches calculus, only one out of ten students in those high schools takes calculus, and only 72% of our population graduates from high school. What's the chance that we're going to compete with the Europeans or the Japanese? The answer is precisely zero," Thurow asserts.
"I would describe the economy that you're going to live with in the next couple of decades as basically being some kind of world-class soccer plus world caliber chess," Thurow noted, saying that Americans need to invest more in research and infrastructure and improve its workforce to meet the demands of technology. "The average production worker or the average worker has got to know some sophisticated mathematics. High school graduates in Europe and Japan know the necessary mathematics; high school graduates in America do not know the mathematics. And, therefore, we are being pushed out of businesses like semiconductor chips because we can't get a workforce that it world class."
Lester Thurow received his B.A. in political economy from Williams College in 1960, where he was Phi Beta Kappa as a junior, and a Tyng Scholar. Thurow was awarded a Rhodes Scholarship, and went to Balliol College, Oxford to study Philosophy, receiving his M.A. in Philosophy with first class honors. He also received a Ph.D. in Economics from Harvard University in 1964. His 1980 book, The Zero-Sum Society, looked at the difficulties democratic societies face when losses must be allocated to restore economic progress.