Margaret Thatcher

[Download Video: "Montage of Margaret Thatcher at DePauw" - 6412kb];

[Download Video: "WTHR Clip of Margaret Thatcher at DePauw" - 1144kb]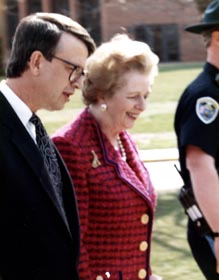 April 7, 1992, Greencastle, Ind. - "Britain's former Prime Minister Margaret Thatcher told a crowd at DePauw University this century is ending a lot better than it started," notes a report by Indianapolis NBC affiliate WTHR on today's Timothy and Sharon Ubben Lecture at DePauw University. "For proof, Mrs. Thatcher points to the defeat of dictators, the breaking up of the Soviet Union, and the crumbling of communism," continues the report, which notes that cameras and tape recorders were not allowed to cover Thatcher's speech in the Lilly Center, which drew a crowd estimated at 4,500. Thatcher called on the world's democratic nations to continue to push others to embrace democracy and provide support for the development of free economies. (at left: DePauw President Robert Bottoms walking with Margaret Thatcher to the Ubben Lecture)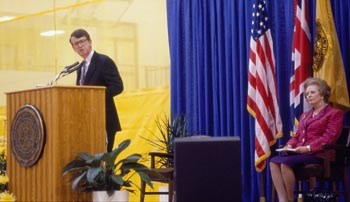 In introducing Mrs. Thatcher, DePauw President Robert G. Bottoms (seen in photo at top) noted that the University has previously hosted speeches by British Prime Ministers Harold Macmillan and Harold Wilson.

[Download Audio: "DePauw Connection" - 248kb] "I understand now the special link between myself and DePauw," Thatcher stated. "It would be that Harold Macmillan was the prime minister when I first entered Parliament in 1959, and also was the prime minister who gave me my first ministerial job at the Ministry of Pensions and National Insurance). So there is an unexpected link. I regret to report I have no direct link with Mr. Wilson, except that of being in stern and vigorous opposition," she said to laughter from the audience.
She told the audience that filled Lilly Center,

[Download Audio: "Excellence" - 171kb] "It was for me a great honor to be asked to come and address people of this very famous University, which has a reputation for excellence, because excellence is the only standard worth striving for. And its achievement applauds not only those who reach it, but it pulls up standards everywhere else." (at left: Dr. Bottoms and Thatcher arriving at the ballroom of DePauw's Memorial Student Union)
The world's nations are increasingly embracing democratic principles, Thatcher asserted. "As we're looking into the future, we can really take satisfaction in the progress of those who came before us," she said. Of America, she stated, "You need not worry. You are brilliant across the whole swath of industry. That is the great United States ... You are good and you should be confident."
The Ubben Lecture Series has brought distinguished individuals to the DePauw University campus since 1986.