Mary Frances Berry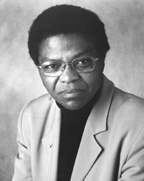 [Download Audio: "A Retreat From Realism" - 95kb] "We are in the midst of what I call a retreat from realism about civil rights issues at home and abroad," Mary Frances Berry, a member of the U.S. Commission on Civil Rights, told an audience at DePauw University today. Presenting the Timothy and Sharon Ubben Lecture, "Civil and Human Rights in the Reagan Administration," she continued, "A retreat from realism, whether it is about the economy, about foreign policy, and about most things that really matter as well as civil rights."
A member of the Civil Rights Commission since 1980, when she was appointed by President Carter, Berry was among those removed from the panel by President Reagan, only to later be reinstated by a federal district court. She also serves as Geraldine R. Segal Professor of American Social Thought and Professor of History at the University of Pennsylvania. Between 1977 and 1980, Dr. Berry served as the Assistant Secretary for Education in the U.S. Department of Health, Education, and Welfare (HEW).
Berry told her audience in Meharry Hall of historic East College,

[Download Audio: "Preserving the Beacon" - 183kb] "We have to do what must be done to make sure our country maintains its place in the world as a beacon of freedom and justice and remember that there's nothing about history that says that any nation that comes to power in the world is going to stay there forever... But if we do what is necessary to be done, we can make sure that our people and our country maintain our place in the world as perhaps the last, best hope of freedom and justice."
Berry also noted,

[Download Audio: "On Vernon Jordan '57" - 73kb] "I am so pleased to be here at DePauw, a university that has graduated a number of significant people who've made a contribution to this country and to the world, including my good friend, Vernon Jordan ['57], who reminded me when I was coming here that this was his school."
Mary Frances Berry received her Ph.D. in history from the University of Michigan and JD from the University of Michigan Law School. She is the author of Why ERA Failed: Politics, Women's Rights, and the Amending Process of the Constitution; Long Memory: The Black Experience in America; and Military Necessity and Civil Rights Policy: Black Citizenship and the Constitution, 1861-1868.