Mike Krzyzewski
Also: Breakfast with Coach Krzyzewski; YouTube Video Clip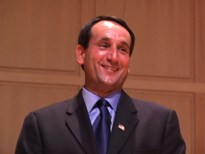 September 12, 2002, Greencastle, Ind. - Success is the choices you make, the people you associate with and the bonds you create, legendary college basketball coach Mike Krzyzewski told a crowd that packed DePauw University's Kresge Auditorium tonight.

[DOWNLOAD VIDEO: "It's That Simple" 392KB]

[DOWNLOAD AUDIO: "It's That Simple" 175KB] "Keep putting good people on your train. It's really that simple. But you can't have [former Duke basketball stars Shane] Battier and [Mike] Dunleavy," the Duke University head man said as he discussed "Victory Through Teamwork and Leadership" in his Timothy and Sharon Ubben Lecture.
Krzyzewski, an eleven-time national coach of the year, the winningest active coach in NCAA basketball tournament play, and the owner of three national championship rings (1991, 1992 & 2001), was greeted by a lengthy standing ovation.

[DOWNLOAD AUDIO: "Big Greeting" 298KB] "I didn't know that letting Indiana kick our butts in March would get me that big of an ovation." That was the first of a series of Krzyzewski lines that drew big laughter from the audience. He noted that

[DOWNLOAD VIDEO: "Instant Replay" 878KB] "we're both talking about trying to get instant replay when you play Wabash ... If you look at last year's game, they really didn't give you time to celebrate tying the game before they got the ball back (laughter). I think you should play it over," the coach joked.
Coach K, who grew up in Chicago, says several of his friends are DePauw graduates.

[DOWNLOAD VIDEO: "National Reputation" 424KB] "It's a beautiful school... You do have a national reputation and it's a great one. People around the nation know about DePauw." Krzyzewski noted DePauw's increasing diversity and small class sizes.

[DOWNLOAD AUDIO: "Diversity & Size" 367KB] "At Duke, I think that we have it great because most of our classes have 25 to 30 kids in 'em. Here, most of 'em have 15 to 20 ... it's just a great way to get an education." Coach K mentioned that DePauw's basketball teams went to the final 4 (women's) and final 8 (men's) in last spring's NCAA Division III tournament, and revealed his Tiger connection: the nephew of DePauw men's head coach Bill Fenlon is Casey Sanders, a senior on the Duke team.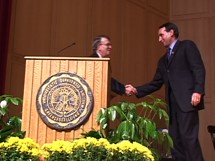 The co-author of the New York Times bestseller Leading with the Heart: Coach K's Successful Strategies for Basketball, Business and Life, Krzyzewski came to Greencastle to offer advice on "how to get better. How to have a lot of fun in your life, how to follow your dreams and be successful." A member of the Basketball Hall of Fame, with a career coaching record of 637-227 (564-168 at Duke, where he is the all-time winningest coach), Coach K grew up in an impoverished Chicago neighborhood, and considers his late mother his hero.

[DOWNLOAD AUDIO: "Good Teams" 156KB] "I've had so many things happen to me that I never dreamed would happen, and it's all a result of being around good people and getting on good teams."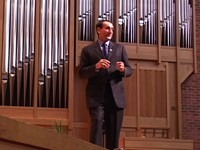 Building a team that will win on the court, in the office, or in life, requires people who are willing to work together, sacrifice for each other and demonstrate respect, the coach says. He recalled serving as an assistant coaching on the 1992 Olympic "Dream Team," and Michael Jordan asking him, "Coach, would you please work with me on my shot?" Krzyzewski says the fact that Jordan, the biggest star in the basketball galaxy, used the words "coach," "please" and later "thanks," have relation to the success Jordan, and the teams he has played for, have enjoyed.

[DOWNLOAD AUDIO: "Showing Respect" 408KB] "Really, if there's one guy in the world who doesn't have to do that and still get his way, it would be him. But, you know, whatever team you're on, it's not his way or her way: it's the worst way to look at a team. It's our way. Make sure that your team feels good about themselves. And it's up to everyone on that team to make that happen." (BONUS CLIP:

[DOWNLOAD AUDIO: "Treating Others Well" 413KB])
When Krzyzewski recruits young athletes for his team, "I look for kids with character." He emphasizes trust and teamwork in every practice and game.

[DOWNLOAD VIDEO: "Fists" 913KB]

[DOWNLOAD AUDIO: "Fists" 421KB] "My goal as a basketball coach is to get all five of those fingers, all five of those guys [on the court together] playing as one. I tell them, 'We play like a fist.' When we are introduced or in a huddle, we don't put our hands in or boogie or whatever you do; what we do is put our fists in: five playing as one."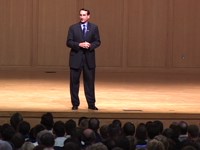 Coach K, who prowled the stage throughout his speech, identified the five fingers in the fist as communication, trust (which he calls the most powerful element in team-building), collective responsibility, care and pride.

[DOWNLOAD AUDIO: "Being Lucky" 352KB] "Teams that trust one another and communicate are luckier -- you create a culture where you just believe you're gonna win," Krzyzewski said. Many times, the coach added, he's seen the positive results that can occur when people have confidence and faith in others, and express it.

[DOWNLOAD AUDIO: "An Amazing Thing" 380KB] "It's an amazing thing if you can look in someone's eyes and tell 'em you believe in them. It's one of the things that we do not do enough. I get kids that come to my summer camp, parents go to these Little League games and they're watching kids -- they've gotta tell them, 'I believe in you. I believe in you.'"
Named "America's Best Coach" in all sports and at all levels by TIME and CNN last year, Krzyzewski, the winningest active coach in NCAA Tournament play, told the DePauw audience,

[DOWNLOAD VIDEO: "Add Depth" 1000KB] "I do get an opportunity to pick and choose where I go ... When I heard that an opportunity to speak to this group I was excited because of the excellence you have here." He added,

[DOWNLOAD VIDEO: "DePauw's Excellence" 388KB] "I hope that as you start this school year ... that you take advantage of the excellence that's here at DePauw."