Mitch Albom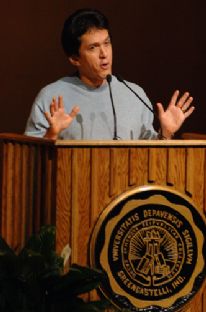 November 13, 2006, Greencastle, Ind. -

[Download Video: "For One More Day" - 1322kb] "My hope is if you read this book, when you get to the last page -- I hope you're entertained, I hope it's been a good plot, a mystery, good writing, all that," bestselling author Mitch Albom told an audience at DePauw University tonight. "But I really hope that you close the book and you make a call to somebody or you arrange a visit to somebody who's in your life that matters to you now. Because you don't want to be one of those people who says, 'Boy, what I wouldn't give for one more day,' when you had the day and you didn't let it be seized."
Albom, whose current book, For One More Day, has been #1 on the New York Times bestseller list, delivered the Timothy and Sharon Ubben Lecture in the Performing Arts Center's Kresge Auditorium. He spoke for about an hour and read several passages from the new work, then signed books in the lobby of the auditorium for a crowd that stretched the length of the building.
Mitch Albom has written nine books and is an award-winning sportswriter and broadcaster. He described how he came to write Tuesdays with Morrie, which recounts Albom's weekly visits with a beloved college professor, Morrie Schwartz, with whom he'd lost touch and who was dying of ALS. The book spent four straight years atop the New York Times' bestsellers list and has sold more copies -- 11 million -- than any memoir in history.
But the successes of the book and the Oprah Winfrey-produced movie that followed were not something that Albom foresaw when he wrote the text. In fact, he had a very difficult time finding a publisher, he told the DePauw audience.

[Download Audio: "A 180" - 423kb] "Tuesdays with Morrie became something I really never could have anticipated; I mean, it still seems like it happened to somebody else and it's not really me," he says. "But after a couple of years, I began to have a bit of a different problem. Now all the same publishers who wanted nothing to do with Tuesdays with Morrie only wanted 'Wednesdays with Morrie' or 'Chicken Soup Meets Morrie' or, maybe, 'Venus and Mars Meet Morrie' or, my favorite, 'Things I Just Remembered Morrie Told Me But I Forgot to Put in the First Book.'"
After six years, Albom wrote a novel, The Five People You Meet in Heaven, which tells the tale of a seemingly ordinary man who dies and discovers, in heaven, how he touched the lives of so many. It debuted at #1 and sold five million copies in its first year.
In For One More Day, Albom explores the themes of family, divorce and regrets, and the wish that we could have one more day with a lost loved one. It, like its predecessor, is a novel.

[Download Video: "The Question" - 1222kb] "People always ask when you write a book like this... 'How much of this is autobiographical?' And I never quite understood that question," he says. "Because #1, it's fiction. Number two, I always try to think, like, the guy who wrote Lord of the Rings, do you suppose at some point somebody came up to him and said, 'Hey Tolkien, how much of this is autobiographical?'"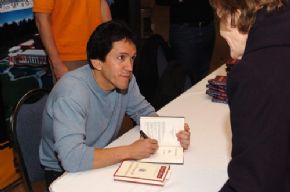 Albom continued,

[Download Audio: "Close to Home" - 288kb] "I mean, I actually had people ask me that after The Five People You Meet in Heaven. Think about that for a minute!" But the author says "a good portion" of For One More Day is based upon his childhood experiences and relationship with his mother. However, he adds, "the later stuff when a lot of the bad stuff happens" is concocted.
The recipient of more than 100 writing awards and the nation's #1 sports columnist for more than a decade (according to the Sports Editors of America), Albom was Ted Koppel's final guest on ABC's Nightline. He urged his audience to take a step back from their busy lives and demanding jobs and consider the relationships they value and the things they haven't said to, and time they don't spend with, their loved ones.

[Download Audio: "Grabbing the Opportunities" - 196kb] "We have to grab the opportunities that we have now... I'm not preaching to you, I'm talking to you as someone who has been a victim of this myself."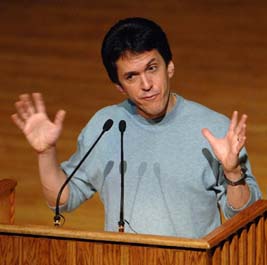 Albom was greeted with a standing ovation at the conclusion of his address. He opened his speech by jokingly telling his audience,

[Download Video: "The Bell" - 1109kb] "I've studied the tapes of the Monon Bell game, and it's my conclusion that Wabash cheated," he said to laughter from the audience. DePauw lost a tough battle with Wabash, fair and square, 23-20 Saturday in Crawfordsville.