Oliver Sacks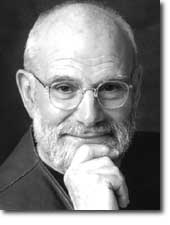 October 28, 1999, Greencastle, Ind. - "Creativity is characteristic of life, and imagination is just part of creativity -- this is made of both fantasy and memories," Oliver Sacks, the neurologist and author of the best-sellers Awakenings and The Man Who Mistook His Wife for a Hat and Other Clinical Tales, told an audience at DePauw University today. Dr. Sacks discussed "Creativity and the Brain" as a guest of the Timothy and Sharon Ubben Lecture Series.
In addition to his 1 p.m. speech in Kresge Auditorium of the Performing Arts Center, Sacks took part in a 2:30 p.m. question-and-answer session in Watson Forum of the Center for Contemporary Media.
"For better or for worse, we are all created uniquely different and we have to find different ways of doing things creatively."
Oliver Sacks was born July 9, 1933 in London (both of his parents were physicians), and he obtained his medical degree in 1958 from Oxford University. In the early 1960s, he moved to the United States, where he did an internship at Mount Zion Hospital (UCSF) in San Francisco and then a residency in neurology at UCLA. Since 1965 he has lived in New York, where he is clinical professor of neurology at the Albert Einstein College of Medicine and consultant neurologist to the Little Sisters of the Poor and Beth Abraham Hospital.
In 1966 Dr. Sacks went to work in a chronic hospital in the Bronx (Beth Abraham Hospital) where he encountered an extraordinary group of patients, many of whom had spent decades in strange, frozen states, unable to initiate movement, like human statues -- they were survivors of the great epidemic of sleepy sickness that had swept the world from 1916-1927. They became the subjects of his book Awakenings (1973), which later inspired a play by Harold Pinter, A Kind of Alaska, and the 1990 Hollywood movie, Awakenings, starring Robert De Niro and Robin Williams.
Dr. Sacks is perhaps best known for his bestselling 1985 collection of case histories from the far borderlands of neurological experience, The Man Who Mistook His Wife For a Hat, and in 1989 he received a Guggenheim Fellowship for his work on the neuroanthropology of Tourette's syndrome, a condition marked by involuntary tics and utterances.
His seven books, which also include Migraine, A Leg To Stand On, Seeing Voices: A Journey Into the World of the Deaf, An Anthropologist On Mars, and The Island Of The Colorblind, have received numerous awards and have sold several million copies worldwide in 22 languages. He was recently elected an honorary fellow of the American Academy of Arts and Letters.