Oscar Arias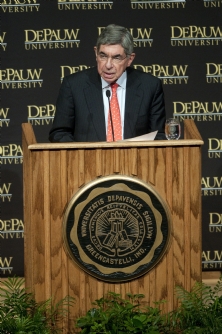 December 8, 2010, Greencastle, Ind. —

[Download Video: "The Challenge" - 1606kb] "Moral leadership has always been about making the choices that enhance human life," Nobel Peace Prize winner Oscar Arias told an audience at DePauw University tonight. "However, I would argue that today more than ever, these choices are particularly urgent." The two-time president of Costa Rica discussed "Moral Leadership in Today's World" as part of the Timothy and Sharon Ubben Lecture Series.
Arias declared, "We live in an age where our technological advances have eliminated many of the threats to human life that existed during the days of our great philosophers. And yet, we also live in an age in which we have created new threats that could eliminate life, not just of an individual or a people, but of the entire human race."
The man who was president of Costa Rica as recently as May of this year recalled the words of U.S. President John F. Kennedy in his inaugural address of 1961: "For man holds in his mortal hands the power to abolish all forms of human poverty and all forms of human life." Fifty years later, Dr. Arias says humankind is still grappling with whether it is determined to eliminate poverty or end life itself.
One-sixth of the planet's population subsists on less than a dollar day, the former president pointed out, while global military expenditures were $1.5 trillion last year, representing 2.7 of the world's gross domestic product.

[Download Audio: "Doing the Numbers" - 737kb] "If the world reduced its military spending by one-quarter, we would buy 1.9 billion computers, for one laptop per child," the eighth Nobel Laureate to deliver an Ubben Lecture at DePauw stated. As a result, "every child in the developing world would walk into her classroom tomorrow and find her own laptop waiting for her."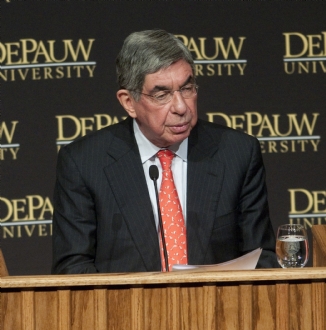 If a 25% reduction seems too extreme, Arias says a 10% cut in the world's military spending would provide full-year scholarships to 153 million young people; a 5% reduction would purchase enough mosquito netting to protect the entire populations of developing countries from malaria three times over. Ending the "Russian roulette of military spending" would yield "dividends of peace," in his words.
"Every long range missile, every helicopter gunship, every tank is a symbol of postponed attention to the needs of our people," Arias asserted. "This is the choice of which Kennedy spoke. Yet over and over again we make the wrong choice. This is not just unfortunate, it is also immoral."
The man known worldwide for championing such issues as human development, democracy and demilitarization continued,

[Download Video: "In Our Hands" - 1332kb] "I have made this call to presidents and prime ministers, before parliaments and congresses, and in the heart of the United Nations itself," Dr. Arias told his DePauw audience. "But I make this call to you tonight with every bit as much passion and conviction. When I say we need your help to make a change, I mean it, because today more than ever before the ability to lead rests in all of our hands."
With the Internet and other modern technologies, individuals can communicate and mobilize in ways that were unimaginable during the Cold War. "The forces of globalization and technical advancement that have forced upon us new challenges and threats also hold the key to their solution," Arias said. He added,

[Download Audio: "Our Interconnected Planet" - 345kb] "The increasingly interconnected nature of our planet means that the fate of one people is impossible to separate from another's. Hunger, poverty, oppression, ignorance and environmental destruction in one corner of the world can no longer be ignored elsewhere. They have become the concern of all human beings and have begun to have a direct effect on our daily life."
Dr. Arias served two terms as Costa Rica's president, first leading the country from 1986 to 1990 and then returning to the presidency from 2006 until his term ended in May of this year. In 1987, he authored what came to be known as the Arias Peace Plan, an initiative that led to the end of military conflicts in five Central American countries. His efforts led to his being awarded the Nobel Peace Prize on December 10, 1987. Arias used the monetary award from the Nobel to establish the Arias Foundation for Peace and Human Progress. He is internationally known as a spokesperson for the developing world, championing such issues as human development, democracy and demilitarization.
In addition to being the eighth Nobel laureate to deliver an Ubben Lecture, Arias is the sixth recipient of the Nobel Peace Prize welcomed by the series. The previous visitors included F.W. de Klerk, Mikhail Gorbachev, Shimon Peres, Willy Brandt, Elie Wiesel, Leon Lederman, and Ferid Murad, a 1958 DePauw graduate.
Closing a speech which received three standing ovations, Dr. Arias stated,

[Download Video: "The Opportunity of Our Time" - 2201kb] "I would hope that future generations will look back on the choice we face between human development and continued waste and that they will be able to say with pride that we chose the right path -- that we found a way to be guided, not by hatred or greed, but by our ideals: the light cannot fail. That we found our way toward that distant pole of truth and towards the future that our children deserve."
The former president's day at DePauw began with a visit to political science professor Mary Ann Gallagher's American foreign policy class. He then met with students who will spend their Winter Term in Service in Costa Rica next month (offering his personal phone number to the upcoming visitors to his country), had a session with DePauw student journalists, and attended a dinner and reception with students, faculty and alumni at the home of DePauw President Brian Casey.

[Download Video: "President Arias on DePauw" - 2618kb] "I have been invited to many, many universities in this country," Dr. Arias said at the end of the question-and-answer session which followed his speech. "I think you're all very privileged, the students of DePauw, because this is a marvelous university."