Paul Tsongas

[Download Video: "Video Clip of Paul Tsongas at DePauw" - 888kb]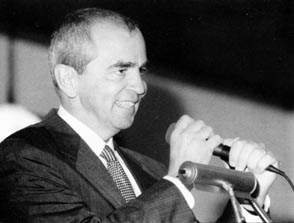 April 30, 1993, Greencastle, Ind. - With the burdens of Social Security and the federal deficit, among other things, "My generation leaves you less, and that is something that should not rest easy on us," former Democratic presidential candidate Paul Tsongas said at DePauw University today. "The basic sacred obligation of one generation to the next has been violated." Tsongas presented the Timothy and Sharon Ubben Lecture, "The First 90 Days of President Clinton" at 11 a.m. in Meharry Hall of historic East College, one of three appearances he made while on campus.
Tsongas also participated in an open forum at 10 a.m. in the Center for Contemporary Media, Watson Forum. At noon, Tsongas addressed the meeting of the Indiana Political Science Association in the Union Building.
In announcing his presidential candidacy in March 1991, Tsongas outlined a plan to rebuild America's economy. The program, described in his book, A Call to Economic Arms: Forging a New American Mandate, emphasizes the need to make the hard choices today so that America will continue to be a great country tomorrow. This theme is being carried on by a foundation established with Senator Warren Rudman called the Concord Coalition.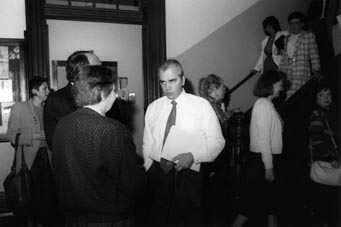 Restoring the aforementioned "sacred obligation" is "in essence, why I ran" for the presidency in 1992, Tsongas told his DePauw audience. "I'm glad that I did. I got to know this country and got to make, hopefully, some good friends and learned to love this country more than I did -- it's a great country. I know that sounds like a cliché. It is. And everybody who ever ran for president says it, because they believe it. And all we need is the sense of direction and leadership and I think we'll do fine."
While a U.S. Senator from Massachusetts from 1979 to 1985, Tsongas served on the Foreign Relations Committee, Energy and Natural Resources Committee and Small Business Committee. He also was a U.S. Representative for the Fifth District of Massachusetts.
Tsongas is a partner in the law firm of Foley, Hoag & Eliot, concentrating his practice on business matters and public/private issues. He has served on the boards of several not-for-profit institutions as well as corporations.