Peyton Manning
October 26, 2004, Greencastle, Ind. -

[Download Audio: "The Gap" - 197kb] "There are a lot of people in this world who believe there's a huge gap between what they would like to do and what they are able to do," said Peyton Manning, the 2003 National Football League co-Most Valuable Player, as he delivered the Timothy and Sharon Ubben Lecture at DePauw University this afternoon. "And I just don't understand that," the Indianapolis Colts quarterback added, "because if you don't stretch, you cannot grow. And if you don't grow then others are going to pass you by." Manning discussed leadership with the audience of about 1,100 people who gathered in Kresge Auditorium.

[Download Audio: "Making Things Happen" - 134kb] "You have to decide: do you want to make things happen, or do you want to watch things happen," Manning continued. "And I've found that people who watch things happen are usually left wondering what happened."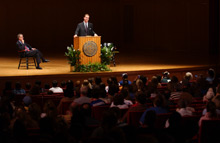 Manning, who led the Colts to the AFC championship game in 2003, is the only NFL quarterback to throw for 3,000 or more yards in each of his first six seasons and the only one to throw for 4,000 or more in five consecutive seasons. He's also thrown 25 or more TD passes in each of the past six campaigns and has started the first 96 regular season games of his career -- also league firsts -- and completed 2,128 passes for 24,885 yards in his first six years, all-time NFL high marks. The Colts are off to a 4-2 start this season.

[Download Audio: "Learning from Failure" - 168kb] "Success changes as surely as the seasons do," Manning told the DePauw audience. "It's a journey and the goals that we reach correspond directly to the distances that we're willing to go. In my opinion, our rewards are directly proportional to the efforts that we make."
The son of New Orleans Saints quarterback Archie Manning and the older brother of New York Giants quarterback Eli Manning, Peyton Manning implored his audience to commit themselves to be the best they can be in their professional and personal lives, always having a sense of direction and a willingness to take chances and keep working toward a goal, even when confronted with obstacles. "It's about not quitting at quitting time," he noted.

[Download Video: "The Greatest Risk" - 412kb] "The way I see it, the greatest risk isn't in taking the wrong action. It's in letting our fears prevent us from acting at all."
Peyton Manning, a star quarterback at the University of Tennessee, became the poster boy for college and amateur athletics by opting to stay in school for a final year of eligibility rather than moving on to the NFL. The All-American earned his undergraduate degree in only three years, finished number one in his major and led his team to the SEC Championship.

[Download Audio: "Remembering College" - 221kb] "Those days on campus, for me, were among the most enjoyable and most stimulating of my life," Manning stated. "I know from my time there in Knoxville what an important role the university played in the greater Knoxville community. And that's the role that DePauw plays here, and a role that I hope each of you supports."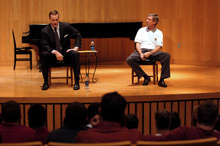 Manning's visit to DePauw began with a meeting with Coach Bill Lynch and his Tiger football team, which the NFL quarterback spent about a half-hour talking with and answering questions. He met with the student media, and posed for photographs with the Greencastle/Putnam County CASA (Court Appointed Special Advocates) program, one of the many organizations Manning supports.
One of football's biggest stars, Peyton Manning is also known as a philanthropist. When he entered the National Football League, Manning established the PeyBack Foundation for disadvantaged youth.

[Download Audio: "'Peying' Back" - 145kb] "I had two great parents growing up and had a lot of great opportunities as a kid, so with the Foundation we try to help kids who don't have someone always looking out for them to have those same opportunities."
The PeyBack Foundation makes sizable donations to various organizations throughout the year including tens of thousands of dollars in educational scholarships, and in direct assistance grants to children and families in need. The Foundation also hosts the PeyBack Classic each September, which invites inner-city high school football teams to play in the RCA Dome and in the first two years provided $120,000 to improve the schools' athletic programs. Manning's organization also hosts parties for disadvantaged children in Indianapolis, Tennessee, and Manning's home state of Louisiana.
[Download Audio: "Foundation Parties" - 134kb] "I'm not sure who has more fun -- the kids or me -- because for me to see the smiles on their faces and for them to feel appreciated that someone is looking out for them, it makes me feel good. I know we're doing the right kinds of things," Manning said today.

[Download Audio: "Fleeting Fame" - 166kb] "Being a quarterback now for the Colts, this is my best window of opportunity to make an impact on these kids. I mean, I'll continue to do it after I stop playing, but fame is a very fleeting thing and I realize that. And so while I have this opportunity, I try to do as much as I can."
During a question-and-answer session after his lecture, Manning answered a variety of questions related to leadership, balancing the demands of life and work, and, of course, football. The quarterback disclosed that he's not opposed to on-field celebrations, which have been the subject of an NFL crackdown, but he does draw a line.

[Download Video: "Premature Celebrations" - 1507kb] "I'll tell you what I can't stand is, like the first quarter of the game, some rookie defensive back breaks up a pass that I've thrown to Marvin [Harrison], and he's doing this full throttle [dance]... It's the first quarter, you know. If you do it to win a game or something, yeah, I'm all for it. I can tell you, when that happens Marvin just comes over and says 'We're gonna kill this guy.'" Manning said, as the crowd laughed.