Sam Donaldson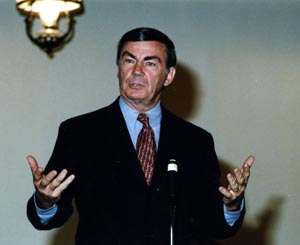 May 8, 1998, Greencastle, Ind. - "On both sides in Washington, they know something serious is going on. The presidency is at risk," says Sam Donaldson, co-anchor of Prime Time Live and a 30-year veteran of ABC News. This morning in Meharry Hall of historic East College, Donaldson presented "A View from Washington" in the Timothy and Sharon Ubben Lecture. Discussing the ongoing investigation of President Clinton, the veteran newsman said, "They know this is deadly important. At the end of the day, the facts are going to control this issue. In the end, it is the evidence that controls."
In a ceremony held one hour before the Ubben Lecture -- at 10 a.m. in the Center for Contemporary Media, Watson Forum -- two journalists were inducted into DePauw's Media Wall of Fame: J. David Hogue, a 1921 DePauw graduate who served as editor of Utica, New York's Observer-Dispatch and The Press and was a member of the board of directors of the Gannett Co., Inc.; and Kenneth G. Kramer, a 1927 DePauw graduate, who was executive editor and editor-in-chief of Business Week.
Since the premiere of Prime Time Live in 1989, Sam Donaldson has covered breaking news events, reported on a wide range of topics and conducted timely interviews with newsmakers. Donaldson was co-anchor of a special edition of Prime Time Live with Judd Rose, during which the two men shared their personal experiences with cancer; conducted an exclusive interview with Dick Morris, President Clinton's ex-political adviser; and interviewed Sgt. Maj. Brenda L. Hoster, who accused the U.S. Army's highest-ranking enlisted soldier of sexual assault; and other stories.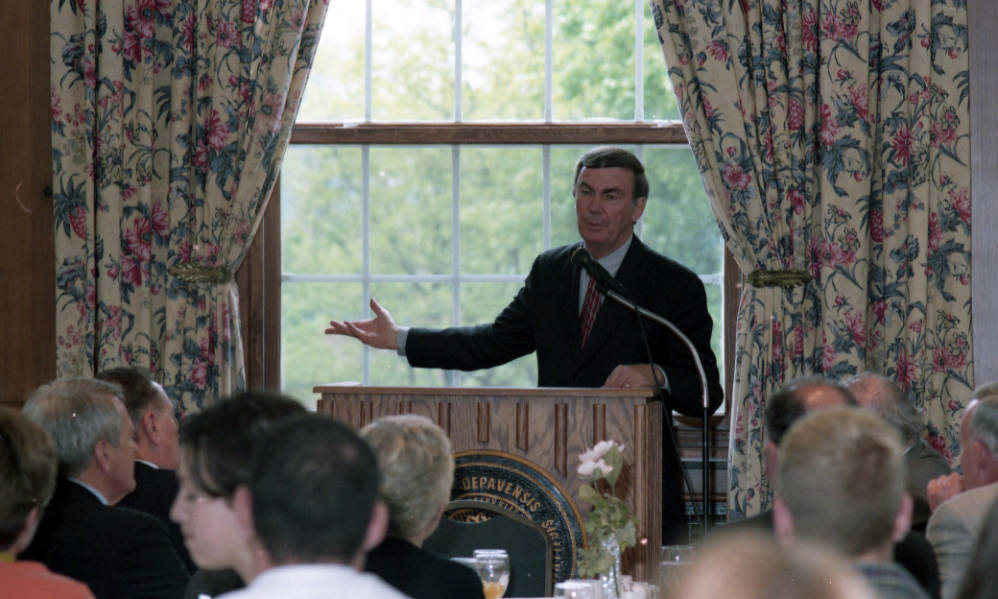 Donaldson has conducted interviews with such newsmakers as Bill Clinton, when he was a presidential candidate; President George Bush; Secretary of State James Baker; Supreme Court Justice Thurgood Marshall; New York Governor Mario Cuomo; First Lady Hillary Clinton; controversial biographer Kitty Kelly; Gulf Forces Commander General Norman Schwarzkopf; Chairman of the Joint Chiefs of Staff Colin Powell; former Secretary of Defense Dick Cheney; and former Pakistani Prime Minister Benazir Bhutto.
He has covered every national political convention since 1964 with the exception of the 1992 Republican Convention in Houston. He reported on the presidential campaigns of Jimmy Carter, Michael Dukakis, Barry Goldwater, Hubert Humphrey, Eugene McCarthy and Ronald Reagan. The Washington Journalism Review named Donaldson the "Best Television White House Correspondent in the Business" in 1985 and the "Best Television Correspondent in the Business" in 1986, 1987, 1988 and 1989. He is the recipient of numerous awards, including three Emmy Awards and a George Foster Peabody Award.