Tom Wicker

[Download Video: "Tom Wicker at DePauw" - 6530kb]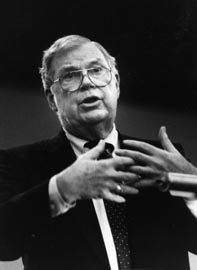 March 12, 1993, Greencastle, Ind. - Tom Wicker, former associate editor of the New York Times, shared a "pet peeve" with an audience at DePauw University today. "Televised presidential debates are fountains of misinformation, disinformation and posturing on the part of the candidates." In a Timothy and Sharon Ubben Lecture, Wicker asked, "Do we really want to choose a president in a high noon shootout?"
Wicker, a commentator and author, took part in the Center for Contemporary Media's conference, "Media, Ethics and Politics." The Ubben Lecture was delivered in Meharry Hall of DePauw's historic East College.
The veteran journalist's books include several which examine U.S. presidents, including: author of several books about U.S. presidents, including: Kennedy Without Tears: The Man Beneath the Myth; JFK & LBJ: The Influence of Personality Upon Politics; and 1991's One of Us: Richard Nixon and the American Dream.
He also presented what he called a "pet theory" during his talk. "The adoring and all-embracing use of television may result in a succession of one-term presidents."
Tom Wicker was one of the lead reporters on the Times' coverage of the assassination of President Kennedy, and his assignment to act as an observer during the Attica Prison stand-off in New York State was described in his acclaimed 1975 book A Time to Die.