William J. Bennett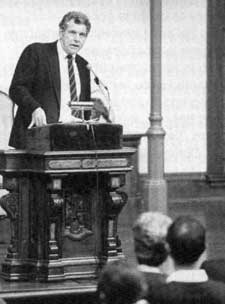 October 6, 1988, Greencastle, Ind. - "One of the reasons I am fairly outspoken on this matter of the meaning of undergraduate education is because it made such a difference to me," former U.S. Secretary of Education William J. Bennett told an audience at DePauw University today. Speaking as a guest of the Timothy and Sharon Ubben Lecture Series, Bennett continued, "I'm not saying that what happened to me should happen to everyone, but I can tell of you of the powerful, indeed transforming effect that my college education had on me."
As Secretary of Education, Bennett focused on what he called the "Three C's" of American education: Content, Character and Choice, and engaged in a highly publicized debate on the failures of American higher education. Bennett became director of the Office of National Drug Policy ("Drug Czar") in 1989. He previously served as chairman of the National Endowment for the Humanities.
Speaking in Meharry Hall of historic East College, Bennett recalled his days as an undergraduate at Williams College. "The faculty stood before us as guardians of the entrances and exits and said, 'You are pre-men, you may do what you like with your lives, we expect you will do a whole variety of things. But before we certify that you have been here, you must deal with us. You must confront certain questions. You must read and think about certain things that you are not likely to ever think about again as deeply as you will here. Our purpose in being here is to have you think more deeply about more things that are important than you will likely have the chance to do once gone.'"
Bennett called college, "the most interesting part of my life, the time in which my entire life changed, in terms of what I wanted to do, what I wanted to be, what I thought was interesting and important."