Willy Brandt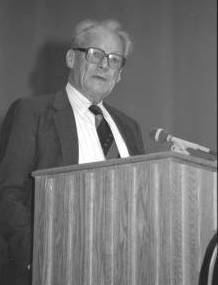 November 2, 1990, Greencastle, Ind. -

[Download Audio: "Willy Brandt at DePauw" - 613kb] "What belongs together at long last can grow together," former West German Chancellor Willy Brandt told an audience at DePauw University today. "And German unity is ... linked with Europe as a whole. We in Germany are writing but one of the chapters," he added. In his Timothy and Sharon Ubben Lecture, Brandt said the world has not seen the end of the struggle for democracy in Europe, but rather the start of something much greater. He spoke to a packed audience of students, faculty and staff at DePauw's Kresge Auditorium.

[Download Video: "Montage from Willy Brandt's DePauw Speech" - 5277kb]
The unification of the two Germanies last month "was an important, intermediate stage where prerequisites were created to allow all our citizens to enjoy equal opportunities -- no matter where they live," he said. Brandt also called recent developments "a major Western or American success story, because

[Download Audio: "A Major Force" - 252kb] the end of the artificial division of Germany and the growing unity of Europe have become a reality not at least as a result of U.S. protection and engagement and understanding." He added, "This has been a major force in changing things in the part of the world I come from."
By 1992, Brandt predicts, the number of NATO troops will be drastically reduced from the current 370,000. He says 250,000 soldiers would be more than enough. In addition, what was formerly East Germany will become a nuclear-free zone. "The train keeps on rolling," observed Brandt, winner of the Nobel Peace Prize in 1971. "Europe, having grown out of a cold war, hopefully will make major contributions to the development and survival of mankind."
From 1957 to 1966, Willy Brandt was governing mayor of Berlin. In 1964 he became chairman of the Social Democratic Party of Germany, a position he held until 1987. Brandt served as foreign minister and vice chancellor until 1969, when he assumed the role of federal chancellor at the head of West German government, a post he held until 1974.
While in Greencastle, Brandt held a news conference and engaged in a lengthy discussion of world affairs with two DePauw students -- Ellen E. Johnson and Clinton A. Douglas II -- at Walden Inn's Fluttering Duck.
Immediately following his DePauw Ubben Lecture, Brandt was dispatched to Iraq, where he was invited by Saddam Hussein to talk with the Iraqi leader about Iraq's occupation of Kuwait and the hostages in Baghdad.