TV Station Features "The Most Impressive College Basketball Team in the State"
February 8, 2014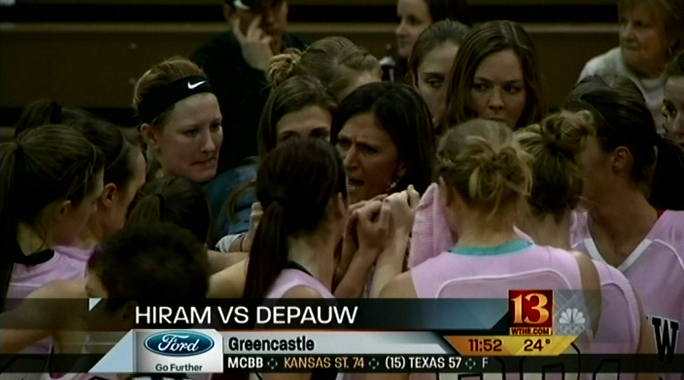 "The most impressive college basketball team in the state plays in Greencastle," asserted WTHR-TV's Rich Nye on the Indianapolis NBC affiliate's late newscast tonight. "The DePauw women are defending national champions in Division III and have won 75 straight regular season games," he told viewers as he introduced highlights of today's game between the Tigers and Hiram College.
The segment details how DePauw got off to a slow start at Neal Fieldhouse, but broke away after a 20-20 tie for its 56th consecutive victory overall. Hannah Douglas led the way with 16 points.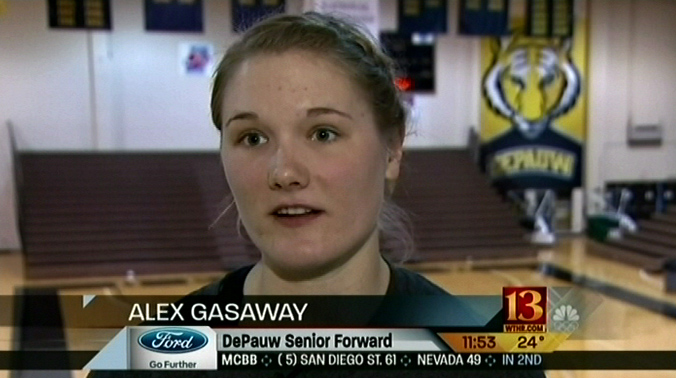 "DePauw matched the school record with 13 three-pointers for the game," Nye noted of the 74-50 Tiger victory, which clinched the North Coast Athletic Conference title for the team. The women's team is now 22-0 overall on the season and 13-0 in the NCAC.
The station's coverage includes interviews with coach Kris Huffman and senior Alex Gasaway and is embedded below. You're also invited to visit WTHR's website.
DePauw returns to play on Wednesday, February 12, when it travels to Wittenberg for a 6 p.m. NCAC contest.

For the latest on the women's basketball program, visit the team's official online page.
Source: WTHR (NBC)/Indianapolis
Back