DePauw and Greencastle Community Invest in Public Safety
February 2, 2001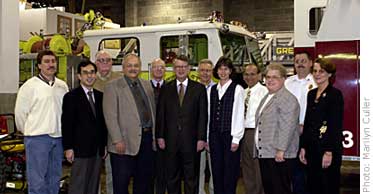 (Standing in front of the fire truck that the new pumper will replace are, left to right (front row), Dave Puzan, Lone Star Industries; Sam Honma, Heartland Automotive; Kieth Green, North American Capacitor Co.; Robert G. Bottoms, DePauw University President; Nancy Michael, Greencastle Mayor; Thelma Bumgardner, Greencastle Township Trustee; Pamela Jones, Greencastle Clerk-Treasurer. (Second row) George Murphey, Board of Works; Norm Crampton, City Council; Joe Liechty, City Council; Mike Rokicki, City Council; Bill Newgent, Greencastle Fire Chief)
February 1, 2001, Greencastle, Ind. - A 25-year-old fire truck that's in poor condition will be replaced by a new, $320,000 Pierce pumper, thanks to the generosity of DePauw University, four Greencastle industries, Greencastle's Township Trustee and advisory board, and the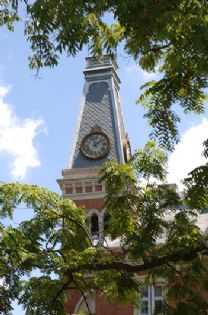 City of Greencastle. DePauw, Lone Star Industries, North American Capacitor Company (Mallory), Heartland Automotive and Happico have combined to raise $100,000, or almost a third of the price of the new truck. The largest share, more than $85,000, is from DePauw.
"This is an opportunity for the university to underscore a point that is obvious but very important," said DePauw President Robert G. Bottoms. "Greencastle is our home, and we have a strong commitment to being a good neighbor and in helping to maintain the vitality of this community. By providing funding for a tool that will be used to save lives, DePauw and its generous corporate partners are helping to make Greencastle an even better place to live and work."
The Greencastle Township Trustee is again committing a significant amount of money towards the purchase of equipment for the fire department. Trustee Thelma Bumgardner, along with the Township Board of Trustees, will contribute $100,000 towards the new truck. "The township is very concerned about having fire protection for its residents and feels that this investment is for a very good cause," said Bumgardner. "The fire department must have dependable equipment for the performance of its duties."
The remaining balance of $120,000 will come from City of Greencastle cumulative fire fund. "This is a wonderful opportunity for the community of Greencastle, DePauw University, the business community and Greencastle Township to come together on a project that is extremely important for the safety and security of our citizens," according
to Greencastle Mayor Nancy Michael. "I am proud of the effort that each of our partners have extended to raise the necessary funds for this purchase. I applaud the efforts of DePauw, our industry and township in recognizing the importance of this department."
The new pumper will replace a fire engine that was purchased in 1976. The Greencastle Fire Department says the quarter-century old truck is in failing condition and is extremely difficult to maintain. The truck's manufacturer is no longer in business, making the task of locating replacement parts virtually impossible. The new truck, manufactured by Pierce in Appleton, Wisconsin, should be delivered to the Greencastle Fire Department in May. With the retirement of the old truck, GFD will continue to have three fire trucks in its fleet.
In December, DePauw funded the purchase of a $10,000 Argus2 thermal imaging camera, which is already enhancing the GFD's firefighting capabilities. The new camera allows firefighters to locate people in dark and smoke-filled buildings and better deal with situations involving chemicals and hazardous materials.
Back