High-Tech CEO Don Daseke '61 Explains How Ideas are Transformed Into Success
February 14, 2001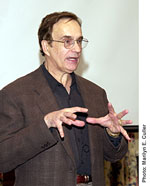 February 14, 2001, Greencastle, Ind. -- What does it take to become a successful entrepreneur in the twenty-first century? Don Daseke, founder, chairman and CEO of BigFatWow!, Inc. and a 1961 graduate of DePauw University, says it boils down to four principles: you must have a great idea, execute it, have the money to carry out your plan and, crucially, create what he calls a "barrier to entry."

[DOWNLOAD AUDIO: "Barrier to Entry" 108KB] Daseke says most great ideas are usually emulated by competitors, so "how do you keep other companies from copying what you're doing?"

For BigFatWow!, the solution has been long-term, exclusive leases with shopping malls, Daseke said Monday in a Robert C. McDermond Center for Management and Entrepreneurship Lecture at DePauw. Daseke's "Wow Centers", placed in shopping malls, offer free "Inter-tainment" -- Internet access, information and entertainment. The free-standing multi-media centers also provide mall visitors with information about special promotions from BigFatWow!'s partners and sponsors. "Ninety-five percent of malls have no internet access," says Daseke, "so it's a wide open market for us."

Founded in 1998 and based in Dallas, BigFatWow! today has a presence in 114 U.S. malls in 35 of the top 50 markets, with hopes of reaching 250 malls at the end of the year and 500 by the conclusion of 2002. Daseke says his firm is currently in discussions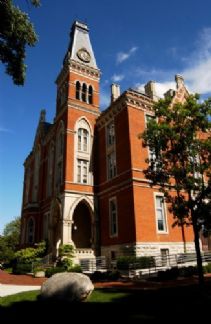 with Wal-Mart about putting Wow Centers in the chain's supercenters, and envisions possible future partnerships with airports, movie theaters, convention centers, military bases and even college campuses.

Daseke says finding capital in a "constrained" environment is not easy for high-tech firms, but claims BigFatWow! is thriving and growing because of the partnerships its formed with mall developers and advertisers.

As for finding employees, Daseke says, "we don't look for people who have experience in doing what we're doing because no one else is doing this, for all practical purposes. We're looking for people who can
think and be a problem solver and have a tremendous amount of drive."

[DOWNLOAD AUDIO: "DePauw Students" 157KB] The C.E.O., who serves on DePauw's Board of Trustees, has seven alumni of his alma mater working at BigFatWow!. "I think DePauw really gives the tools... in teaching people how to think and to solve problems by themselves without always having to rely on somebody else," Daseke told his audience in the Union Building Ballroom. In fact, during his visit, the executive interviewed DePauw students for future positions with BigFatWow!

Don Daseke, a native of Crawfordsville, Indiana, is also the former chairman of Netier Technologies, Inc; chairman of Sage Telecom, Inc. vice-chairman of Mirage Systems, Inc. and chairman of Priority Flowers, Inc. Sage Telecom
and Netier Technologies were recognized in May of 2000 as the number one and number two fastest growing high-tech companies in Dallas' Fast Tech 50 sponsored by Arthur Andersen, Sevin Rosen and the Dallas Business Journal.

Daseke was previously the founder, chairman of the board and chief executive officer of Walden Residential Properties, Inc., a $1.7 billion real estate investment trust formerly listed on the New York Stock Exchange and the force behind the creation of the Walden Inn in Greencastle.
Back