DePauw Trustees Approve New Social Center for Students
May 4, 2001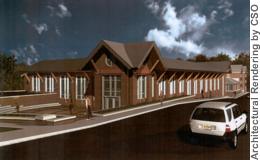 May 4, 2001, Greencastle, Ind. - At their spring meeting April 26-27, DePauw University's Board of Trustees approved the construction of a new, 24-hour social center for students. The facility, which will be housed in an expanded Walden Inn, will include a banquet/party hall, a lounge and two courtyards (one of which will contain an amphitheater).
"Students have been saying for some time that they wanted a place where they could congregate and socialize that would be on campus, and a short walk from their living units," said DePauw University President Robert G. Bottoms. "The Trustees' vote will ensure that students have such a facility."
"Throughout the planning for the social center proposal, our intent has been to create an informal setting where all students can 'hang out' with their friends," added James L. Lincoln, Vice President for Student Services. "It should be a place where, regardless of affiliation, everyone can feel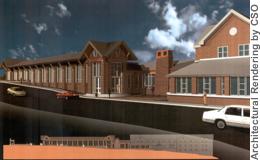 comfortable. We consider it especially important that first-year students have opportunities to get acquainted with other students," Lincoln said.
The new social center should be open in the fall of 2002.
In other business, Judson C. Green Jr. '74 was elected the new chairman of the Board of Trustees. Green, president and CEO of Navigation Technologies Corporation, succeeds Timothy H. Ubben '58, whose three-year term expired.
Back