DePauw's Class of 2005 Filled: More Applications, Better Students
May 7, 2001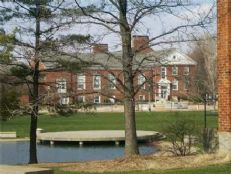 May 7, 2001, Greencastle, Ind. - A record level of student interest in DePauw University has resulted in a banner year for admissions, and an incoming class that is already full. Madeleine Eagon, vice president for admission and financial aid, reports that DePauw received 3,039 completed applications this year, the most ever, for 630 openings in the Class of 2005. As of today, 664 students have committed to attend DePauw next fall by paying deposits.
"It demonstrates that DePauw is in a very good position," said Eagon. "We've always met our enrollment goals at DePauw, but historically we may not have met those immediately following May 1; it may take us longer into the summer."
[DOWNLOAD AUDIO: "Class of 2005" 117KB] "We attracted a very strong applicant pool, the largest in the University's history," Eagon continued. "They are well qualified academically. We admitted a smaller percentage of the applicant pool than we ever have in the past, and have enrolled a particularly strong class."
The incoming class brings with it a median (meaning half are higher, half are lower) combined SAT score of 1210; the median ACT is 27; the median unweighted grade point average of 3.63; and the median student is in the 91st percentile of his or her high school class.
[DOWNLOAD AUDIO: "The Scores" 99KB]
But the admissions director says DePauw is also looking at what a student has done outside of the classroom.
[DOWNLOAD AUDIO: "Potential" 425KB] "Breadth is important to us," she stated. We're not only looking for people who are very, very bright academically. We're looking for people who will contribute, who want to benefit from and contribute to all t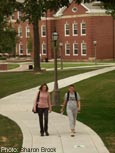 hat makes up the DePauw community. So we actually look a lot for what we think is potential on the part of students."
The Class of 2005 will include eleven international students, who will be coming to Greencastle from places like Spain, Japan, Ecuador, India, Liberia and Bulgaria.
Eagon says DePauw has clearly benefited from recent announcements that it raised more than $374 million in the "Campaign for DePauw: Leadership for a New Century", and that a $20 million Lilly Endowment grant will help create a national eLearning center on campus. Topping it off was the University's first-ever showing in the top tier of national liberal arts colleges in the U.S. News & World Report 2001 rankings of America's best colleges.
[DOWNLOAD AUDIO: "U.S. News" 223KB] "Like those surveys or not, for a lot of families it's the only objective data that they can come by," said Eagon.
"Our top tier rating brought a lot of people into our applicant pool -- people who, for the first time, even though they probably would have considered DePauw, think of it more highly because of the company we now keep."
[DOWNLOAD AUDIO: "Best Time" 100KB] "It is really a great time to be a student at DePauw, because never have the academic opportunities been richer, never has the faculty been better or the faculty-student ratio been lower (1 to 9.5)... (with a plethora of) co-curricular activities for student involvement."
Back